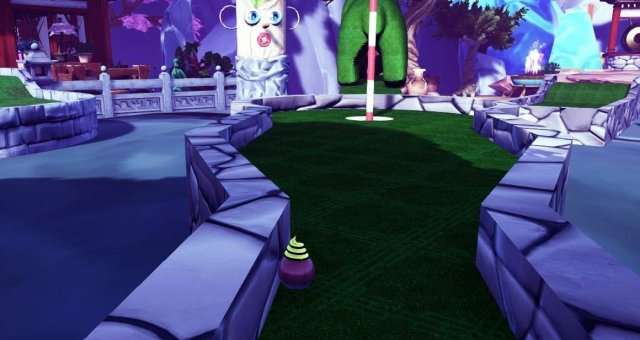 This will go over the secret holes on every course for the achievements and how to get them.
Guide to All Secret Holes
Tips for Getting These Fast
The fastest way to get all of these is by starting the course like normal then changing the mode to practice. I labeled which hole each secret hole is on so just go to that one, put on the stroke counter to 100, and time as needed.
Grassland
The secret for Grassland is on hole 15. Take a decently powerful shot to the left and after a few tries, you should be able to make it into the barrel.
Winterland
The secret for Winterland is on hole 18. Aim for the chest to the left with a bit of power and it should go straight in.
Mines
The secret for Mines is on hole 8. You can either shoot your ball off the halfpipe for it or hit the wood panel laying diagonally to the left of where you start the hole (You can see this piece of wood in the picture).
Graveyard
The Graveyard secret is on hole 18. The hole alignment is right under the pair of eyes to the right of the pot with the portal where you start at. Make sure to have a lot of power on this shot because it is decently far away.
Pirates Cove
The secret for Pirates Cove is on hole 13. After shooting out the cannon, use a lot of power on the ramp to make it into the barrel behind the wood hut. This one is very tricky so it will take a few tries.
Jade Temple
The secret for Jade Temple is on hole 13. Its pretty simple to get but hidden behind some bushes. It is in the bowl of the left of the screenshot in case you didn't see if at first.
VR Classic
The secret for VR Classic is on hole 7. All you have to do is aim to the left of the tee where you start and make it through the window. I recommend hitting the wall to the left side then having it hit on the base of the window so it bounces neatly