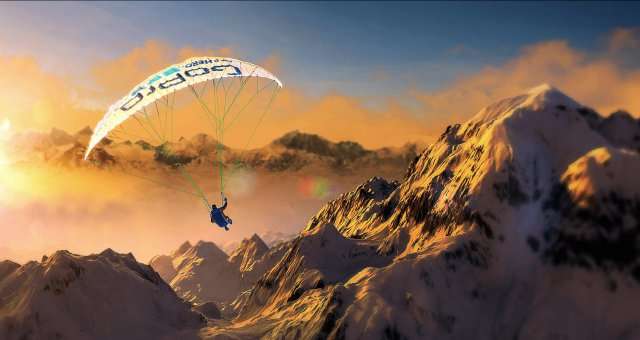 A guide to all the locations of drop zones, mountain stories, and PoI's in the game.
Intro
Some spots you'll be able to unlock as you progress, while others you'll need to find… This guide shows the locations of all the hidden drop zones and mountain stories.
Tip: You can find the map co-ordinates in the top left section of the world map ingame.
Mountain Stories
Aravis
Legendary
Pointe Percee: 2884 S – 899 E
Standard

Piron Du Dejon: 3019 S – 797 W
Lormay Exit Point: 3196 S – 892 W
Mont Fleuri: 4169 S – 2077 W
Pointe De Mandallaz: 4307 S – 2584 E
Tyrol
Legendary
Standard
Hinterer Seleenkogel Base Camp: 2212 S – 6867 E
Schwarznkamm Exit Point: 2972 S – 5099 E
Aoste
Legendary
Matterhorn: 4626 N – 5429 E
Bivacco Perreli Exit Point: 7080 N – 3724 E
Standard
Zmuttgrat: 3645 N – 4630 E
Crot De Labie: 4517 N – 4180 E
Switzerland
Legendary
Monte Rosa: 2723 N – 2386 E
Standard
Chili Haupt: 2106 N – 1882 E
Dent Blanche: 717 N – 1595 E
Pointe Du Mountet Base Camp: 605 S -1810 E
Pointe De Mourti Exit Point: 502 S – 312 E
The Cursed Mountains
Legendary
Peak of the Damned: 2829 S – 6113 W
Standard
The Dome of the Damned: 3313 S – 6348 W
The Giant's Bed: 6237 S – 6859 W
Aiguilles
Legendary
Aiguille Verte: 3186 N – 4484 W
Standard
Perron Aux Aigles: 1624 N – 4105 W
Aiguille D'Argentiere: 877 N – 5514 W
Chardonnet Exit Point: 236 N – 5886 W
Tete Du Moine: 133 S – 4318 W
Mont Blanc
Legendary
Mont Blanc: 4830 N – 2657 W
Standard
Dome Du Gouter Base Camp: 4652 N – 545 W
Mont Tondu Exit Point: 6079 N – 453 W
Le Gros Rognon Du Geant: 3904 N – 4558 W
Ruines De Planpincieux: 6717 N – 4399 W
Drop Zones
Aravis
(Legendary) Aravis Air Balloon: 1424 S – 913 W
Pointe Percee Exit Point: 3609 S – 322 E
Grande Pointe Blance: 4532 S – 105 E
Les Qatres Tetes: 4016 S – 1217 W
Mont Fleuri Exit Point: 4353 S – 2338 W
Grande Balmaz: 5024 S – 2203 W
Tete du Danay Base Camp: 5272 S – 850 W
Mont Lachat Du Chatillon: 5458 S – 175 E
Refuge Du Lessy: 6347 S – 316 W
Snowpark De L'Empereur: 6276 S – 1996 E
Aiguille De Manigod: 5970 S – 3774 E
La Croix Fry Exit Point: 3431 S – 2854 E
La Seche: 2626 S – 2165 E
Tyrol
(Legendary) Tyrol Air Balloon: 360 S – 5220 E
Sudgipfel Exit Point: 344 S – 6411 E
Vorderer Heuberg: 143 S – 7010 E
Boderkopfe: 242 N – 5569 E
Schalfkogel: 531 S – 3558 E
Furglerseehaus Exit Point: 669 S – 3477 E
Querkogel: 898 S – 4601 E
Karlesspitze: 1665 S – 5034 E
Haupt Schwarzenspitze: 3571 S – 5151 E
Nordliche Ferwallspitze: 3029 S – 6516 E
Kleiner Kirchenkogel: 4606 S – 5736 E
Aoste
(Legendary) Aoste Air Balloon: 4056 N – 2046 E
Hirli: 3191 N – 5399 E
Furgghorn Base Camp: 4088 N – 5696 E
Rifugio Teodulo: 4307 N – 6821 E
Plan Theodule: 5389 N – 6002 E
Cime Bianche: 6391 N – 6337 E
Bivacco Pellissier: 5396 N – 5706 E
Batse: 5353 N – 3172 E
Goillet & Tramail Exit Point: 5047 N – 5564 E
Cervino Exit Point: 4651 N – 5505 E
Switzerland
(Legendary) Switzerland Air Balloon: 2934 S – 274 E
Oberrothorn Exit Point: 1090 N – 2797 E
Breithorn: 782 N – 3041 E
Tierfad: 499 N – 59 E
Les Diablons: 603 S – 948 E
Weisshorn: 1876 S – 1045 E
The Cursed Mountains
(Legendary) The Cursed Air Balloon: 2332 S – 7527 W
Fearless Exit Point: 2583 S – 5976 W
Into the Cliff: 2774 S – 6274 W
The Razor Exit Point: 3055 S – 6121 W
The Death Pass: 3273 S – 5297 W
The Middle Peak Base Camp: 5099 S – 6399 W
Lessy's Lake Exit Point: 4799 S – 5765 W
The Wall: 4571 S – 4792 W
The Giant's Shoulder: 6510 S – 5944 W
The Remote Place: 6728 S – 7048 W
Aiguilles
(Legendary) Aiguilles Air Balloon: 4076 N – 7428 W
La Freta: 2030 N – 4735 W
Corridor Exit Point: 1602 N – 4746 W
Nantillions Exit Point: 1704 N – 5320 W
Petite Aiguille De Reigne: 1310 N – 5502 W
La Charpoua Base Camp: 1328 N – 3879 W
Col Gele: 343 N – 5280 W
Cabane De Saleinaz: 368 N – 6288 W
Aiguille Noire Exit Point: 60 N – 6291 W
Dent De L'ancien: 747 N – 3890 W
Refuge De Leschaux: 860 S – 5241 W
Col Des Troilets: 671 S – 5987 W
Aiguille Du Tour: 1427 S – 6096 W
Mont Blanc
(Legendary) Mont Blanc Air Balloon: 2648 N – 7865 W
Col Major: 4724 N – 3722 W
Le Plan Du Truc: 6321 N – 1562 E
Arrete De Tricot: 3660 N – 1019 E
Pointe Pfann: 5287 N – 117 E
Aiguille Blanche De Peuterey: 6766 N – 440 W
Falaises De L'Androsace: 6361 N – 2826 W
Dome Des Allobroges: 4648 N – 5513 W
Pre De Bar Exit Point: 4158 N – 4020 W
La Coulee: 2148 N – 1201 W
Pyramide Du Tacul: 3508 N – 2950 W
Aiguille Du Diable Exit Point: 4032 N – 2571 W
Aiguille De Saussure: 3806 N – 1702 W Les Rochers Rogues: 3665 N – 702 W
Aiguille De Gouter: 2113 N – 424 W
Les Bosses: 5218 N – 1409 W
Pointe Helbronner Exit Point: 5447 N – 2873 W
Points of Interests
Aravis
Colomban: 4562 S – 3958 E
Gotty: 6845 S – 323 E
La Blonniere: 3677 S – 1739 E
La Clusaz: 6911 S – 1770 W
La Turte: 4703 S – 1288 E
Le Chinaillon: 5669 S – 298 W
Le Villard: 7314 S – 5069 E
Les Combettes: 5854 S – 3034 E
Les Glieres: 2816 S – 2765 W
Les Nants: 3237 S – 1973 W
Lormay: 3567 S – 1457 W
Tournance: 7083 S – 1936 E
Quais Grand Lac: 3833 S – 1734 W
Les Failles: 2589 S – 2077 E
Snow Castle: 6647 S – 3677 E
SnowPark de Bargy: 4776 S – 342 E
SnowPark de l'Empereur: 6350 S – 1762 E
Ultra Natural de Foiroux: 5453 S – 2008 E
Ultra Natural de la Giettaz: 5883 S – 2678 W
Tyrol
Bodnegg: 4210 S – 5330 E
Ferlienz: 6132 S – 5245 E
Ladis: 914 N – 7494 E
Obergurgl: 6204 S – 5894 E
Prinzen: 4047 S – 7300 E
Serfaus: 633 N – 4961 E
Solden: 6721 S – 5755 E
Zwieselstein: 7123 S – 6167 E
Ferwallspitze's Pillow Field: 3731 S – 6054 E
Querkogel's Pillow Field: 1336 S – 4247 E
Böderköpfe's Gorge: 35 N – 5606 E
Heuberg's Chaos: 218 S – 6264 E
Schwarzkamm's Chaos: 2766 S – 4779 E
Kirchenkogel's Ultra Natural: 5120 S – 6268 E
Ortles Ultra Natural: 1065 S – 6892 E
Aiguilles
Barberine: 532 S – 2808 W
Gietroz : 2385 S – 3298 W
Le Chosalets: 2045 N – 7134 W
Le Planet: 940 N – 7295 W
Le Tour: 484 S – 7320 W
Les Chavants: 2028 S – 4446 W
Les Gens: 241 S – 1953 W
Les Houches: 1615 S – 4234 W
Montenvers: 115 S – 2379 W
Montroc: 1645 S – 6832 W
Emosson's Dam: 1845 S – 2626 W
Observatoire de l'Aiguille: 1538 N – 4878 W
Pillow Field le Lavancher: 729 N – 2667 W
SnowPark des Nantillons: 1601 N – 7405 W
Glacier d'Argentiere: 13 S – 4782 W
Glacier de l'Ancien: 874 N – 4017 W
Glacier de la Noire: 2525 N – 6265 W
Glacier de Taconnaz: 1202 N – 3569 W
Glacier de Talefre: 370 S – 6336 W
Glacier des Nantillons: 1586 N – 6039 W
Glacier des Pelerins: 1206 N – 5630 W
Ultra Natural d'Emosson: 193 S – 4105 W
Ultra Natural de Peclerey: 1107 N – 6336 W
Ultra Natural des Petoncles: 779 S – 6373 W
The Cursed Mountains
The Doomed Retreat: 5004 S – 4132 W
The Haunted Resort: 5453 S – 4704 W
The Doomed Resort: 6118 S – 4822 W
Mammoth's Valley: 5084 S – 5198 W
Abandoned Mountain Lodges: 5954 S 5995 W
Doomed Bobsleigh Track: 5570 S – 6200 W
The Cursed Hotel: 7021 S – 7566 W
Rabbid's Valley: 4212 S – 6911 W
Abandoned Bobsleigh Track: 2911 S – 7049 W
Village of the Damned: 2415 S – 6866 W
Forgotten's Ultra Natural: 2647 S – 6570 W
Air Park: 2361 S – 5991 W
The Flooded Resort: 3275 S – 4540 W
Alignment of Carnac: 3716 S – 4475 W
Cursed Bobsleigh Track: 3937 S – 6034 W
Aoste
Theodule's Snowpark: 1868 N – 7286 E
Trockener Steg: 2401 N – 6898 E
Furgggletscher: 3288 N – 5796 E
Matterhorngletscher: 3303 N – 4829 E
Plan Torette: 5271 N – 3211 E
Salette: 6300 N – 3410 E
Pian Maison: 7676 N – 3571 E
Breuil Cervina: 6823 N – 4493 E
Valtournmenche: 7472 N – 5791 E
Cieloalto: 7361 N – 6536 E
Avouil: 6879 N – 6229 E
Bayettes: 6254 N – 6298 E
Ghiacciaio della Forca: 5219 N – 6494 E
Theodulgletscher: 4634 N – 6710 E
Ghiacciaio della Testa Grigia: 4252 N – 6499 E
Furi: 2794 N – 3883 E
Florio's Canyon: 5605 N – 4699 E
Giomein's Pillow Field: 5934 N – 4868 E
Le Rocce Nere: 6514 N – 5229 E
Ghiacciaio Inferior del Cervino: 6376 N – 5601 E
Ghiacciaio Superior del Cervino: 5106 N – 4808 E
Ghiacciaio del Leone: 4235 N – 4425 E
Corridoio dei Tre Orsi: 5703 N – 5645 E
Bivacco Ratti: 5568 N – 5078 E
Switzerland
Evolene: 1348 S – 1958 W
Eison: 545 S – 1645 W
Grimentz: 131 N – 1098 W
Tsevalire's Ravine: 465 S – 891 W
Le Prelet's Ultra Natural: 1705 S – 1451 W
Pas de Lona's Canyon: 1941 S – 1309 W
Chiesso: 1732 S – 499 W
Telepherique du Brandon: 962 S – 495 W
Tierfad: 620 N – 504 E
Observatory: 362 S – 496 E
Blanc de Moming's Ultra Natural: 1434 S – 2132 E
Aschhorn's Canyon: 110 S – 2750 E
Ruin Castle: 1151 N – 4297 E
Zermatt: 1420 N – 5450 E
Bielti: 1936 N – 3251 E
Burg: 1128 N – 1510 E
Mammoth's Pillow Field: 1186 S – 2687 E
Mont Blanc
Hotel Steep: 665 N – 874 W
Bec a l'Oiseau: 827 N – 62 W
Pillow Field des Arendellys: 2530 N – 1122 E
Gracier de Bionnassay: 3208 N – 44 E
Les Toiles: 3345 N – 2556 E
Le Champel: 3370 N – 3312 E
Viaduc des Recorbes: 4257 N – 3096 E
Pillow Field de Vorassay: 4577 N – 2418 E
Glacier de Miage: 4586 N – 1550 E
La Gruvaz: 6918 N – 2760 E
La Villette: 6482 N – 1776 E
Glacier du Brouillard: 6371 N – 242 E
Peuterey: 7457 N – 1239 W
Glacier de Toule: 6343 N – 1664 W
Glacier de la Brenva: 7316 N – 3822 W
Plan Pincieux: 7398 N – 4667 W
Snowpark des Meutes: 5418 N – 6737 W
Glacier de Febrouze: 5769 N – 5578 W
Glacier de Pre de Bar: 4179 N – 5575 W
Glacier des Bossons: 1708 N – 2496 W
Glacier du Bourgeat: 2087 N – 1435 W
Le Grand Couloir: 1967 N – 918 W
Glacier des Gemaux: 3362 N – 1031 W
Bras des Gemaux: 3742 N – 1443 W
Glacier du Geant: 3901 N – 3695 W
Glacier du Mont Frety: 5947 N – 2696 W3
Glacier Rond: 3586 N – 2239 W
Canyon du Gouter: 2985 N – 2263 W
Couloir Marguerite: 5996 N – 4545 W
Febrouze: 6793 N – 7202 W
Falaises de la Muete: 4216 N – 7356 W
Les Chaletes de Truc: 7442 N – 1284 E
Canyon du Brouillard: 7574 N – 1433 E
Ravine des Hirondelles: 6871 N – 5666 W
La Turche: 5447 N – 2292 E
Recommended for You