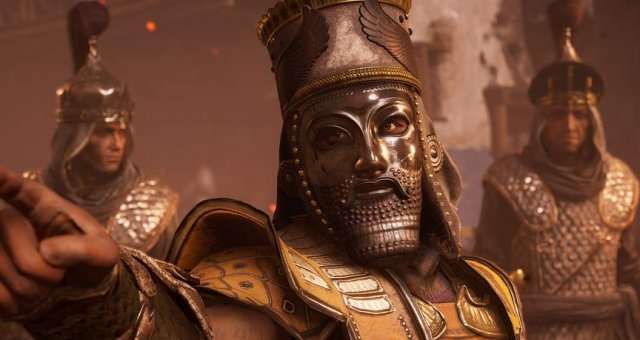 Want to recruit those badass "Immortals" scions you see in LoTFB?
Other AC Odyssey Guides:
Process
This guide will explain how you can recruit the persian "Immortals" scions that you sometimes see during Legacy of The First Blade as lieutenants. This particular method will require that you have reached episode 3 of the DLC.

During LoTFB episode 3 you will encounter an Ancient named Pithias the Architect, located in one of the warehouses of Aipeia (Valley of Aristomenes) in Messenia.
He will be guarded by two "Immortals" scions, these two guys must not be killed. If you knock them out you'll see that you cannot recruit them yet, instead just play the game like normal for a while. Kill all the Ancients, do a few side-quests, walk around aimlessly until the area where the scions are located unloads. Additionally you might have to complete every quest tied to LoTFB, atleast from episode 3.
Once you have done this you can return and recruit them, they will have all the moves they had as enemies. Sometimes they spawn with masks, sometimes they don't. I recommend making a manual save before fast-travelling to the synchronization point, you can keep reloading the save and fast travelling back again until you get one with a good rank. In the pause menu their icons in the lieutenant list will be shown as civilians, so don't get confused.
They will also keep respawning as long as you don't kill them, ranging from normal rank to epic rank (I have not seen any legendary ranked spawns yet, I've spent a few hours reloading the area and even getting epic ones are almost impossible).