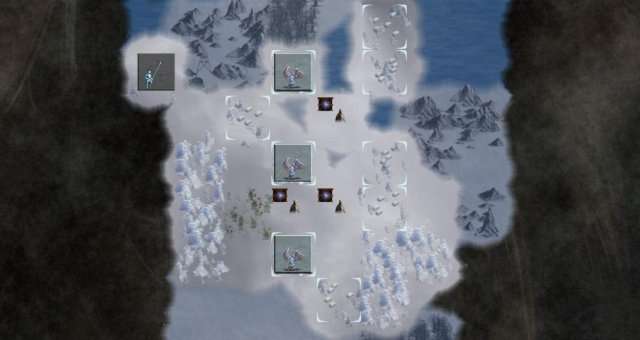 PC Controls (Keyboard Shortcuts) in Conquest of Elysium 5
Controls
In the upper right corner of the Combat Screen there are controls to adjust the speed of the battle replay, which allow the viewer to slow down or speed up the pace or pause the combat view.
Keyboard shortcuts in battles
? – Display keyboard shortcuts
f – Toggle speed (normal / fast fwd)
n – Normal speed
s – Increase speed by 1 level
z – Slow motion
q – Skip battle
l – Hide / show battle messages
g – Hide / show grid
t – Hide / show terrain
+ / – – Scroll battle log up / down
SPACE – Pause
Keyboard Shortcuts
The keyboard shortcuts for the various screens are listed here. They are also listed in their respective sections. Combat Screen shortcuts are listed in Chapter Controls. You can always view the available keyboard shortcuts from within the game by pressing '?'. This will display the keyboard shortcut for the screen you are currently in.
Movement
You can move one square on the map by pressing q,w,e / a,s,d / z,x,c. Pressing shift + a movement key will give information on the adjacent square in that direction. The s key in the middle is not used for movement, but will instead sentry the active commander. If you have a Number Pad on your computer, the NumPad keys can be used for movement instead of these keys.
Map View & Zoom
Map keys are used to move the player's view around the Map Screen. Hold down shift as well to increase the speed. Ctrl + up/down can also be used to zoom in and out.
Arrow keys – Scroll map
Page Up – Zoom in (also mouse wheel)
Page Down – Zoom out (also mouse wheel)
Home – Center map on home citadel
< – Up one plane
> – Down one plane
Map Screen
The keyboard shortcuts available from the main interface (Map Screen) are the following.
? – List keyboard shortcuts
r – Recruit
long right click – Recruit at specific location
y – End turn
m – View messages
n – Next commander
j – Previous commander
Space – Commander is done for this turn
t – Transfer troops
p – Use commander's special power
F1 – Unit overview
F2 – Player overview
F3 – Class description
F5 – View score graphs (if enabled)
F6 – View active mods
F9 – Misc menu
F10 – Settings, save, quit
i – Square terrain info
v – View commander stats
l – Trade administration
s – Sentry commander
o – Use location's special power
b – Burn forest screen
B – Burn forest immediately
h – Hunt for slaves
l – Plane shift
, – Continue moving
. – Continue moving for all commanders
ctrl + i – Detailed square info (for modding)
ctrl + a – Astrology reading (for High Cultist)
alt + s – Scry (for Augur)
Home – Center map on starting citadel
Tab – Hide map icons
Page Up/Down – Zoom in/out
Arrow Keys – Scroll map
qweadzxc – Move commander
QWEADZXCS – Get info on adjacent square
Recommended for You