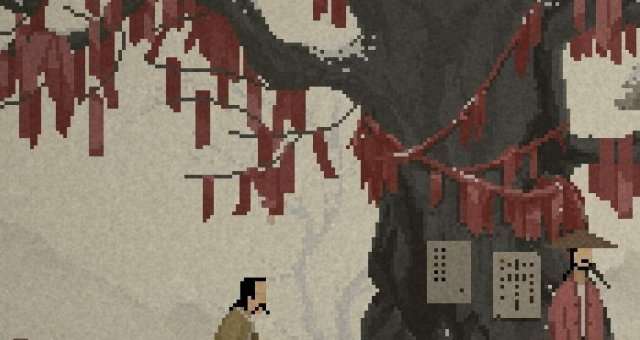 You cannot get all achievement of The Rewinder in a single playthrough. Instead, after clearing the game, "Harma Stone" will allow you to select chapters and get the rest of missed achievements. We recommend you to enjoy the game without the article at first, and complete missed parts later. It might take less than one hour to finish it.
How to Obtain All Achievements
Walkthrough
Unlock as you play
A Stolen Moment of Reprieve
Have some tea at Yun's place
Yesterday Once More
Complete the first memory level
The Storm is Coming
Complete the second memory level
Pearls Fall on the Jade Plate
Complete the third memory level
The Road not Taken
Reach the top of Mt. Bamboo Brook
Shifting Perspectives
Complete the fourth & fifth memory level
Because I could not stop for Death
The things which I have seen
An Unfamiliar Familiar Land
Have a toast with the friends of Reed River Village
Here We Meet Again
Perfect Pitch
Pass the musical shrine puzzle
The Scholar
Pass the Alchemist's Furnace puzzle
The Savior
Save a villager from the spider
Puzzle
These puzzle-related achievements are missable.
The One that Understands my Sound
In Willow's dream, let Faith watches Willow's show (The beggar should pick up his package). 
From Prey to Predator
Arrange items in correct order when facing the Boss: Freeze/Explosion/Freeze/Explosion/Scroll/Jade/Freeze (from left to right).  
Special
You Can Pet the Dog in 'The Rewinder'
In chapter 1, pet the white dog outside the tea shop.
The Prankster
In chapter 1, before giving wine to Tudi, fill it with water outside the tea shop instead of wine outside the wine shop.
All of Chang'an's Flowers
Press F to fast forward in a memory level.
To Stories and Beyond
Find Misty Mountain Studio in the game. 
Hidden Ending
Many Regrets Unspoken
After collecting all flowers, speak to the Tree Sage to unlock hidden story, and then complete it.
Flower Collection
Summoning Spring
You can check list of uncollected flowers and their hints in Gallery.
1. Beyond Flower
Pick it at home, just before Yun comes aboard. (Chap1: Home)
2. Cavernshine
Go far left after finishing the first shrine puzzle. (Chap1: After Meeting Tudi)
3. Camillia
After Amber's memory level, go fat right in the frozen river from the wharf. (Chap2: Regain the Body)
4. Multiflora Rose
If June fails to fell in his memory level, get the it near the tree (Chap2: The Carpenter's Memory)
5. Orchid
If June succeeds in felling in his memory level, get the it near the tree. (Chap2: The Carpenter's Memory)
6. Tuberose
After leaving the spider's cave, get it outside the herbal shop. (Chap4: Willow Joined the Party)
7. Balsamine
If Faith watched Willow's show, you can get it near Faith in Bamboo Brook village. (Chap4: Arrival at Bamboo Brook)
8. S. Involucrate
Outside the Taoist Temple (Chap4: Enter the Taoist Temple)
9. Zhuyu
Near the entry of Reed River when it on fire. (Chap6: Reed River on Fire)
10. Tiao
After death of Ying, get it in the way to the Mt. Bamboo Brook from the village. (Chap6: Farewell to the Friend)
11. Monotropa
It lies just behind the headless ghost in spider cave, and you need to obtain the skull later and give it back to him to clear the path. (Chap6: Into the Spider Cave)
12. Morning Glory
Get it from the scholar in the market. (Final Chap: Back to the underworld)