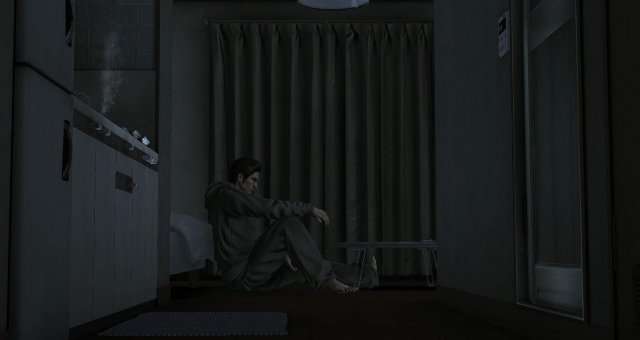 The bonus stuff for Premium Adventure when you lug Haruka around. I hated this in the older games, but here it's more reserved and I wanted to know how bad it was. Also there's no guide for this since you can't keep the rewards in NG+. Go figure.
All Haruka's Requests List
Kamurocho, Tokyo
1. Pronto
Sea Urchin Cream Sauce Spaghetti
2. Matsuya
3. Bantam
Darts, solo 901. Practice hitting your 180s if you want to save time. I found the most reliable way with a mouse, pulling the mouse back until your arm goes back, then pulling back a bit more. That reliably nets you a hit south-southeasterly of where you were aiming.
4. Kanrai
5. Cafe Alps
6. Karaokekan
Score at least 900 on Loneliness Loop, hope you've been practicing. Luckily it's Kiryu's backup version and not Haruka's singing version, which makes it much easier.
7. Nakamichi Street Club SEGA
Jumbo Bun-chan, the big bird. It sucks because it's the insert-the-pole-in-the-hole ones. The ease depends on your visual acuity.
8. Yusosono Hot Springs
Air Hockey challenge. It's not too bad, since you get to pick the difficulty. Given that usually you'd get to stare at the girl's tits as she bounces around, it's disabled, as are Heat shots since it would result in your daughter falling over and being very horny and flustered. Pick easy and you'll live.
9. Dragon Palace Gambling Hall
300 points in Oicho-kabu. It sucks. 300 points is no big deal however. Use a 10-10-1 Charm as the dealer if you still have one around by the time you're doing this.
10. Dragon Palace Gambling Hall
1000 points in Koi-koi, much more fun if you know how to play it. The Lucky Hanafuda Card makes it easy, and more lucrative if you use it once you unlock Expert Difficulty with bets of 200 per point.
11. Dragon Palace Gambling Hall
1000 points in Cee-lo. It's not that bad, provided the dice don't curse you. 1-1-1 Charm, Trips Yokan, Piss Mountain Stone or the 1-2-3 Gum are all viable choices for making this easy. You can only exit the game once everyone's done their turn once, otherwise it won't count.
12. Smile Burger
13. Fishing (Purgatory)
You need a Ghost Koi, do this at night, otherwise all you get is Koi and Silver Arowana. Sadly Haruka only tells you once you get there that you need either Catnip Sticks (M Store) or Tuna Burger Sets (Smile Burger takeout) to catch it. Weird.
14. Fishing (Docks)
Oarfish it is. Can be caught at any time, above 80m cast, though aim for ~120 because under that is a ton of Giant Crabs. She tells you to use Catnip Sticks (M Store) or 1-2-3 Gum (What the ♥♥♥♥), so Catnip Sticks give you a narrow ass range of 115-120? meters.
15. M Store
16. Kamurocho Batting Centre
Get all the answers right in Academic mode, third to last. What questions you get is random (you can pause to think), but the ball order is fast fastball, slow curveball, fast fastball, fast fastball, and fast sinker.
17. ♥♥♥♥♥♥ Casino (Purgatory)
Get 1k in roulette. Quick if you have one of the Crystals left over, or got one from Haruka. Otherwise bet 1k on black or red and pray.
18. ♥♥♥♥♥♥ Casino (Purgatory)
2k chips in Poker. One good hand when everybody's in ought to do it, and you should be granted one if you use a Royal Joker card right before the last card is dealt. Otherwise, roll your dice or hope you can get a good bluff.
19. ♥♥♥♥♥♥ Casino (Purgatory)
Blackjack this time, but she stands at the Low Stakes table because she ♥♥♥♥♥♥♥ hates you, though bets increase with number of games won. Luckily only wins count, so if you gain 300, lose 500 and then gain 100 you will stand at 400 gained. Again, easier with the Blackjack amulet and such, otherwise look up the regular strategy on wikipedia.
20. Club SEGA (either)
PrintCircle, take a picture with your daughter to close out this city. This only happens when you've done every single other task in Kamurocho.
Kineicho, Nagoya
1. Osumii Drugs
2. M Store
Grilled Onigiri with Miso
3. Yamamoya Honten
Miso Stewed Udon with Choice Kurobuta
4. First Shot
8-Ball with Haruka, judging by her banking she's an easy opponent. Stomp her and don't drop the 8-ball in the hole before you're done with the others.
5. Karaokekan
900 points on So Much More! Easy enough. Kiryu sounds like a complete overhyped dumbass, I love it.
6. Club SEGA
Taiko no Tatsujin, normal difficulty Nijiiro Yumeiro Taikoiro and get 250k points. Could be worse, just try to make out what rhythm the game wants from you. I got 370k after having completed the game previously.
7. Ferris Wheel
No, seriously. Just go look at it, on the southern end of the map, between Karaokekan and First Shot near the vending machines.
8. Sekai no Yamachan
Premium Tebasaki Chicken Wings
9. TV Tower
Spot's not far east from where Ayanokoji used to stand.
10. Club SEGA
PrintCircle and you're done, off to the next town. Not much to do here.
Sotenbori, Osaka
1. Tsuruhashi Fugetsu
Potato, Mochi and Cheese Okonomiyaki
2. Kani Douraku
Crab Nabe "Maihime" Course
3. Club SEGA
Gunrhein, get to 3rd stage or further. Simple game, try to predict where the crystal worms come from and then blast away in directions to block off their path.
4. Ganko Sushi
5. Zuboraya
6. Kushikatsu Daruma
7. Karaokekan
Because I Have You at 900 points. Harder than So Much More! but easier than Loneliness Loop.
8. Yokobori Golf Center
Intermediate Course 600 points. Sounds like it sucks but it could be worse, since the target is static. Adjust for the wind, aim between 55% and 65% and blast away.
9. Iwao Bridge
Look at the east side until Haruka sidles into place.
10. Club SEGA
PrintCircle again. Pose and head out of Omi turf.
Tsukimino, Sapporo
1. Matsuo Lamb Barbeque
2. Ambitious Bar
Single-player 9-Ball, and don't foul. Super easy, just don't blast too hard or bounce the cue into holes. If you're lucky you might get a Break Ace and finish it instantly.
3. Seicomart
4. Seicomart
5. Sushi Zanmai
6. Mishiyono
7. Gyoza King
8. Main Street Public Park
The whale and dolphins snow statue to the east, right in front.
9. Northern Lane
Por el camino del desierto
El viento me despeina
Sube el aroma de colita
Beat her at bowling, unlike other games she's quite good at it and hits spares often. A reliable way to get strikes is to use a heavier ball, move two to either side, aim at the middle, and spin it so it hits between the front pin and the one behind it from the side. Aiming perfectly straight will just get you a split.
10. Northern Lane
Surprise, it's PrintCircle. Take some good shots and set out to leave the snowline.
Nagasugai, ♥♥♥♥♥♥♥
1. M Store
2. Food Stalls
A little survey by the place where you cook ramen.
3. Bee
250+ in single-player Count-Up. A breeze, really, in 9 shots you need 5 Bulls or 4 Triple 20s and a bit.
4. Ose Bridge
Southern side of the first circular part. You share a foreshadowing moment.
5. Hanamidori
6. Don Quijote
7. Motsunabe Kaede
8. ♥♥♥♥♥♥
Aji Mentaiko 240g (Regular)
9. Club SEGA
Beat Virtua Fighter 2. Oof. Don't bother to learn it if you don't know fighting games, it's very technical. Pick Jeffry McWild, and either Hip Check (L2/LT) enemies into ringouts, or hold down-back and kick them into oblivion with Circle/B. The former works better on earlier opponents. Luckily you don't have to beat Dural on the Extra Stage, but you can do it with the latter trick since she keeps walking into your range to try and counter. Do NOT quit before the credits are over and it says Game Over otherwise it won't count.
10. Club SEGA
Greetings PrintCircle, it's been a while. With this you're done.
Rewards
Rank F to E
Haruka's Candy – low-grade healing item
Rank E to D
Haruka's Chocolate – low-grade healing item
Rank D to C
Haruka's Amulet – low-grade accessory
Haruka also starts holding your hand again.
Rank C to B
Red Jewel – Gambling Cheat Item for roulette. Nets you a sure 1k chips max.
Rank B to A
Haruka's First Aid Kit – high-grade healing item, acts as a Toughness Infinity
Rank A to S
Haruka's Lunch – high-grade healing item, acts as a Toughness Infinity
Rank S to SS
No item, but Haruka will now occasionally call out the fate of the next roll in Cho-han. Kinda useless, since you can't carry the cash over to NG+.
Rank SS to SSS
Haruka's Necklace – pretty solid accessory. Says it makes you stronger, but I don't know how.
Rank SSS to EX
Morning Glory Belly Warmer – Armor, if you could call it, but has horrid defenses. Apparently it has an effect with the Gion Bell, one of the items you get at the start of the game with saves from previous games, but I don't know what.