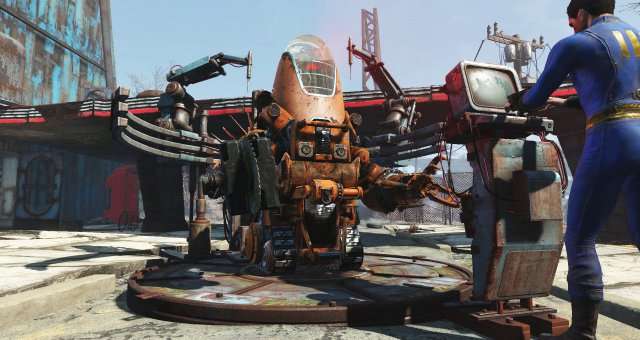 Console commands to unlock Automatron and Nuka-World robot parts.
Here's a string of console commands to unlock the various parts to build robots. Both Automatron and Nuka-World parts are listed. It should not cause any problems with your game, but no guarantees.
Easiest Way to Unlock them All
Easiest way to unlock them all are trough a bat file.
Make a .txt file in the Fallout 4 main folder (where the .exe is, NOT the data folder where mods are) and name it something you can remember (example robot.txt).
Copy all the lines you want to unlock into the text file.
When in game open console and type bat followed by what you called teh text file, for example "bat robot". 
Fallout 4: Automatron Parts
set co_DLC01Bot_Arm_Assaultron_Global to 1 
set co_DLC01Bot_Arm_Protectron_Global to 1 
set co_DLC01Bot_Arm_RoboBrain_Global to 1 
set co_DLC01Bot_Arm_Sentry_Global to 1 
set co_DLC01Bot_Hand_LightningGun_Global to 1 
set co_DLC01Bot_Head_Assaultron_Global to 1 
set co_DLC01Bot_Head_Protectron_Global to 1 
set co_DLC01Bot_Head_RoboBrain_Global to 1 
set co_DLC01Bot_Head_Sentry_Global to 1 
set co_DLC01Bot_Legs_Assaultron_Global to 1
set co_DLC01Bot_Legs_Protectron_Global to 1 
set co_DLC01Bot_Legs_RoboBrain_Global to 1 
set co_DLC01Bot_Legs_Sentry_Global to 1 
set co_DLC01Bot_Torso_Assaultron_Armor_Construction_Global to 1 
set co_DLC01Bot_Torso_Assaultron_Armor_Wasteland_Global to 1 
set co_DLC01Bot_Torso_Assaultron_Global to 1 
set co_DLC01Bot_Torso_MrHandy_Armor_Construction_Global to 1 
set co_DLC01Bot_Torso_MrHandy_Armor_Wasteland_Global to 1 
set co_DLC01Bot_Torso_Protectron_Armor_Construction_Global to 1 
set co_DLC01Bot_Torso_Protectron_Armor_Wasteland_Global to 1 
set co_DLC01Bot_Torso_Protectron_Global to 1 
set co_DLC01Bot_Torso_Robobrain_Armor_Construction_Global to 1 
set co_DLC01Bot_Torso_Robobrain_Armor_Wasteland_Global to 1 
set co_DLC01Bot_Torso_RoboBrain_Global to 1 
set co_DLC01Bot_Torso_Sentry_Armor_Construction_Global to 1 
set co_DLC01Bot_Torso_Sentry_Armor_Wasteland_Global to 1 
set co_DLC01Bot_Torso_Sentry_Global to 1
Fallout 4: Nuka-World Parts
set co_DLC04Bot_Hand_Sentry_Autolaser_Global to 1 
set co_DLC04Bot_Torso_Nukatron_Global to 1 
set co_DLC04Bot_Torso_Nira_Global to 1 
set co_DLC04Bot_Torso_MisterHandy_Armor_Global to 1 
set co_DLC04Bot_Legs_Sentrybot_Global to 1 
set co_DLC04Bot_Hand_Protectron_Weap_Lasergun01_Global to 1 
set co_DLC04Bot_Hand_MrGutsy_Weap_Laser_Global to 1
Recommended for You