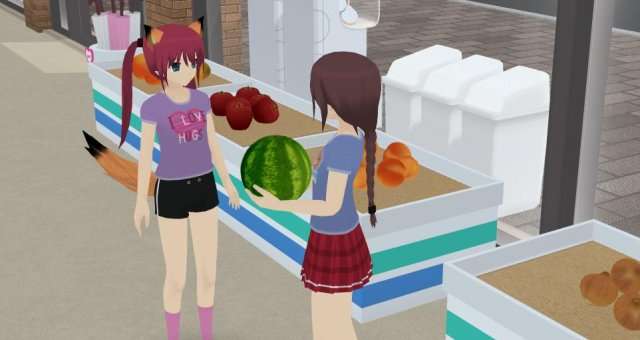 This is tutorial how to get money in Shoujo City!
Introduction and Spawn Places
As for now, you can only get money by selling squirrels. They can spawn in school and in shrine. It's very easy to find them! I will show you all places where they spawn but remember that in future updates they can change or there will be more spawn places.
Schoolyard
Tennis track
Only on this grass
That were all school places, now let's move on to shrine!
Left and right side from the entrance
Behind the shrine
So that's all places I spoted. Let's see how to sell our squirrels.
Selling Squirrels
Congratulations! You learned where to find those creatuers. How to sell them? Let's go to school first.
This is shoujo mart. You probably have been there already! I will go there and show what to do next.
It looks like we can sell squirrels here.
I will stand next to the cash desk. Can you see that big pink hand on right side screen? You are able to press it by your mosue or click E on your keyboard.
A selling box appeared (idk how to call it). Click and hold on your squirrel, drag it to this box.
There is nothing easier to do! Just click "Sell".
That was how to sell a squirrel!
It is time for squirrels kinds schowcase.
Squirrels Kinds
This game is on very early development stage, so there is only two different animals.
Red squirrel
Spawns in school. Can be selled for 500 yens.
Bamboo squirrel
Spawns in shrine. Selled for 1000 yens.
Unfortunetely that's all of them for now.
Other Uses for Squirrels
Holding squirrel in your hands or on your head.
You can give them to your girlfriend as well.
Tapping squirrels. When you tap squirrels that you hold, nothing special will happen.
One on your head will jump, make hearts, make a noise and change a face for a second. Second won't jump.
But when you touch your girlfriend's squirrel she will say something!
Getting away with some questions during dates.
If you don't know what should be an answer for one of girlfriend's questions just tap on a squirrel that is on her head. Remember to give her a squirrel on head before date and don't use it too much.