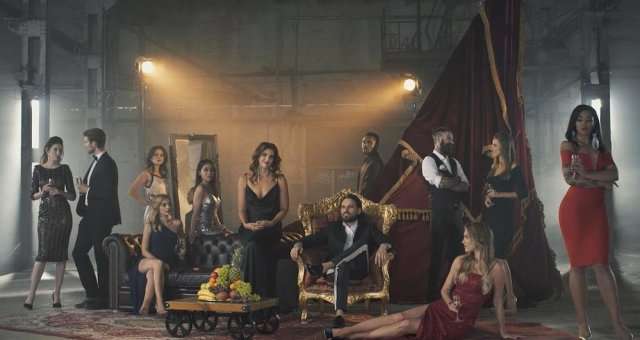 Chapter 1: Posh Totty vs Supermodel
Ending: Get A Number

1. Go and tell her she cought your eye and can you join her for a few mins.
2. Order a tea, cake, something for her.
3. Ignore him, switch the phone to silent.
4. I work for a pharmaceutical company and make YT videos (truth).
5. Continue talking to girl in cafe.
6. Talk about how it's cool to meet people like her that are not boring.
7. Use a question from the Marcel Proust questionnaire.
8. Help the granny up.
9. Say it's nothing serious, just a twinge.
10. If you could wake up anywhere in the world, where would it be?
12. Hide from her.
13. Suggest feeding squirrels together or maybe just meet for a drink.
14. You pay because you are a gentleman.
15. Take her number, arrange to meet again.
Ending: Have Sex

1. Go and tell her she cought your eye and can you join her for a few mins.
2. Order a tea, cake, something for her.
3. Ignore him, switch the phone to silent.
4. I work for a pharmaceutical company and make YT videos (truth).
5. Approach girl in car.
17. Be direct and say she looks amazing and you didn't want to lose the chance to meet her.
18. Validate her that she is open and friendly.
19. Ask her if she is spontaneous or boring.
20. I've got 20 minutes. I'll pay for the juice, you pay for the gasoline.
21. After training there is nothing better than a massage.
22. Tell her no that you are very honest.
23. Let's say ♥♥♥ the juice bar, and come to my house for juice.
24. Say that you respect whatever decision she makes!
25. Find out about her passions.
26. Have a little spar and then judo throw her onto the sofa.
27. Say that this is so cool, that you are both sober, and she's spontaneous and not boring.
28. Have sex.
Chapter 2: Boss and Secretary
Ending: Date

1. Voucher for yoga lessons.
3. Ask her to fax some contracts and rearrange a meeting.
4. Professional because it's an office.
5. Tell her it's not a big problem, but to be more careful in future.
6. Give her a personal task to perform for you and reveal some personal info.
7. Talk about how her weekend was.
8. Give her career advice and mentor her.
9. Invite her to a fancy networking evening event tomorrow.
10. Play it cool when there.
12. Smartly persuade everyone to your view.
14. Use referencing to the business trip to find out if she is single.
15. Give her 1000$ and tell her to buy some fancy snacks and wine for everyone.
16. More informal.
17. Coolly invite her to a date.
Chapter 3: Interracial Dating
Ending: Get a Number

1. Most Asian guys think the same thing and won't approach so you have a better chance.
2. Tell him to be expressive because Western girls think Asian guys are to poker faced.
3. Give her a direct compliment.
4. Chinese (truth).
5. Teach her to say "I like you".
6. Travel.
7. Tell her that Asian guys think Western girls are not so feminine or ladylike.
8. Demonstrate some value by talking about Buddhism.
9. Go to help him.
10. I'm not interested in being friends with you. I have too many friends already.
11. Show her how interesting it is and touch her.
12. As a single girl, I was wondering whether you are into dating apps or mainly meet people in real life.
13. Suggest meeting for a meal sometimes just the two of them.
Chapter 4: Older Mahmoud, Younger Woman
Ending: Invite her to Party

0a. Anything but Actual honest picture.
0b. Fancy restaurant.
1. Admit a mistake by your PA, apologise.
2. Give her lots of compliments and make her feel good.
3. Say you have a family business, YKK zips.
4. Make an assumption about her based on her interests.
5. Ask him about his future career plans.
6. Tell her she is too young for you and ask whether she is mature.
7. High status like you are interviewing someone for a job.
8. Call her out on her phone usage.
9. The teenage app? You said you were mature.
10. We just met but if it turns out I can trust you, you won't have any problems.
11. Give some advice on what to do, to follow her passion.
12. Invite her to charity party.
Chapter 5: Strip Club
Ending: Get a Number

1. Leave it, stop playing, and go to the strip club.
2. Dull Tuesday.
3. Soft trousers.
4. Go to sit down and give the stripper you like good eye contact.
5. Ask if she chose the stage name for a special reason?
6. Tell her you approve of her name as it is subtle.
7. My real name is Richard but my stage name is Rivinda.
8. Tell her to just sit next to you.
9. Tell her that she is sexy but you are into the entire package not just looks.
10. Tell her then move conversation away from sex.
11. Challenge her to be more precise.
12. Suggest that she can earn money from the other guys then come back to you.
13. Find out her real name.
14. Connect on it and offer to buy her a cocktail at the bar.
15. You share some of your passions and make very clear statements about what you want from life.
16. Suggest meeting for food one day when she is not working.
17. Record her using voice memo.
Chapter 6: Looking for a One Night Stand
Ending: Find the Right Partner

2. Smile a lot and look around the room.
3. Open to the room.
4. Adjust clothes and primp hair.
5. Use Adam Lyon's "Invisible dance partner" routine.
5A. Pretend to be upper class.
5B. Suggest meeting another day for a date.
6. No.
7. No.
8. No.
9. Yes.
11. Laugh and say "maybe".
12. Ask him 3 qualities that he has.
13. See if he will buy you a bottle of Champagne.
14. Tease him about his phone.
15. Compliment his lovely little hands.
16. "Okay fine".
Chapter 7: Comedy Interlude
Ending: Successful Performance

0. Respectful Introduction.
1. Welcome Everyone.
2. Self deprecating joke about Scottish food.
3. Self deprecating stuff about being tall.
4. Sex.
5. Testicles on Holiday.
Chapter 8: Girl Looking for a Serious Relationship
Ending: Find a Good Man

2. In the middle of the bar.
3. Smile and have fun with your girlfriend.
4. Be friendly to him and get his name.
5. Make brief eye contact and smile.
6. Reject Him.
7. Deal with him quickly and politely.
8. Go to the bathroom, walk slowly, hold eye contact a little as you go past.
11. Be quite friendly.
12. Ask what are his favourite bars and clubs and which nights are good where.
13. Find out whether he knows whisky is Bourbon.
14. Say that it's too violent but ask what he likes about it.
15. Lightly tease him about how active he isn't.
16. Ask what he looks for in a woman.
17. Ask his longest relationship.
18. Ask about his relationship with his mum and dad.
20. Logically explain why not but say you'd be happy to meet him another time.
Chapter 9: Girl in Group of Guys
Ending: Take her Home

1. Befriend another girl and send her in.
2B. Bet her that that girl is wearing the same shoes (she isn't).
6. Say you thought she was rude before but actually she is cool.
7. Brush him off.
8. Steer the conversation back.
9. Go to dance with her.
10. Do dancefloor limbo with a scarf.
11. I don't know if I'd describe myself as a feminist but I believe in equality of opportunity.
12. Say that the game is great.
13. I'll go if she wants me to, she can make her own mind up.
Chapter 10: Dating App
Ending: Get a Date

1. Stick.
2. A picture of you with a cat.
3. Joke about your cat allergy (since you have cat pics).
4. Yes because Tinder+ people have priority when it comes to matches.
5. Be more selective.
6. Swipe left (don't choose her).
7. The worst picture is probably most true to life.
8. Hey Tanya, Tech business…Interesting. Are you more of a Jeff Bezos or Zukerberg fan?
9. I'm not gonna reveal that immediately 🙂 first tell me 3 interesting things about yourself.
10. Been busy. I'm just driving. So you had a while to think about it, I'm looking forward to hearing those 3 interesting things about you 😉
11. I like people who are creative, so I'm guessing that you are spontaneous too?
12. I wasn't gonna ask you to send me a dirty picture, I was gonna ask you to send a nice selfie with a smile. Send here or iMessage me.
13. Leave her hanging while you eat.
14. I'm old fashioned, so if we go on a date, I'm going to be taking your coat, opening the door, pulling out your chair and obviously I insist on paying.
15. Do you go to the gym a lot or you are one of those people that girls hate who eat burgers and still looks like a swimwear model?
16. Listen I'm happy to answer that, I'll call you in 5, that gives you time to prepare your best phone voice 😉
17. I'm Kind, very decisive, ambitious and why don't you tell me the third one since you know me a little bit by now.
18. We need to meet first, because life doesn't work that way. Obviously I find her attractive, I guess I'm open to both.
19. Why don't you arrange a date for us, I'm free tuesday and thursday, which one would work best for Tanya?
20. That's a shame, I was thinking we could go to Heroes, that amazing new cocktail bar.
21. You know what, I love going out for dinner, but it's a little bit too formal, so that's more for a 2nd date.
Achievements
You Dun Bro. Almost
Finished all levels. Get this and you are guaranteed to always get all the girls 80% of the time.
Just finish chapter 1 – 10.
Super Duper Seducer
Get the best ending in all levels. Get this and you are 100% guaranteed to usually get all the girls in real life.
Get the best endings (Super Seducer Endings) in chapter 1 – 10.
Crush your enemies, hear the lamentations of their women
Show these internet guys what happens when they run their mouths.
In Chapter 1:
3. Call Mahmoud.
2 in One Night
Sleep with 2 people in the same night. Gross.
In Chapter 6:
5b. Take him to the bathroom for a quick shag.
Too Sexy for My (Sleeveless Denim) Shirt
Leave with the legend Denis.
In Chapter 8:
20. Check his ♥♥♥ size first.
Thanks for the support bro
Stand up for what is right.
In Chapter 9:
12. Say that game is great.
Hayfever sufferer's revenge
You'll never see hayfever the same way again.
In Chapter 7:
2. Disgusting hay fever joke.
Boss move
Deal with the waiter in the best way.
In Chapter 4:
5. Call in your security guard.
Amoral or is it immoral?
Choose the lies that you can get away with but that are just wrong.
In Chapter 1:
4. Marketing manager and I make YT videos, but I really like poetry.
In Chapter 1: 9. It happened when I was picking up a baby that was walking out onto the road (lie).
In Chapter 3:
5. Teach her to say "I am horny, please help me" but make her think she is saying she likes cats.
Alistair Martin
Re-live Alistair's famously awkward and awful moment from 2008 Covent Garden.
In Chapter 1: 8. Laugh out loud.
Alex Kay
Embody a drunk Alex and re-live an often seen scene.
In Chapter 3:9. Try to steal your friend's girl.