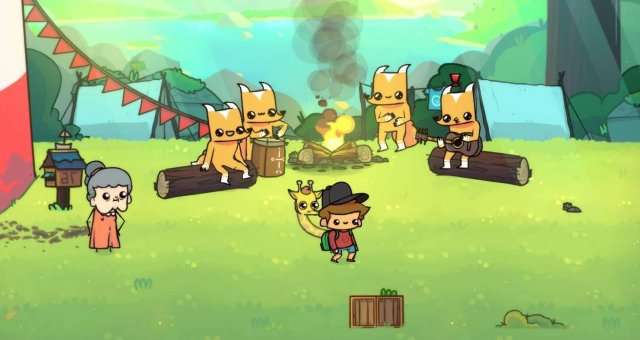 Stickers
There is 44 stickers in total.
21 of those can be found hidden in all stages (1 sticker for each Stage) Should not be a real problem finding any of these.
5 Stickers can be bought in Shops – One for each shop (usually cost around 350 coins per sticker).
5 Stickers are Awarded after successfully defeating an Arena – One for each again.
The other 13 are somewhat hidden or requires something special to do.
Treevale

1. Smash the doors of Lighthouse to get inside, there is a treasure chest with a sticker in it.
2. Can be done after you complete Lunaria stage on Lunacropolis. Go to the Treevale arena and speak with the deer boy, he will reward you with a sticker for helping him reunite with his grandpa.
Port O' Potty

3. In the town there is a Pirate (Calico Jack) That will give you a quest to visit an arena, after you defeat your first Arena level, go back to him and hi will give you a sticker.
4. In the town vote for the drunken pirate (the girl you did the quest with before) Vote box should appear nearly before completing the Port O' Potty area.
5. After completing the Salty Sand Lagoon Stage – Go back to Papa-Rock and he will give you a sticker aswell.
Ubertown

6. In Hall of Heroes – you can find a sticker at the end of the "galery".
7. In the area where Mr. B is waiting for you to find him another 5 Rubies while repairing his Bee vehicle, you have to go to the far right of this area and you will find the developers that will ask you to help and recomend their game, for which you get another sticker 🙂
8. This one is not really hidden, it will be awarded to you during the Maple Mines stage – after finding Ms. cupcake and choosing between her or the T-rex (choice doesnt matter).
Crablantis

9. Once you finish the Coral Corral stage and speak with crabs in town after ,you should get a Skull Artifact, which you will then give to the big stone statue (can be found in the area where one of the crabs gave you the quest to fight yourself). I did this at the very end of the game, not sure when exactly you can turn in the skull (probably after finishing the Crablantis area).
10. Reward for a completing the areas – last quest.
Lunacropolis

11. In the town where all the old guys were (those that turned into ballons and you helped them find their original bodies) – At far right of this location, there is a sticker on the ground.
12. After you defeat the last boss and come back to the Lighthouse to reunite with your family and friends, there will also be a MR.B sitting near all others, speak with him and he will give you, Guess what ? a sticker 😀 (He will also be highlighted with an exclamation mark).
13. You will get this one after you reach the max level which is 21 (Should come naturally around 4th area – no need to farm).
Recommended for You