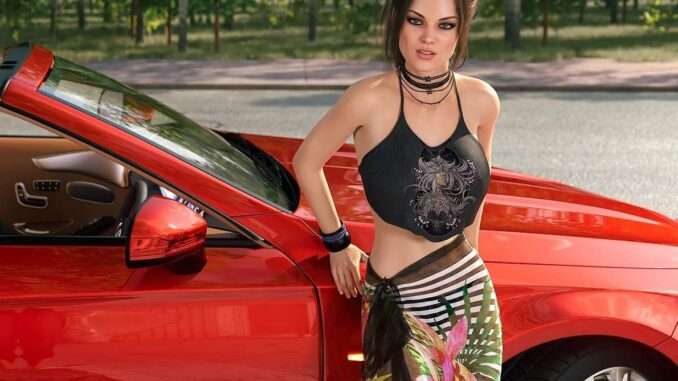 Complete Walkthrough with Achievements
Walkthrough
Start a new game and input any name / use default.
Nah, this is fine

Landlady
Ask about her husband
Call her Lily
Wait and talk to the girl

Scarred Memories
Remember your past trauma

Dance Dance Supreme
BOOKSTORE
Get the book
Of course
Fiction
Sure
Okay

Dictionary Girl
CORNER COFFEE
See what?
Americano it is, then
Sorry for ruining your moment
Comment on her great shape
Deal

Affogato
SUSAN'S CLOTHING STORE
Say hi
All options from top to bottom

BusinessWoman
She is fun
She is smart
She is nice
She is interesting
She is mysterious

Peek

Towel

Hot Bath

Sleep Well
Accept
Yes, I'm here to see the club
Not even you?
Do it
Hey, boss
What am I delivering?
Take the jeans off

Package Delivered
Wave
Take shirt off
Check Alyssa out
Who is it?
Ignore it

Dipshit
No, you didn't wake me up
Thanks
Tell her about the magazine
DOUBLE DOOR → DOOR → PIANO → Pick up magazine
BACK → LEFT → Pick up magazine under bed → Pick up keys from nightstand
DOOR TO OUTSIDE → Pick up magazine on couch
BACK x2 → RIGHT → Pick up magazine from leftmost stool
DOWN x2 → LEFT → LEFTMOST DOOR → Pick up magazine behind sink → Inspect mask next to sink

Susan's Secret
BACK → RIGHT DOOR → Pick up magazine from box
DOWN x2 → RIGHT → DOOR → Pick up magazine from corner
Interact with red suitcase → Yes, end free roam
Check her out a little
Yes, I'll keep an eye
Sure
Everything all right?
Yes, thanks
Check her out for a moment
Drink Wine

Broken Sink

Sink Fixed
Any option
Compliment her
Joke
Tell her

Rise and Shine
Answer Chloe's call (Ep 2)

Hangover

Stretch

Second Date
Save 1
Exploit the glitch in the controller
Don't use it a second time
Look

Winner
Beat Julia in the game (Ep2)

Movie Night
Hug her
I want to see where this goes
How about you in my hand?

You can see

Charlie

As she planned
Tell her the truth
Defend Dylan
Resist some more.

Hell Girls
Hold on a little longer.
Stay

Miss South America

Dream Cafe
Dream about Chloe and Alyssa
Agree to help
Hugh her tighter
Good idea
I hope so.

Alcoholic Bear

College Days

Drone Owner
I don't think so
Shake his hand
You're the shitty one

Worst Lunch Ever

Dessert
Agree with Emily
Continue
Any option
C*m

Crazy Heart

Two Keys
Receive two mysterious keys

Hell and Back
Tell the truth
I was spying on you
No, I did it myself

My Father
Learn about your father's fate
Drive
Ask to stay at her house
Yeah

Sue's Invitation
Get up, Sue
Any option
Slap her ass
C*m

Wild Ride

Alyssa's Invitation
Receive Alyssa's invitation

Chloe's Invitation
Receive Chloe's invitation

Julia's Invitation
Receive Julias's invitation

Dance
Take the step
Any option → Continue
Tease her a little more
Any option → Continue
C*m

Third Date

No home tonight
See the rest of the picture

Fire Exit
World economy
Defend Dylan

World Economy
Talk to Gabby
I'm ready
Any option → Continue
Any option → Continue
Any option

Relaxed Student
Ask Devilla for help
Stay
Any option
I want you
Any option → Continue
Any option

Repeated Mistakes
Miss on purpose
We shall
Any option

First Time

Dylan's Secret
Load Save 1
Don't do anything

Loser