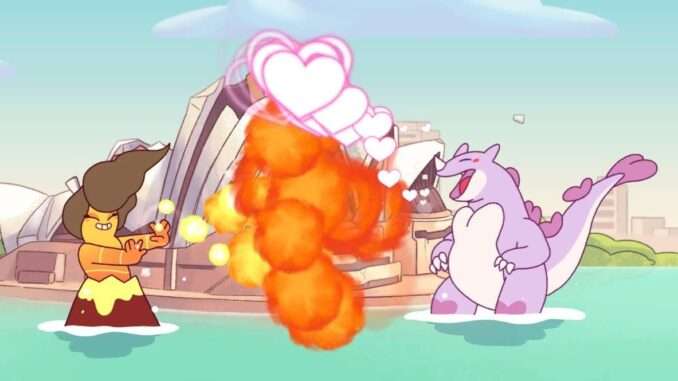 The guide on how to get the "Loved and Lost" achievement, which requires you to get heartbreak in Act 1.
How to Obtain Loved and Lost Achievement
Intro
I personally had a lot of trouble filling the heartbreak meter in Act 1 (the game very kindly does not want you to fail this early on), so I've compiled some of the questions I came across that helped me finally get the bad date achievement while courting Megaricus! I'm sure it's probably possible with all the other characters, I just had the most trouble getting the good ending with Megaricus personally, so I figured it was a good starting point.
Additional note: it does not seem the "save" v. "risk it" pop up impacts this at all – it simply allows you to save your game. I actually got this achievement after I had blindly clicked "save."
Only Good Responses Possible
First date questions:
Does Gigachu come here often?
Is this Gigachu's first time dating a fungus?
Does Gigachu like the <Location Name>?
Miscellaneous questions:
What is Gigachu's favorite color?
What kind of conversationalist is Gigachu?: Talker confirmed, Listener confirmed
Does Gigachu dream?
Which does Gigachu follow?: Heart confirmed, Stars confirmed, other one answer not confirmed
Which does Gigachu prefer for a partner?: Younger confirmed, other two answers not confirmed
Only Neutral Responses Possible as "Worst" Answer
Is Gigachu aquatic?: Yes? (don't pick No)
Is Gigachu artistic?: can pick any? (don't pick Yes)
Megaricus wants to know what first attracted Gigachu to them: can pick any?
What is Gigachu's diet like?: Local? (don't pick Organic)
Does Gigachu think exes can be friends?: No?
Has Gigachu been more affected by positive than negative experiences?: Yes? (don't pick Neutral)
What is Gigachu's favorite holiday?: Monkey Buffet Festival or Halloween? (don't pick Kanamara Matsuri)
Is Gigachu into fitness?: Yes?
Does Gigachu enjoy games?: Yes?
What does Gigachu go for?: Cold climate? (don't pick Warm weather)
Is Gigachu multilingual?: No? (don't pick Yes)
What is Gigachu's outlook on life?: Optimistic? (don't pick Pessimistic)
Is Gigachu into piercings?: Yes? (don't pick No)
Is Gigachu popular?: unsure which to choose (don't pick Yes)
What is Gigachu most proud of?: Magic? (don't pick Dancing or Humor)
How does Gigachu relax?: Stargazing? (don't pick Meditation)
To what does Gigachu attribute chu success?: Hard work? (don't pick Luck)
Bad Responses Possible
Is Gigachu big on bridges?: No
Does Gigachu find it difficult to compromise?: Yes
Which most describes Gigachu?: Troublemaker
Does Gigachu dig deserts?: Yes
Is Gigachu moved by domes?: No
How is Gigachu feeling?: Dangerous
Is Gigachu a fan of forests?: No
Which habitat does Gigachu prefer?: The countryside
Which height does Gigachu prefer for a partner?: Shorter
Is Gigachu afraid of heights?: Yes
Who is Gigachu's hero?: Kirby
Is Gigachu a history buff?: No
Does Gigachu like literature?: Yes? (don't pick No)
What is the most important reason for marriage?: Propriety
How does Gigachu feel about mountains?: Like
Does Gigachu like metal?: Yes
What is Gigachu's top pet peeve?: Nose Picking
Could Gigachu be with someone who didn't share her political beliefs?: No
What is Gigachu's opinion on precipitation?: Dislike
Does Gigachu like rock?: Yes
Is Gigachu theatrical?: Yes
Is Gigachu vegan?: Yes
What's Gigachu's take on walls?: Dislike
Which is Gigachu?: Morning monster
How does Gigachu feel about wood?: Dislike
Dealbreaker Responses (Forces Date to Neutral/Bad)
First date:
Does Gigachu kiss on the first date?: No
Miscellaneous:
Megaricus wants to know what most attracts Gigachu to them: Sense of Justice