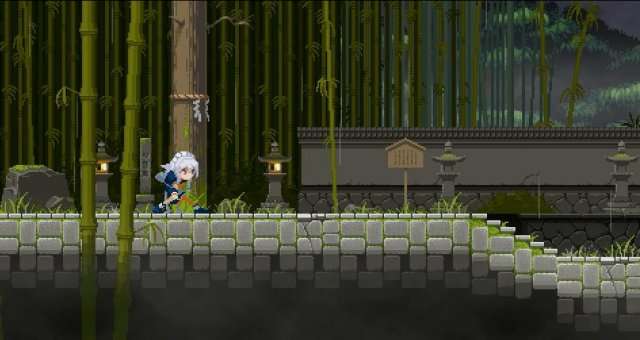 A guide to the stuff currently in the game. Includes finding, getting, and the effects of hidden items.
Other Touhou Luna Nights Guides:
Exploration
As you explore the "game" Remila sets up for Sakuya, she leaves plenty of cool things to see.
In this area the rightmost wall on the first floor is breakable: It leads to an item that increases your MP by 10.
In this area the leftmost side at the bottom is breakable, which leads to a room with an item increasing HP by 10. But there's a problem.
I already got it but it should be on the ledge on the left side.
It's wayyy up there… But luckily there's a way to get up!
If you hold the glide button while spamming your downward knives, you actually keep your height, and even get a slight boost to it.
So just jump off the ledge, make sure to hold it long enough so you hit the ceiling thing on the right:
Using this we can magically propel ourselves through knife power and reach the ledge.
Doing it right lets you hop onto the ledge, and you can your HP.
This technique also lets you skip a bunch of dangerous jumps with a mega knife glide™
And the final hidden room:
This area can be reached either by using a sliding platform nearby, or using a mega knife glide™.
Inside is a room which contains a Item: The Auto Aim, which fires 20(?) knives (each doing the same damage as your regular knives) but automatically are aimed, (not homing) for 30 mp.
And that's about it for any exploration based things. At least for now™.
Misc Thingy Things
Now this is for pretty much everything else because haha creativity.
Gem Grinding

There's actually one area in particular that's amazing for grinding:
This part of the room contains 4 clustered spirits at the left, and the entrence leads to an area that you can easily back out of to re-enter, and respawn the spirits.
All it takes is a single stun knife thrown upon enter the room (but jump or it wont hit the one on the bottom) and you'll kill all four of the spirits and get a bunch of gems, then exit to the left and immediately renter the room, and repeat.
Recycling

You get 10 gold each time you use a vending machine, and the can dropped manages to get inside a wastebin (either you freeze time and reposition yourself or it just bounces in because you're moving).
The bin even turns green! Wonder if that'll be an achievement in the future…
Recommended for You