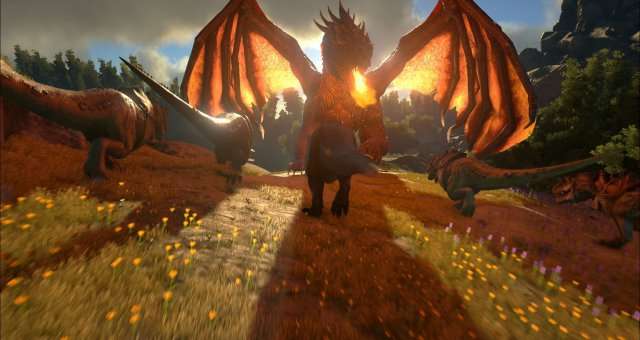 How To Spawn…
Make sure you know what your Console button is. (For thoses who have no clue) This can be found in options in ARK. Example: 'Tab' is mine.
To Spawn a dinosuar you need its blueprint To Do this you can use select the blueprint and copy with Ctrl+C, then paste in the ark console using Ctrl+V.
So lets say i wanted a level 1000 Raptor, I'd Type in the Console Command (or copy & paste):
cheat SpawnDino "Blueprint'/Game/PrimalEarth/Dinos/Raptor/Raptor_Character_BP.Raptor_Character_BP'" 1 1 1 1000
The Last Number is the Dino Spawn Level.
To test if its working for you, go to single player, or a sever where your an admin, or own a server.
Keep in mind these dinos will be random in gender, you just gotta keep spawning till u get a female or male.
Those who want to tame the dino, Type in the Console Command: ForceTame (Make sure your near the dino and facing it when you type and enter forcetame).
For Those Who are having trouble keeping the dino still long enough to forcetame it. Type in the Console Command: Playersonly this will freeze all dinos in place. Repeat to unfreeze them.
Thats it, Plain & Somewhat simple!
Dino BluePrints (Cheat Codes)
Simply Copy: 'cheat Spawndino BluePrint'
Paste, Then Replace The Last Number With The LV Number You Want For Them!

Achatina
cheat spawnDino "Blueprint'/Game/PrimalEarth/Dinos/Achatina/Achatina_Character_BP.Achatina_Character_BP'" 1 1 1 120
Allosaurus
cheat spawnDino "Blueprint'/Game/PrimalEarth/Dinos/Allosaurus/Allo_Character_BP.Allo_Character_BP'" 1 1 1 120
Alpha Carnotaurus
cheat spawnDino "Blueprint'/Game/PrimalEarth/Dinos/Carno/MegaCarno_Character_BP.MegaCarno_Character_BP'" 1 1 1 120
Alpha Mosasaurus
cheat spawnDino "Blueprint'/Game/PrimalEarth/Dinos/Mosasaurus/Mosa_Character_BP_Mega.Mosa_Character_BP_Mega'" 1 1 1 120
Alpha Raptor
cheat spawnDino "Blueprint'/Game/PrimalEarth/Dinos/Raptor/MegaRaptor_Character_BP.MegaRaptor_Character_BP'" 1 1 1 120
Alpha Rex
cheat spawnDino "Blueprint'/Game/PrimalEarth/Dinos/Rex/MegaRex_Character_BP.MegaRex_Character_BP'" 1 1 1 120
Anglerfish
cheat spawnDino "Blueprint'/Game/PrimalEarth/Dinos/Anglerfish/Angler_Character_BP.Angler_Character_BP'" 1 1 1 120
Ankylosaurus
cheat spawnDino "Blueprint'/Game/PrimalEarth/Dinos/Ankylo/Ankylo_Character_BP.Ankylo_Character_BP'" 1 1 1 120
Araneo
cheat spawnDino "Blueprint'/Game/PrimalEarth/Dinos/Spider-Small/SpiderS_Character_BP.SpiderS_Character_BP'" 1 1 1 120
Archaeopteryx
cheat spawnDino "Blueprint'/Game/PrimalEarth/Dinos/Archaeopteryx/Archa_Character_BP.Archa_Character_BP'" 1 1 1 120
Argentavis
cheat spawnDino "Blueprint'/Game/PrimalEarth/Dinos/Argentavis/Argent_Character_BP.Argent_Character_BP'" 1 1 1 120
Arthropluera
cheat spawnDino "Blueprint'/Game/PrimalEarth/Dinos/Arthropluera/Arthro_Character_BP.Arthro_Character_BP'" 1 1 1 120
Beelzebufo
cheat spawnDino "Blueprint'/Game/PrimalEarth/Dinos/Toad/Toad_Character_BP.Toad_Character_BP'" 1 1 1 120
Brontosaurus
cheat spawnDino "Blueprint'/Game/PrimalEarth/Dinos/Sauropod/Sauropod_Character_BP.Sauropod_Character_BP'" 1 1 1 120
Broodmother Lysrix
cheat spawnDino "Blueprint'/Game/PrimalEarth/Dinos/Spider-Large/SpiderL_Character_BP.SpiderL_Character_BP'" 1 1 1 120
Carbonemys
cheat spawnDino "Blueprint'/Game/PrimalEarth/Dinos/Turtle/Turtle_Character_BP.Turtle_Character_BP'" 1 1 1 120
Carnotaurus
cheat spawnDino "Blueprint'/Game/PrimalEarth/Dinos/Carno/Carno_Character_BP.Carno_Character_BP'" 1 1 1 120
Castoroides
cheat spawnDino "Blueprint'/Game/PrimalEarth/Dinos/Beaver/Beaver_Character_BP.Beaver_Character_BP'" 1 1 1 120
Chalicotherium
cheat spawnDino "Blueprint'/Game/PrimalEarth/Dinos/Chalicotherium/Chalico_Character_BP.Chalico_Character_BP'" 1 1 1 120
Coelacanth
cheat spawnDino "Blueprint'/Game/PrimalEarth/Dinos/Coelcanth/Coel_Character_BP.Coel_Character_BP'" 1 1 1 120
Compsognathus
cheat spawnDino "Blueprint'/Game/PrimalEarth/Dinos/Compy/Compy_Character_BP.Compy_Character_BP'" 1 1 1 120
Death Worm
cheat spawnDino "Blueprint'/Game/ScorchedEarth/Dinos/Deathworm/Deathworm_Character_BP.Deathworm_Character_BP'" 1 1 1 120
Dilophosaurus
cheat spawnDino "Blueprint'/Game/PrimalEarth/Dinos/Dilo/Dilo_Character_BP.Dilo_Character_BP'" 1 1 1 120
Dimetrodon
cheat spawnDino "Blueprint'/Game/PrimalEarth/Dinos/Dimetrodon/Dimetro_Character_BP.Dimetro_Character_BP'" 1 1 1 120
Dimorphodon
cheat spawnDino "Blueprint'/Game/PrimalEarth/Dinos/Dimorphodon/Dimorph_Character_BP.Dimorph_Character_BP'" 1 1 1 120
Diplocaulus
cheat spawnDino "Blueprint'/Game/PrimalEarth/Dinos/Diplocaulus/Diplocaulus_Character_BP.Diplocaulus_Character_BP'" 1 1 1 120
Diplodocus
cheat spawnDino "Blueprint'/Game/PrimalEarth/Dinos/Diplodocus/Diplodocus_Character_BP.Diplodocus_Character_BP'" 1 1 1 120
Direbear
cheat spawnDino "Blueprint'/Game/PrimalEarth/Dinos/Direbear/Direbear_Character_BP.Direbear_Character_BP'" 1 1 1 120
Direwolf
cheat spawnDino "Blueprint'/Game/PrimalEarth/Dinos/Direwolf/Direwolf_Character_BP.Direwolf_Character_BP'" 1 1 1 120
Dodo
cheat spawnDino "Blueprint'/Game/PrimalEarth/Dinos/Dodo/Dodo_Character_BP.Dodo_Character_BP'" 1 1 1 120
DodoRex
cheat spawnDino "Blueprint'/Game/PrimalEarth/Dinos/DodoRex/DodoRex_Character_BP.DodoRex_Character_BP'" 1 1 1 120
Doedicurus
cheat spawnDino "Blueprint'/Game/PrimalEarth/Dinos/Doedicurus/Doed_Character_BP.Doed_Character_BP'" 1 1 1 120
Dragon
cheat spawnDino "Blueprint'/Game/PrimalEarth/Dinos/Dragon/Dragon_Character_BP.Dragon_Character_BP'" 1 1 1 120
Dung Beetle
cheat spawnDino "Blueprint'/Game/PrimalEarth/Dinos/DungBeetLe/DungBeetle_Character_BP.DungBeetle_Character_BP'" 1 1 1 120
Dunkleosteus
cheat spawnDino "Blueprint'/Game/PrimalEarth/Dinos/Dunkleosteus/Dunkle_Character_BP.Dunkle_Character_BP'" 1 1 1 120
Eurypterid
cheat spawnDino "Blueprint'/Game/PrimalEarth/Dinos/Eurypterid/Euryp_Character.Euryp_Character'" 1 1 1 120
Gallimimus
cheat spawnDino "Blueprint'/Game/PrimalEarth/Dinos/Gallimimus/Galli_Character_BP.Galli_Character_BP'" 1 1 1 120
Giganotosaurus
cheat spawnDino "Blueprint'/Game/PrimalEarth/Dinos/Giganotosaurus/Gigant_Character_BP.Gigant_Character_BP'" 1 1 1 120
Gigantopithecus
cheat spawnDino "Blueprint'/Game/PrimalEarth/Dinos/Bigfoot/Bigfoot_Character_BP.Bigfoot_Character_BP'" 1 1 1 120
Ichthyosaurus
cheat spawnDino "Blueprint'/Game/PrimalEarth/Dinos/Dolphin/Dolphin_Character_BP.Dolphin_Character_BP'" 1 1 1 120
Jerboa
cheat spawnDino "Blueprint'/Game/ScorchedEarth/Dinos/Jerboa/Jerboa_Character_BP.Jerboa_Character_BP'" 1 1 1 120
Jug Bug
cheat spawnDino "Blueprint'/Game/ScorchedEarth/Dinos/JugBug/JugBug_Character_BaseBP.JugBug_Character_BaseBP'" 1 1 1 120
Jug Bug (Oil)
cheat spawnDino "Blueprint'/Game/ScorchedEarth/Dinos/JugBug/JugBug_Oil_Character_BP.JugBug_Oil_Character_BP'" 1 1 1 120
Jug Bug (Water)
cheat spawnDino "Blueprint'/Game/ScorchedEarth/Dinos/JugBug/JugBug_Water_Character_BP.JugBug_Water_Character_BaseBP'" 1 1 1 120
Kairuku
cheat spawnDino "Blueprint'/Game/PrimalEarth/Dinos/Kairuku/Kairuku_Character_BP.Kairuku_Character_BP'" 1 1 1 120
Kaprosuchus
cheat spawnDino "Blueprint'/Game/PrimalEarth/Dinos/Kaprosuchus/Kaprosuchus_Character_BP.Kaprosuchus_Character_BP'" 1 1 1 120
Leech
cheat spawnDino "Blueprint'/Game/PrimalEarth/Dinos/Leech/Leech_Character.Leech_Character'" 1 1 1 120
Leech (Diseased)
cheat spawnDino "Blueprint'/Game/PrimalEarth/Dinos/Leech/Leech_Character_Diseased.Leech_Character_Diseased'" 1 1 1 120
Lymantria
cheat spawnDino "Blueprint'/Game/ScorchedEarth/Dinos/Moth/Moth_Character_BP.Moth_Character_BP'" 1 1 1 120
Lystrosaurus
cheat spawnDino "Blueprint'/Game/PrimalEarth/Dinos/Lystrosaurus/Lystro_Character_BP.Lystro_Character_BP'" 1 1 1 120
Mammoth
cheat spawnDino "Blueprint'/Game/PrimalEarth/Dinos/Mammoth/Mammoth_Character_BP.Mammoth_Character_BP'" 1 1 1 120
Manta
cheat spawnDino "Blueprint'/Game/PrimalEarth/Dinos/Manta/Manta_Character_BP.Manta_Character_BP'" 1 1 1 120
Manticore
cheat spawnDino "Blueprint'/Game/ScorchedEarth/Dinos/Manticore/Manticore_Character_BP.Manticore_Character_BP'" 1 1 1 120
Mantis
cheat spawnDino "Blueprint'/Game/ScorchedEarth/Dinos/Mantis/Mantis_Character_BP.Mantis_Character_BP'" 1 1 1 120
Mega Death Worm
cheat spawnDino "Blueprint'/Game/ScorchedEarth/Dinos/Deathworm/MegaDeathworm_Character_BP.MegaDeathworm_Character_BP'" 1 1 1 120
Mega Wyvern
cheat spawnDino "Blueprint'/Game/ScorchedEarth/Dinos/Wyvern/MegaWyvern_Character_BP_Fire.MegaWyvern_Character_BP_Fire'" 1 1 1 120
Megaloceros
cheat spawnDino "Blueprint'/Game/PrimalEarth/Dinos/Stag/Stag_Character_BP.Stag_Character_BP'" 1 1 1 120
Megalodon
cheat spawnDino "Blueprint'/Game/PrimalEarth/Dinos/Megalodon/Megalodon_Character_BP.Megalodon_Character_BP'" 1 1 1 120
Megalosaurus
cheat spawnDino "Blueprint'/Game/PrimalEarth/Dinos/Megalosaurus/Megalosaurus_Character_BP.Megalosaurus_Character_BP'" 1 1 1 120
Meganeura
cheat spawnDino "Blueprint'/Game/PrimalEarth/Dinos/Dragonfly/Dragonfly_Character_BP.Dragonfly_Character_BP'" 1 1 1 120
Megapithecus
cheat spawnDino "Blueprint'/Game/PrimalEarth/Dinos/Gorilla/Gorilla_Character_BP.Gorilla_Character_BP'" 1 1 1 120
Mesopithecus
cheat spawnDino "Blueprint'/Game/PrimalEarth/Dinos/Monkey/Monkey_Character_BP.Monkey_Character_BP'" 1 1 1 120
Morellatops
cheat spawnDino "Blueprint'/Game/ScorchedEarth/Dinos/Camelsaurus/Camelsaurus_Character_BP.Camelsaurus_Character_BP'" 1 1 1 120
Mosasaurus
cheat spawnDino "Blueprint'/Game/PrimalEarth/Dinos/Mosasaurus/Mosa_Character_BP.Mosa_Character_BP'" 1 1 1 120
Moschops
cheat spawnDino "Blueprint'/Game/PrimalEarth/Dinos/Moschops/Moschops_Character_BP.Moschops_Character_BP'" 1 1 1 120
Onyc
cheat spawnDino "Blueprint'/Game/PrimalEarth/Dinos/Bat/Bat_Character_BP.Bat_Character_BP'" 1 1 1 120
Oviraptor
cheat spawnDino "Blueprint'/Game/PrimalEarth/Dinos/OviRaptor/OviRaptor_Character_BP.OviRaptor_Character_BP'" 1 1 1 120
Pachycephalosaurus
cheat spawnDino "Blueprint'/Game/PrimalEarth/Dinos/Pachy/Pachy_Character_BP.Pachy_Character_BP'" 1 1 1 120
Pachyrhinosaurus
cheat spawnDino "Blueprint'/Game/PrimalEarth/Dinos/Pachyrhinosaurus/Pachyrhino_Character_BP.Pachyrhino_Character_BP'" 1 1 1 120
Paraceratherium
cheat spawnDino "Blueprint'/Game/PrimalEarth/Dinos/Paraceratherium/Paracer_Character_BP.Paracer_Character_BP'" 1 1 1 120
Parasaur
cheat spawnDino "Blueprint'/Game/PrimalEarth/Dinos/Para/Para_Character_BP.Para_Character_BP'" 1 1 1 120
Pelagornis
cheat spawnDino "Blueprint'/Game/PrimalEarth/Dinos/Pelagornis/Pela_Character_BP.Pela_Character_BP'" 1 1 1 120
Phiomia
cheat spawnDino "Blueprint'/Game/PrimalEarth/Dinos/Phiomia/Phiomia_Character_BP.Phiomia_Character_BP'" 1 1 1 120
Piranha
cheat spawnDino "Blueprint'/Game/PrimalEarth/Dinos/Piranha/Piranha_Character_BP.Piranha_Character_BP'" 1 1 1 120
Plesiosaurus
cheat spawnDino "Blueprint'/Game/PrimalEarth/Dinos/Plesiosaur/Plesiosaur_Character_BP.Plesiosaur_Character_BP'" 1 1 1 120
Procoptodon
cheat spawnDino "Blueprint'/Game/PrimalEarth/Dinos/Procoptodon/Procoptodon_Character_BP.Procoptodon_Character_BP'" 1 1 1 120
Pteranodon
cheat spawnDino "Blueprint'/Game/PrimalEarth/Dinos/Ptero/Ptero_Character_BP.Ptero_Character_BP'" 1 1 1 120
Pulmonoscorpius
cheat spawnDino "Blueprint'/Game/PrimalEarth/Dinos/Scorpion/Scorpion_Character_BP.Scorpion_Character_BP'" 1 1 1 120
Quetzalcoatlus
cheat spawnDino "Blueprint'/game/PrimalEarth/Dinos/Quetzalcoatlus/Quetz_Character_BP.Quetz_Character_BP'" 1 1 1 120
Raptor
cheat spawnDino "Blueprint'/Game/PrimalEarth/Dinos/Raptor/Raptor_Character_BP.Raptor_Character_BP'" 1 1 1 120
Rex
cheat spawnDino "Blueprint'/Game/PrimalEarth/Dinos/Rex/Rex_Character_BP.Rex_Character_BP'" 1 1 1 120
Rock Elemental
cheat spawnDino "Blueprint'/Game/ScorchedEarth/Dinos/RockGolem/RockGolem_Character_BP.RockGolem_Character_BP'" 1 1 1 120
Rubble Golem
cheat spawnDino "Blueprint'/Game/ScorchedEarth/Dinos/RockGolem/RubbleGolem_Character_BP.RubbleGolem_Character_BP'" 1 1 1 120
Sabertooth
cheat spawnDino "Blueprint'/Game/PrimalEarth/Dinos/Saber/Saber_Character_BP.Saber_Character_BP'" 1 1 1 120
Sabertooth Salmon
cheat spawnDino "Blueprint'/Game/PrimalEarth/Dinos/Salmon/Salmon_Character_BP.Salmon_Character_BP'" 1 1 1 120
Sarcosuchus
cheat spawnDino "Blueprint'/Game/PrimalEarth/Dinos/Sarco/Sarco_Character_BP.Sarco_Character_BP'" 1 1 1 120
Spinosaurus
cheat spawnDino "Blueprint'/Game/PrimalEarth/Dinos/Spino/Spino_Character_BP.Spino_Character_BP'" 1 1 1 120
Stegosaurus
cheat spawnDino "Blueprint'/Game/PrimalEarth/Dinos/Stego/Stego_Character_BP.Stego_Character_BP'" 1 1 1 120
Super Turkey
cheat spawnDino "Blueprint'/Game/PrimalEarth/Dinos/Dodo/Turkey_Character_BP.Turkey_Character_BP'" 1 1 1 120
Tapejara
cheat spawnDino "Blueprint'/Game/PrimalEarth/Dinos/Tapejara/Tapejara_Character_BP.Tapejara_Character_BP'" 1 1 1 120
Terror Bird
cheat spawnDino "Blueprint'/Game/PrimalEarth/Dinos/TerrorBird/TerrorBird_Character_BP.TerrorBird_Character_BP'" 1 1 1 120
Thorny Dragon
cheat spawnDino "Blueprint'/Game/ScorchedEarth/Dinos/SpineyLizard/SpineyLizard_Character_BP.SpineyLizard_Character_BP'" 1 1 1 120
Titanoboa
cheat spawnDino "Blueprint'/Game/PrimalEarth/Dinos/BoaFrill/BoaFrill_Character_BP.BoaFrill_Character_BP'" 1 1 1 120
Titanomyrma
cheat spawnDino "Blueprint'/Game/PrimalEarth/Dinos/Ant/Ant_Character_BP.Ant_Character_BP'" 1 1 1 120
Titanomyrma (Flying)
cheat spawnDino "Blueprint'/Game/PrimalEarth/Dinos/Ant/FlyingAnt_Character_BP.FlyingAnt_Character_BP'" 1 1 1 120
Titanosaur
cheat spawnDino "Blueprint'/Game/PrimalEarth/Dinos/titanosaur/Titanosaur_Character_BP.Titanosaur_Character_BP'" 1 1 1 120
Triceratops
cheat spawnDino "Blueprint'/Game/PrimalEarth/Dinos/Trike/Trike_Character_BP.Trike_Character_BP'" 1 1 1 120
Trilobite
cheat spawnDino "Blueprint'/Game/PrimalEarth/Dinos/Trilobite/Trilobite_Character.Trilobite_Character'" 1 1 1 120
Turkey
cheat spawnDino "Blueprint'/Game/PrimalEarth/Dinos/Dodo/TurkeyBase_Character_BP.TurkeyBase_Character_BP'" 1 1 1 120
Vulture
cheat spawnDino "Blueprint'/Game/ScorchedEarth/Dinos/Vulture/Vulture_Character_BP.Vulture_Character_BP'" 1 1 1 120
Woolly Rhino
cheat spawnDino "Blueprint'/Game/PrimalEarth/Dinos/WoollyRhino/Rhino_Character_BP.Rhino_Character_BP'" 1 1 1 120
Wyvern (Defualt)
cheat spawnDino "Blueprint'/Game/ScorchedEarth/Dinos/Wyvern/Wyvern_Character_BP_Base.Wyvern_Character_BP_Base'" 1 1 1 120
Wyvern (Fire)
cheat spawnDino "Blueprint'/Game/ScorchedEarth/Dinos/Wyvern/Wyvern_Character_BP_Fire.Wyvern_Character_BP_Fire'" 1 1 1 120
Wyvern (Lightning)
cheat spawnDino "Blueprint'/Game/ScorchedEarth/Dinos/Wyvern/Wyvern_Character_BP_Lightning.Wyvern_Character_BP_Lightning'" 1 1 1 120
Wyvern (Poison)
cheat spawnDino "Blueprint'/Game/ScorchedEarth/Dinos/Wyvern/Wyvern_Character_BP_Poison.Wyvern_Character_BP_Poison'" 1 1 1 120
Yeti
cheat spawnDino "Blueprint'/Game/PrimalEarth/Dinos/Bigfoot/Yeti_Character_BP.Yeti_Character_BP'" 1 1 1 120