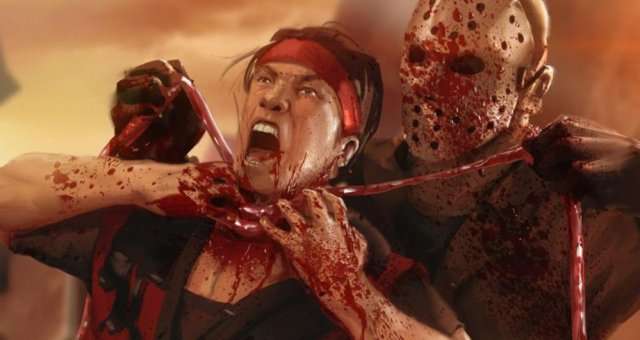 A list of all fatalities in Mortal Kombat X and how to use them with a keyboard.
Introduction
When I was new to the game, I had to look for the Fatality codes, but all of them used Playstation, or more commonly, XBox controls. Because of this, I spent a long time translating them, and now I've decided to make it easier for everyone reading by posting the keyboard codes. Enjoy.
Note: If you changed from the default controls, these fatalities will not work. It's up to you to figure it out if you did change the controls.
Alien
Killer Queen
Close Range
SSADK
Deadly Hybrid
Mid Range
ADSDJ
Stage Fatality
Close Range
SSSK
Bo' Rai Cho
Booze You Lose
Close Range
SSADK
Bottoms Up
Close Range
ADSI
Stage Fatality
Close Range
ADADI
Cassie Cage
Bubble Head
Mid Range
DSADJ
Selfie
Close Range
SDSAL
Stage Fatality
Close Range
SSADI
D'Vorah
Bug Me
Mid Range
ADAK
Heart Broken
Close Range
DADI
Stage Fatality
Close Range
DD;
Ermac
Inner Workings
Mid Range
SWA
Head Out
Mid Range
DSSW
Stage Fatality
Close Range
SWSSK
Erron Black
Sand Storm
Mid Range
SADSJ
Six Shooter
Far Range
ADADI
Stage Fatality
Close Range
SSSL
Ferra/Torr
Better Than One
Close Range
DADAK
Play Time
Mid Range
SADAA
Stage Fatality
Close Range
ADAL
Goro
Peek-A-Boo
Close Range
ADSL
Shokan Amputation
Close Range
ASSW
Stage Fatality
Close Range
SSSSJ
Jacqui Briggs
Blown Out
Close Range
ADADI
Fist Pump
Close Range
DSAL
Stage Fatality
Close Range
SDSL
Jason
Kill For Mother
Mid Range
SDSDI
Sleeping Bag Killer
Mid Range
SADL+;
Stage Fatality
Close Range
SADD
Jax
T-Wrecks
Close Range
DASI
Jax the Ribber
Close Range
SADD
Arm Rip
Close Range
DSDAJ
Stage Fatality
Close Range
SDSJ
Johnny Cage
Here's Johnny
Close Range
ADADJ
Little Improv
Mid Range
DADD
Decap
Close Range
DDSW
Stage Fatality
Close Range
SAD;
Kano
Head Case
Close Range
SDSAK
Knife to Meet You
Far Range
SSDJ
Stage Fatality
Close Range
WWAK
Kenshi
Tele-Copter
Far Range
ADAA
My Puppet
Mid Range
DSAW
Stage Fatality
Close Range
SDSK
Kitana
Dark Fan-Tasy
Mid Range
SDADI
Splitting Hairs
Mid Range
ADSS
Decapitation
Close Range
SWL+;
Kotal Kahn
Be Mine
Close Range
SADK
Tight Squeeze
Close Range
DADAI
Stage Fatality
Close Range
DSAJ
Kung Jin
Target Practice
Close Range
SDSAI
Pinned Down
Mid Range
DASSJ
Stage Fatality
Close Range
WSDL
Kung Lao
Face Grind
Close Range
SASDL
Flower Pot
Close Range
SDSAJ
Hat Split
Close Range
DADK
Stage Fatality
Close Range
SDSK
Leatherface
Seeing Double
Close Range
DASJ
Hook and Sinker
Close Range
ADSDK
Stage Fatality
Close Range
DASW
Liu Kang
Sore Throat
Close Range
SSADD
Splitter
Close Range
ADSW
Stage Fatality
Close Range
SDAK
Mileena
Face Feast
Close Range
SASAK
Tasty Treat
Close Range
DADAI
Man-Eater
Close Range
SSSSL
Stage Fatality
Close Range
SSSJ
Predator
Ghostin' Us
Close Range
SSADJ
Certain Death
Mid Range
SDAW
Stage Fatality
Close Range
DSAW
Quan Chi
Mind Game
Far Range
DADAL
Both Ends
Close Range
SDADI
Stage Fatality
Close Range
ADSI
Raiden
Bug Eyes
Close Range
DADJ
Conducting Rod
Far Range
SDADL
Stage Fatality
Close Range
SSSI
Reptile
Bad Breath
Close Range
SDSDL
Acid Bath
Close Range
SSADJ
Stage Fatality
Close Range
DSS;
Scorpion
Stop Ahead
Mid Range
SADI
Who's Next!
Mid Range
SADW
Toasty
Mid Range
WWI
Stage Fatality
Close Range
SSJ
Shinnok
The Grinder
Mid Range
SADSW
Flick Trick
Mid Range
SWSW;
Stage Fatality
Close Range
SADD
Sonya Blade
Target Marked
Close Range
SSAD;
Head Hunter
Close Range
DASAI
Kiss of Death
Mid Range
WWAS
Sub-Zero
Chest Kold
Close Range
ADSAL
Bed of Ice
Close Range
SASDL
Head Rip
Close Range
DSDI
Stage Fatality
Close Range
DSAI
Takeda
Whip it Good
Mid Range
SDSAI
Head Cage
Mid Range
DASSJ
Stage Fatality
Close Range
WWWS
Tanya
Bloody Boots
Close Range
DSSAS
Edenian Drill
Close Range
AADDL
Stage Fatality
Close Range
WSWSL
Tremor
Stone Tomb
Mid Range
SADAK
Stalag-Might
Mid Range
SDADJ
Stage Fatality
Close Range
SSSL
Triborg
Team Work
Mid Range
DADD
Death Machine
Far Range
DSSW
Stage Fatality
Close Range
SW;