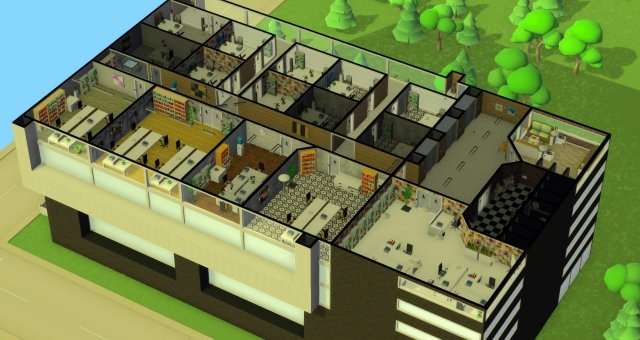 Staff Guide
Jump to navigationJump to search. Staff can be hired to assist in the daily operations of your company. Those functions include tech support, maintenance, cleaning, cooking, deliveries, and reception.
Staff may be hired permanently or temporarily.
Details
IT-Support – Fixes computers and electronics.
Non-maintained computers will run slower and potentially break down.
Maintenance – Fixes furniture and lights.
Impacts environment quality for employees.
Cleaning – Cleans the dirt left by employees' shoes.
Impacts environment quality for employees.
Cook – Cooks food for employees.
Requires stove, refrigerator, and serving tray.
Courier – Delivers packages from printing room to consumers.
A single permanent courier can pick up 54 boxes (2 pallets) every month.
A single temporary courier picks up as many boxes as they can within 8 hours.
Receptionist – Greets visitors who offer deals. At least one receptionist is necessary to accept deals from other companies. See Deals
Costs
One-time (Temporary) Cost – Monthly (Permanent) Cost
Cleaning $50/hour – $1,000
Maintenance $100/hour – $1,500
IT-Support $100 + $100/repair – $2,500
Courier $100 + $125/box – $2,000
Receptionist N/A – $2,500
Cook N/A – $2,000
Tips
Staff make noise but the decibel level is negligible. Note: Cleaners do not make more noise than other staff workers.
Whenever you are in a tight situation with printing, call the temporary couriers as they pick up boxes significantly faster. Do note that with temporary couriers, the price per box increases 350%. Can be interpreted as Permanent: $37 per box whereas Temporary: $125 per box.
Permanent couriers only come once a day and can be assigned shifts to ease parking and printing congestion.