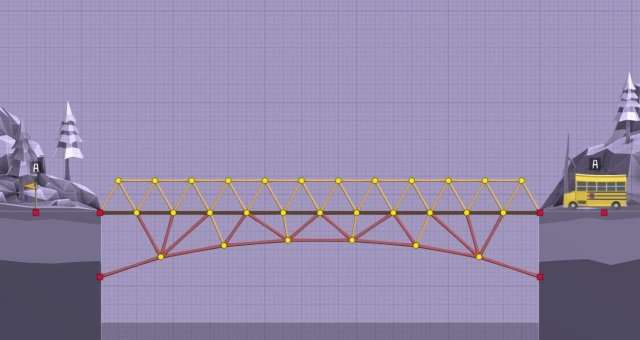 Here are all under budget and under stress solutions for World 1 (Pine Mountains).
All Under Budget and Under Stress Solutions for World 1
1-1: Ten Meter Simple Bridge
1-2: A New Slope
1-3: Bridge of Steel
1-4: Fourteen Meter Overpass
1-5: Checkpoints
1-6: First Drawbridge
Both hydraulics are contracting by 10%.
1-7: Taxi Task
1-8: Rope Support
1-9: Budget Cuts
1-10: First Jump
Smaller spring is 80% compressed, larger is 10% compressed.
1-11: Stop N' Go
Both hydraulics are contracting by 20%.
1-12: Rock Rest
1-13: Redraw
Both hydraulics are expanding by 15%.
1-14: Land Brace
1-15: Hydraulic Management
Hydraulic is contracting by 25% and is enabled in the first stage but disabled in second stage.
1-16: Large Bridge
Recommended for You