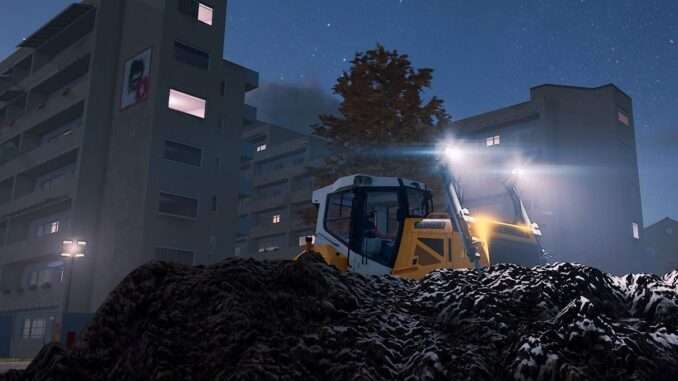 Frequently Asked Questions
General
On which platforms will Construction Simulator be released?
Xbox One
Xbox Series X|S
PlayStation 4|Pro
PlayStation 5
PC (Steam)
Where can I buy the game?
You can find an overview of selected purchase options here.
What languages are supported?
Supported languages (interface and subtitles):

German, Chinese (simplified), Chinese (traditional), Dutch, English, French, Italian, Japanese, Korean, Polish, Portuguese (brazilian), Russian, Spanish, Turkish

Voice overs:

German
English
Simplified Chinese
Will a demo be available?
No, but there will be access to a free 2 hour trial version on PlayStation for PlayStation Plus Premium subscribers (launching approximately 3 months after release).
Will the game have a multiplayer mode?
Yes, up to four players can play together in online coop multiplayer mode. You can only open multiplayer games after completing the tutorial. Joining another multiplayer game from other players is possible directly from the beginning, even without completing the tutorial.
Where can I view the privacy policies?
You can access the privacy policy via the game settings in the tab "General".
Are we tracking data and what are we doing with the information?
If you agree to the privacy policies, we collect anonymous data and use it to improve the gameplay experience for our players. You can access and view further details in the game settings in the General tab. There you can also agree to or decline the data collection at any time.
Technical Questions
I'm experiencing issues with the game. What can I do?
To rule out external problems, it is recommended to first perform the following steps:
Apply any operating system updates (Windows Update / console system software).
Check drivers and configuration software and update if necessary (especially graphics card and input devices).
Many issues are related to incorrectly downloaded or incorrectly installed game files. To make sure that everything is working correctly, the installation of the game can be checked in Steam.

Steam Library → Construction Simulator → Properties → Local Files → Verify integrity of games files.
Savegames
On PC Savegames are stored at the following location:
C:\Users\%USERNAME%\AppData\LocalLow\weltenbauer-se\ConSim\Profiles
Every profile (character, name, …) is stored in its own folder. Profil0 is the first Profil in game, Profile1 the second one and Profile2 the third.
The data of the profile is saved in the file Profile.wb in the specific folder.
In every profile folder there are folders for every company for this profile. They are in the same order as in the game when selecting a profile.
Companies have two files: Company.wb which contains the ingame progress of the company and e.g. the progress of jobs and CompanyMeta.wb, which contains the data of the company which the UI needs to show the status.
Settings on PC are stored at:

C:\Users\%USERNAME%\AppData\LocalLow\weltenbauer-se\ConSim\Settings\ Settings.wb.

In addition, user data (profil independent achievement information, stats) is saved here:

C:\Users\%USERNAME%\AppData\LocalLow\weltenbauer-se\ConSim\UserData\UserData.wb
Backup of Savegames
Savegames are synced to the Steam Cloud on PC. You can have a look at the uploaded data or download the data here.
On consoles the savegames are stored as you're used to, using the platform defaults. You maybe need a paid account plan for the platform to use it.
On PC there is an additional backup system for savegames whenever the game auto saves (every 10 minutes). A copy of the profile, company and user data is stored then.
For questions about savegame backups feel free to ask the support team.
Do you want to import a backup on your own, follow these steps:
In the folder described above there are backup folders containing the last 5 versions of profile, company and user data. To restore one of them, you can replace the profile, company or userdata file with the backup file.
Have a look at the modification date of the files to identify them.
E.g. you can rename the file "backup_3_Profile.wb" to "Profile.wb" and replace the current Profile.wb file with this copy to restore this backup.
Note: For companies always replace Company.wb and CompanyMeta.wb because they have to match!
Performance issues on older platforms
On the older generation of consoles (PlayStation®4/Pro and Xbox One/S/X), you may experience performance drops in certain situations. We are continuously trying to improve this.
My graphics card gets warm or is used up to 100%
On newer graphics cards, it can happen that the graphics card load goes to 100%. To avoid this, you can limit the frame rate of the game on PC via Steam. To do so, simply add the following to the "Starting Options" field in your Steam library under Construction Simulator → Properties → General to limit the frame rate to 60 frames per second: -targetframerate=60
Vehicles and Equipment
Which license partners are included in the game?
The vehicle fleet includes over 80 originally licensed vehicles and equipment from the following brands: ATLAS, Bell, Benninghoven, Bobcat, BOMAG, CASE, CIFA, Caterpillar, DAF, DOOSAN, HAMM AG, KENWORTH, Liebherr, MACK, MAN, MEILLER Kipper, Nooteboom, Scania, JOSEPH VÖGELE AG, Wacker Neuson, WIRTGEN GmbH, Palfinger, Schwing Stetter, STILL and Strauss.
Gameplay
What are the new features?
80+ construction machines, vehicles and equipment
A US-inspired map named Sunny Haven
A second Germany-inspired map named Friedenberg
Every map comes with its own campaign
Over 90 contracts, including roadworks and bridge building
9 new licensors e.g. Doosan, DAF, and Cifa
25 world-famous brands in total
For the first time in the history of the series there is licensed workwear from Strauss
Dynamic Day- and Night-Cycle
Improved vehicle and earth movement systems
Cooperative online multiplayer mode for up to 4 players
Cross-Gen Multiplayer on consoles
Smart Delivery on Xbox
Free upgrade from PS4 to PS5
DualSense features on PlayStation 5
Is there a cockpit view and first person view?
Yes! Every vehicle has a cockpit view. You can also switch to first-person view while walking around with your character. You can change into cockpit/first-person view by selecting the camera icon in the context menu. On PC you can also use the shortcut [K] to switch between the camera perspectives.
Recommended for You