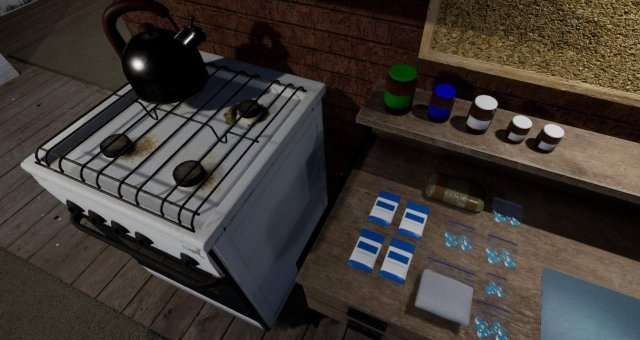 More Drug Dealer Simulator Guides:
Tips and Tricks
Unlock the "bazar woman" at lvl 6. She sells jars, mills and mixing table (There'sa woman standing at a table at Old Market).
Need large jar? You need to unlock the drugstore to get large one.
To see the map –  just click m.
Before unlock downtown area you need to unlock the other areas first, then unlock downtown just like any other zone. 
If you want to open the old technical tunnel where your drug drops located, talk to the construction worker. If the construction worker is not at the side of it, then you need to rank up a little more to unlock the feature, you can also use the sewer systems, but you cant fit down the manhole with a bag with that method, so you have to rely on just your pockets. Or use this method.
Easiest way for dealer' risk factor to go down – low profile, stay of the streets let the heat calm down… start pacing yourself a little for a while.
If you want to put cash on the workbench tables just stand really close to the desk, and then drop it from your inventory.
If you want to get them addicted fast, sell them uncut first. Then start slowly cutting it with other ♥♥♥. They'll think theyre just building tolerance.
Best ones that work for stuff: 80% drug 20% mixer. That don't seem to kill anyone and everyone's happy.
About ingredients:
Sugar increases how addictive it will be.
Soap Powder can kill clients if too much used.
Salt in real life may make things unstable, because salt absorbs humidity/
Ibuprofen adds to addictiveness.
Baking Soda – most harmless ingredient.
Recommended for You