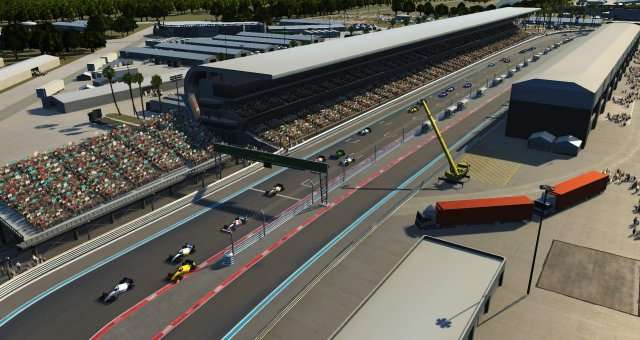 New starter guide for building your race team from rags to riches.
Beginners Guide
Starting Your Own ERS Race Team
This was originally my own forum post in answer to someones question, but thought I'd add to guides as it may be useful to anyone picking up the game since (and I've even returned to the game and reused this myself).
I played 9 seasons with my own ERS team (Viper Motorsport) in my first game, and got as far as WMC mid-table and then got carried away upgrading the HQ and got screwed with votes for extra races (16 in a season with < 20mil to spend after upgrades = doh!). Following this I took a break from the game for a while, so memory is a little hazy – I've just started a new ERS team called Zakaros Motorsport, so I'll post any further amendments as I go.
Anyway, my first season in ERS (and a standard startup for me) is as follows:
Low pressure – and the 3* car isn't a bad starting point. Sucks about the cash, but you just need to be more conservative on the HQ development.
Drivers
Get scouting ASAP. This seems to take forever from the beginning (maybe I'm missing something), but I scout all drivers without a team, followed by all ERS drivers. Keep checking back on the list of drivers – new unemployed drivers pop up a couple of times a season, or when their contracts expire – this can be a great way to get cheap drivers (especially Pay drivers!)
Marketability is important, but as a general rule I don't ever go below 3 * drivers. I also don't worry too much about Pay Drivers to begin with – it's nice and cheap to have all 3 slots filled with Pay Drivers, but not always possible – bearing in mind if you start in ERS like I do, most drivers won't be interested in signing for you.
Falko Engelhart is a god for startups if you can stomach his contract, and you can also grab Petra Schober if you're feeling brave enough to pay them both at once. Otherwise. for a second driver I've used Ines Santa Ana, Sara Thomas, Lola Marsh in the past (all were unemployed when I hired them). Any of these can also fill the Reserve slot, but I don't always ditch Jose Domingo, purely because he's cheap and isn't horrendous if you're desperate.
First few races, I stick with Faith Anthony and Andres Gomes – they can get some decent results if you manage their tyres and keep an eye on fuel – 2 – 3 stops per race and with a bit of luck you can get them both around p8 – 15.
Staff
Lead Designer – Vasily Solokov
He'll set you back ~120k in wages and a 200k+ signing on fee, but his stats are worth it imo. The first season you won't use his rear wing stat (shame), but you also won't use his front wing stat (yay). Also, he's usually unemployed, so no break clause. I usually hang onto him until the end of his contract (3 years), then look for any designers with running down contracts that might be interested, with similar stats.
For me, a good designer at this stage has at least 10 – 15 in as many stats as possible, and Average & Good known components, since it's likely you won't be able to afford to develop Great and onwards in your first few seasons. Don't worry too much about potential, since you won't have a staff centre for a while yet.
Race Mechanics
These two stayed with me from day 1, right until season 9 (and beyond had I not screwed up). Both start out about 3*, Kevin has 5* potential, Eve 4.5* potential. In my opinion, these two are the best two mechanics for an ERS startup team. Eve has excellent performance, pitstops and concentration, while Kevin has excellent part fixes and good pit stops / chemistry. The two of them allow you to balance your car part reliability / performance and get a relatively good boost (Kevin on Reliability, Eve on Performance). You could also go for Alex Barbosa, who also has 4.5* potential, but he'll likely cost you a break clause. (All 3 end up very good once developed).
Pit Crew
Hire the best pit crew you can, get rid of the naff ones, and set Eve Harding to Auto Manage.
Car Development
I usually build two of each car part – one with an Average component, the next with Average / Good. Once I've built two parts of each type (restrictions and finances permitting) I go back and build the best "Risky" part I can find for each slot – I like to call this my "Development set".
My order of priority for component stats is:
Base (i.e. top speed for engine).
Max.
The rest.
The higher the base, the better the component will be from the start. Max increases the amount you can improve the part using your team, but this will take time. Anything else I don't worry too much about, I don't generally put Risk level components on my cars during the season, as I always seem to get fined (just my luck).
For my "Development set" I disregard all risk levels and basically go for the highest base stats I can achieve, and where no base is available, I push max. Risk levels get removed for the following season, so it doesn't matter if it's a guaranteed fine, you'll be laughing next season.
For Reliability / Performance – Reliability to 90% on all parts first in the following order:
Engine
Gearbox
Brakes
Suspension
Front wing / Rear wing
Once all parts that you are using are at 90% reliability, switch to performance and boost as many as you can before the end of the season.
For Development parts, just push Performance – from memory I don't think the reliability carries over, but the base stat will.
HQ
Forget about this for the first couple of seasons – it took me at least a couple of seasons before I upgraded my Factory, then Staff Centre, then Designer Centre.
Sponsors
Goes without saying, but for the first season, counting on decent finishes is going to be a mistake. Generally, unless its a 15-20 finish requirement, go for the highest up front payment. If there are a couple with the same ££, check the number of races. If you have open sponsor slots and sponsors knocking on the door – don't go into a race without filling as many sponsor slots as you can.
Race Management
I always aim to get car setups around 98%+ during practise, and save them. The setup required each season seems to change slightly, but you can re-use past setups to give yourself a bit of a head-start when it comes to finding the sweet spots. Again there are some good guides on how to set up your car for each race, tyre pressures etc – stuff I don't fully understand myself, so I'll leave that to the experts.
I think that's everything – as I said memory is a bit hazy, but the first 2 -3 seasons for me is about getting a good staff base, then building up the car to be competitive. The first year I won the constructors title I didn't take promotion to develop the car further for a year – the step up to APSC can be a leap if you aren't ready for it, and you won't get away with finishing last.