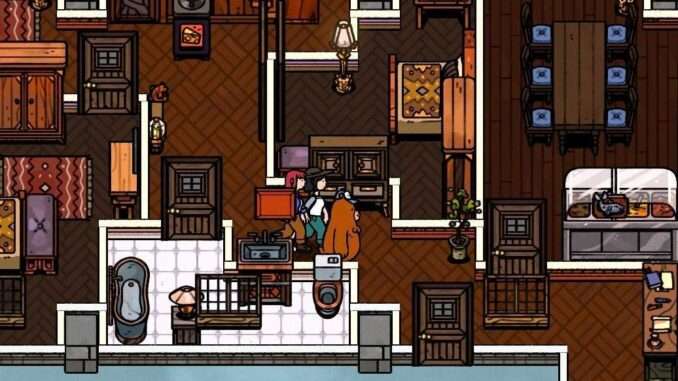 Just the maps from all the areas, where i highlighted the planks pickups based on which type of planks you get from said pickup point… I also put a list of what you can get on each area, with a rough estimate of how much of each you get on a single run through them. Tried to make as spoiler free as possible.
Guide to All Maps
Introduction
You can click on the images to enlarge them. And then click on the enlarge button beside the image link to bring them to their full size.
The number of items you get from each pickup is randomized between a fixed min. and max. values.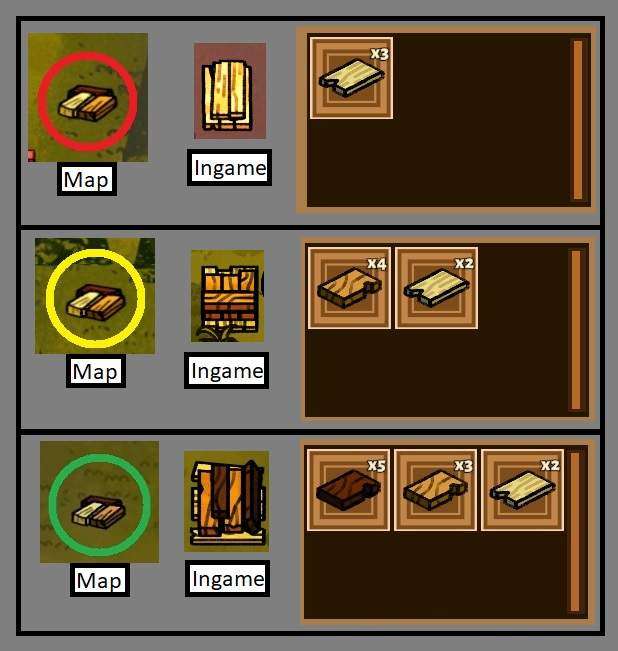 The Thicket
Nothing much going on here, just your mom and friends to hang out.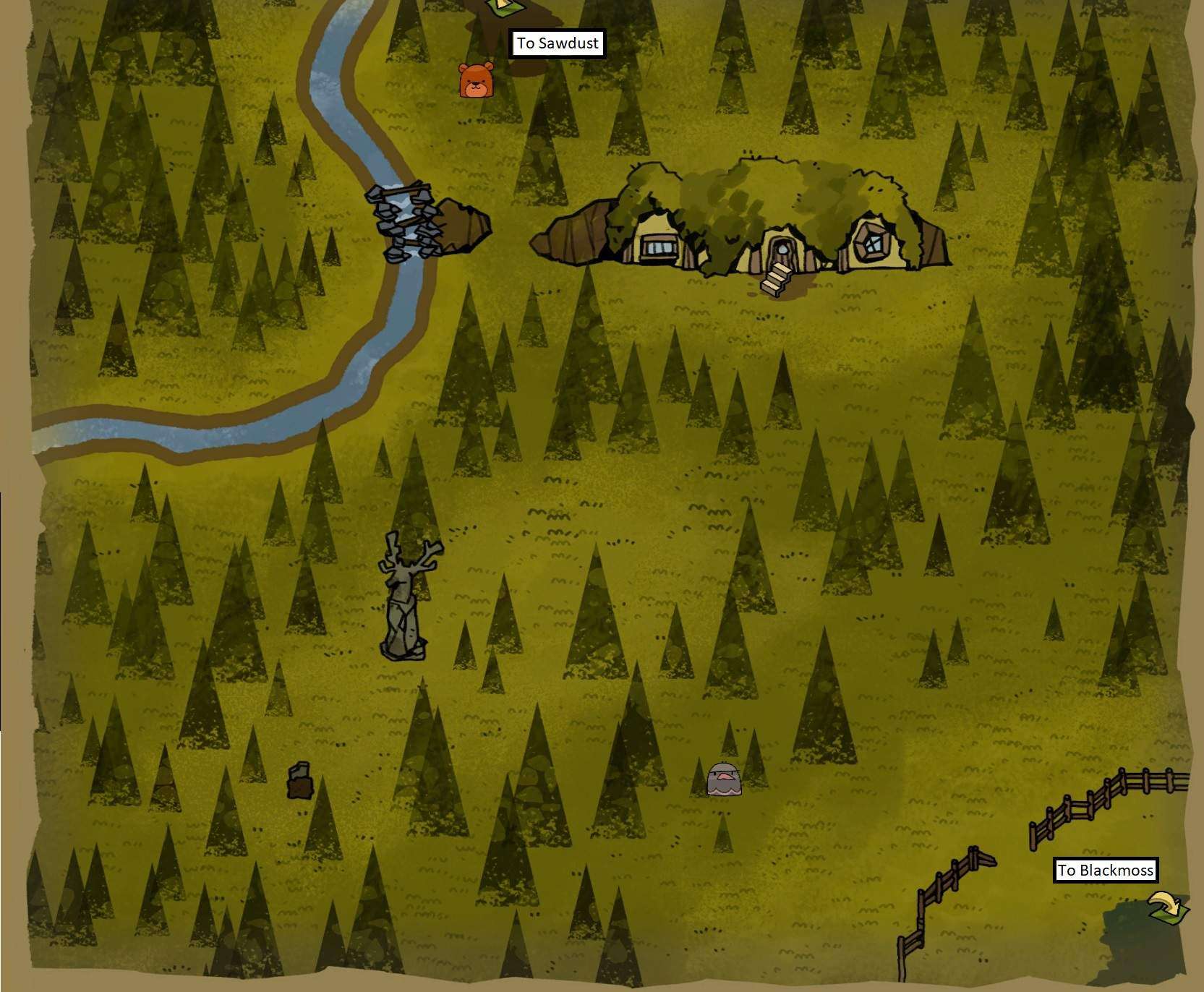 The Blackmoss
The place to go to get Charcoal lilies.
Note that you can't get to the lower part of this map until later in the game.
Pickups (approximated):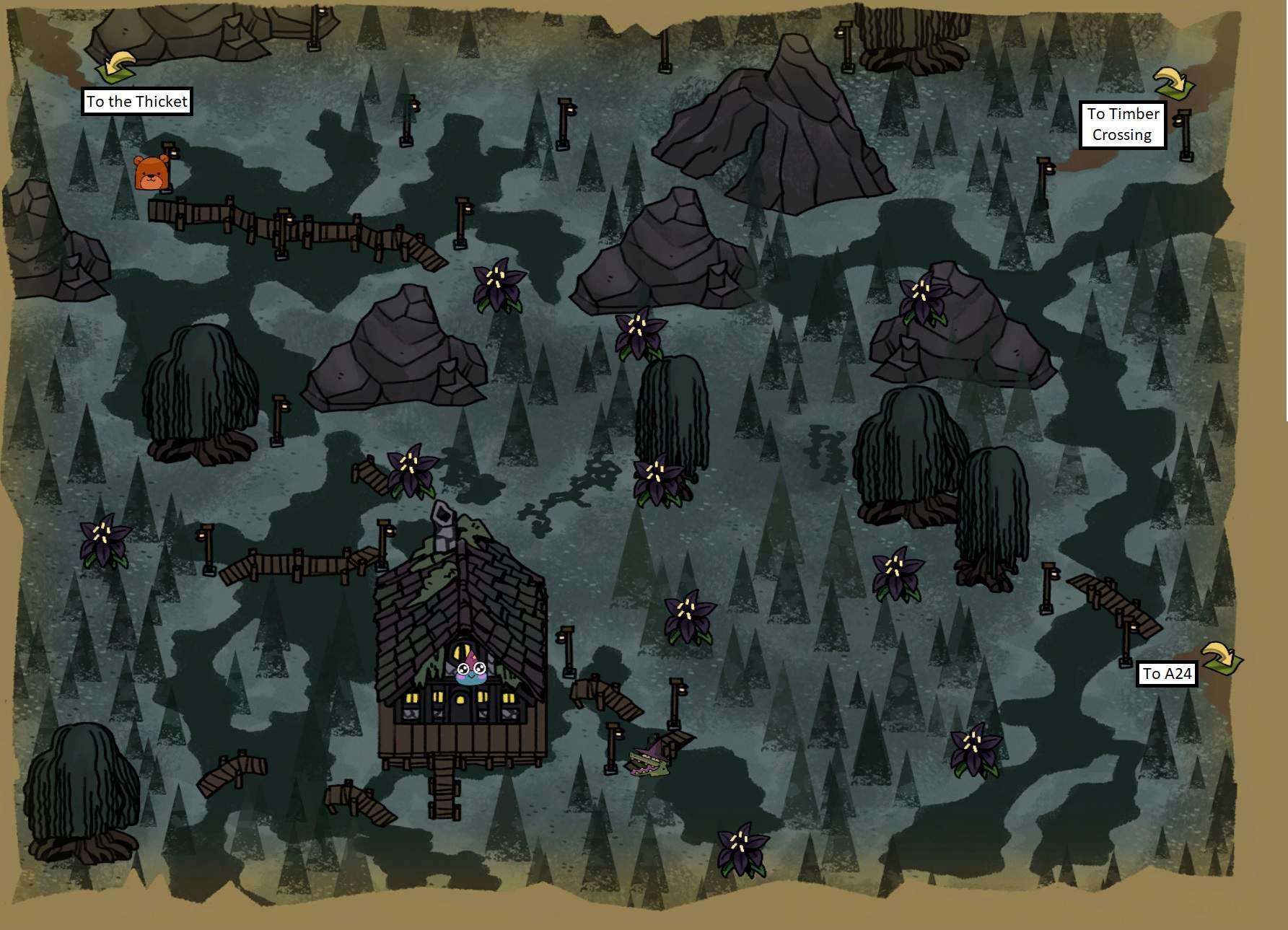 Timber Crossing
On the early game, get that yellow plank pickup everytime you can… you won't be doing much else at this stage of the game anyways… the pinewood planks will be somewhat scarce in the next stage, but nothing to worry about.
Don't forget about Oliver's "shop", it sells bus signs and tools… buy them only when you need, since you can't sell any excess you might have and they have limited uses.
Pickups (approximated):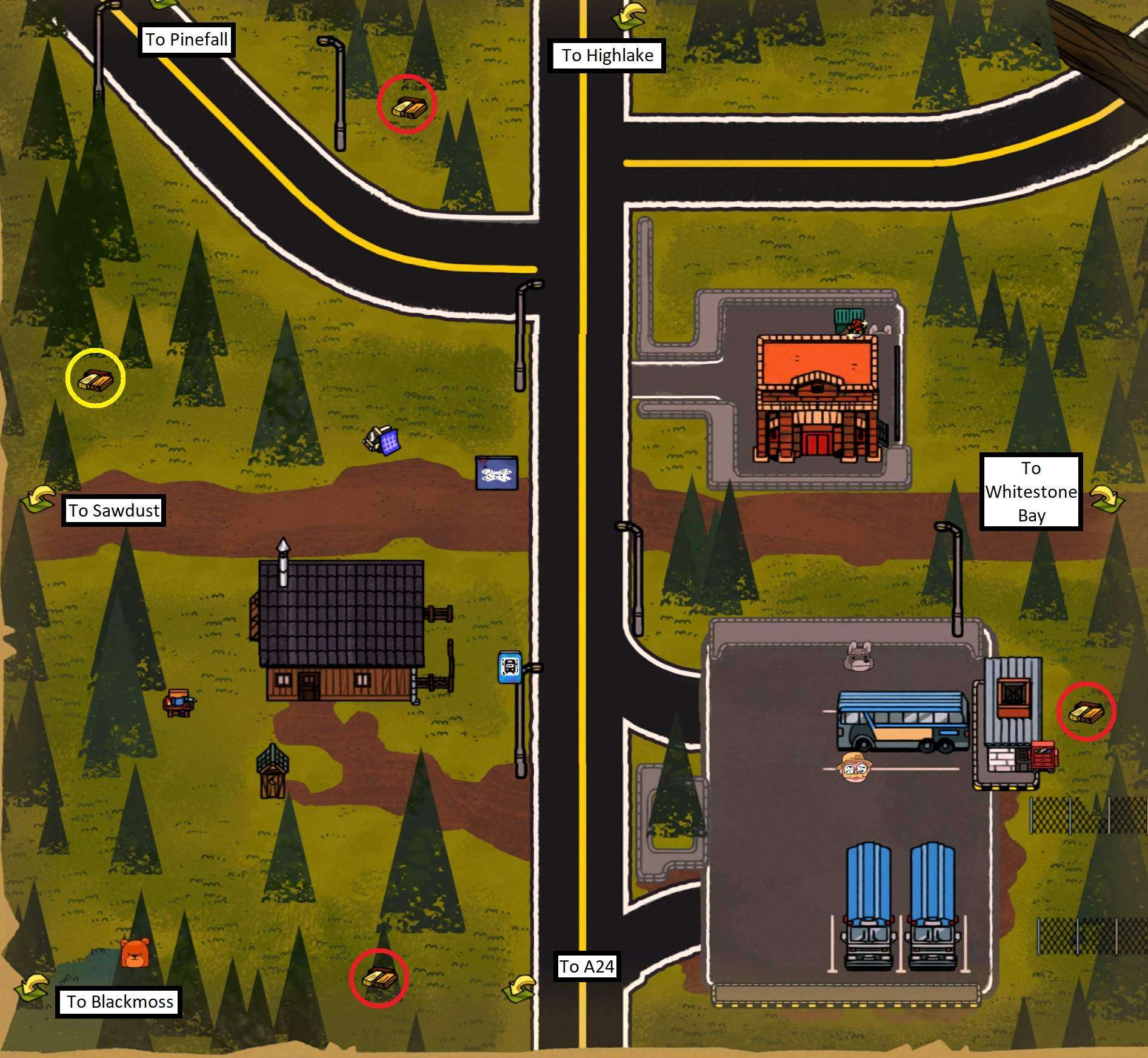 Sawdust
If you have nothing to on the early game, just waiting around for guests to complete a quest, come here and grab some planks… especially the green ones.
Sabine stays at the top of the watchtower sometimes.
Pickups (approximated):
Mahogany = 8
Pinewood = 47
Plywood = 45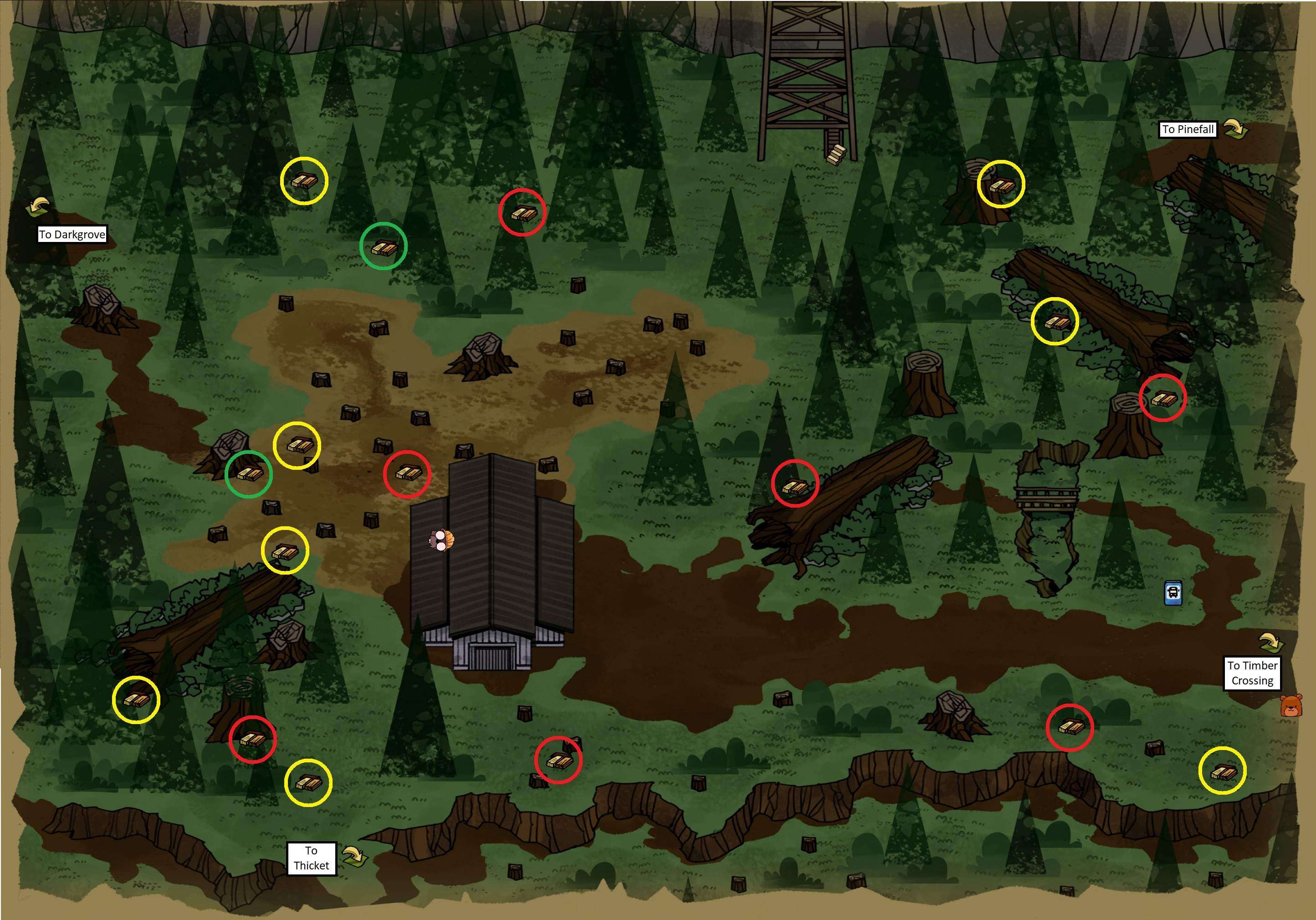 The A24
The Dump to the right is the only place in the game with renewable iron/steel/eletronics related pickups… make a quick visit to it everytime you see the items respawned.
Gus lives in that old shack to the left, and he walks around a bit… if you can't find him anywere here try the Darkgrove (which you may not have gained access to yet).
You can repair the bear statue to the south of Gus shack's and also the gas pump near Ipswitch shop to get more guest request.
Pickups (approximated):
Stone Brick = 33
Porcelain Chunck = 28
Plastic Board = 20
Glass Panel = 24
Steel Plate = 8
Eletronics = 10
Cooper Plate = 15
Rubber Slab = 7
Iron Nail = 13
Iron Plate = 18
Steel screws = 14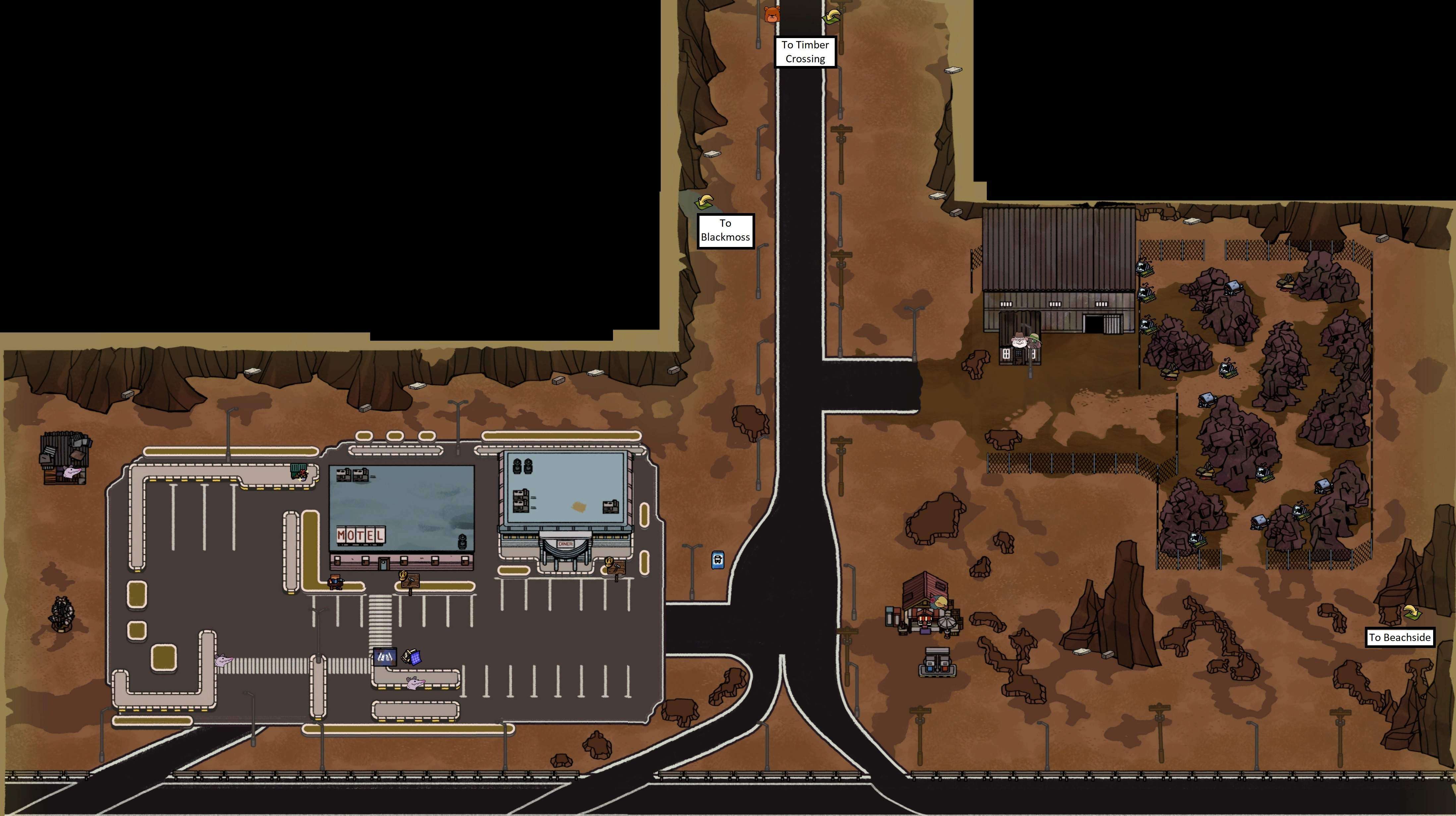 Highlake
Repairables: boat, bear statue, the billboard.
There're two potatoes at the very northwest somewhat hard to see on the map.
Pickups (approximated):
Plywood = 41
Pinewood = 49
Mushrooms = 22
Apples = 14
Mint = 7
Fuel = 31
Herbs = 28
Corn = 11
Potatoes = 6
Chamomile = 18
Strawberry = 17
Tomatoes = 16
Onions = 8
Stone Brick = 13
Porcelain Chunck = 11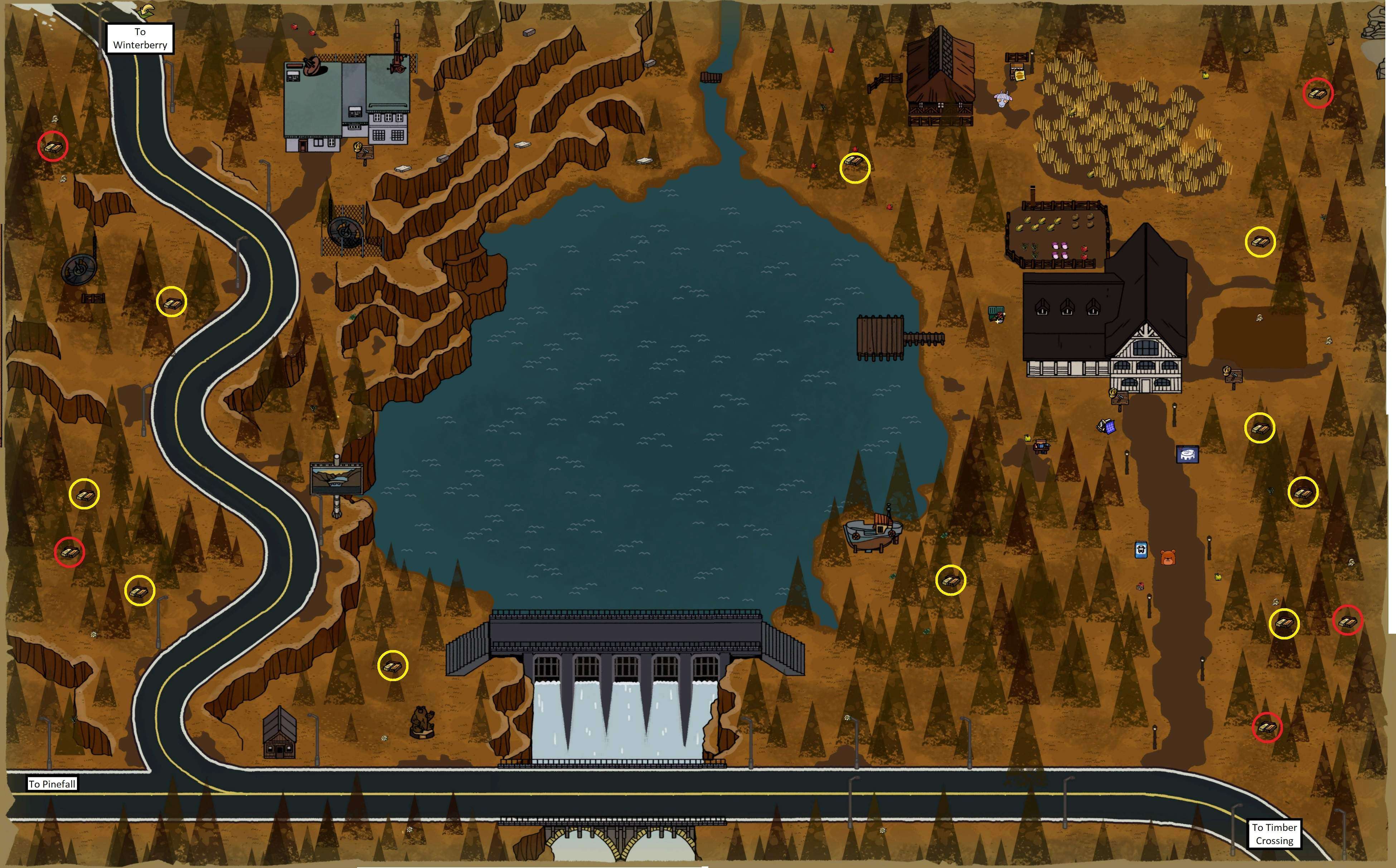 Whitestone Bay
At first glance the Lighthouse seems to be blocked off, but you can access it via the stairs on the very right.
Great place to get some fuel.
Pickups (approximated):
Honey = 16
Potatoes = 7
Plums = 10
Peaches = 19
Fuel = 105
Ginger = 5
Porcelain Chunck = 5
Stone Bricks = 6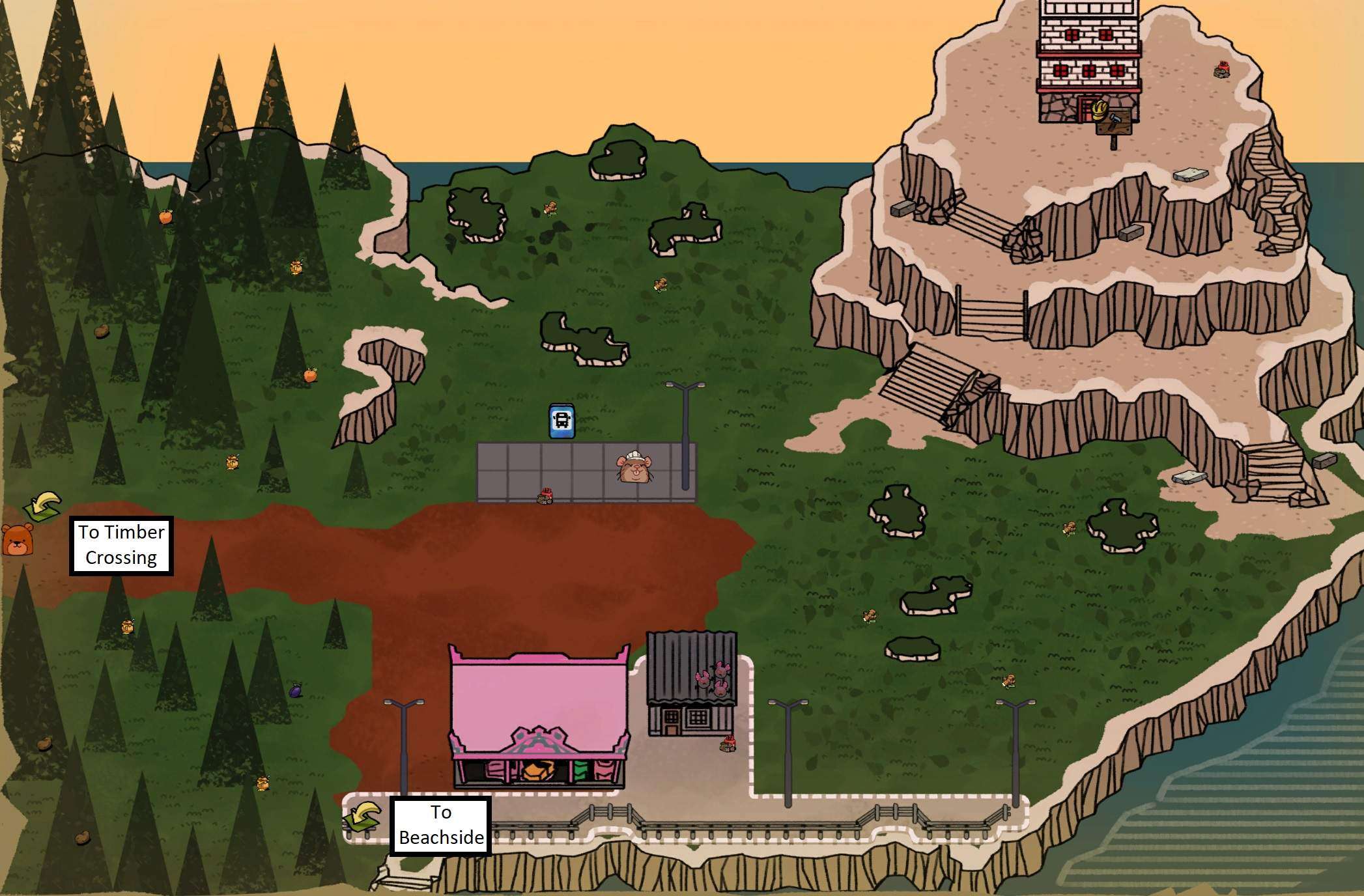 Winterberry
Repairables: polar bear statue, snow plow, resort sign.
The greenhouse is a great source of food, repair it as soon as you can.
Don't forget about Cian at that small cabin on the northeast.
Grab the green wood piles everytime you can… mahogany plank are scarce and it's likely you'll run very short on them on the late game.
Pickups (approximated):
Mahogany = 30
Pinewood = 64
Plywood = 33
Porcelain Chunck = 13
Fuel = 35
Stone Brick = 2
Lemon = 3
Pickups (greenhouse only):
Lemons = 6
Beans = 10
Garlics = 7
Onions = 4
Beets = 3
Carrots = 10
Tomatoes = 11
Peppers = 23
Herbs = 11
Strawberries = 14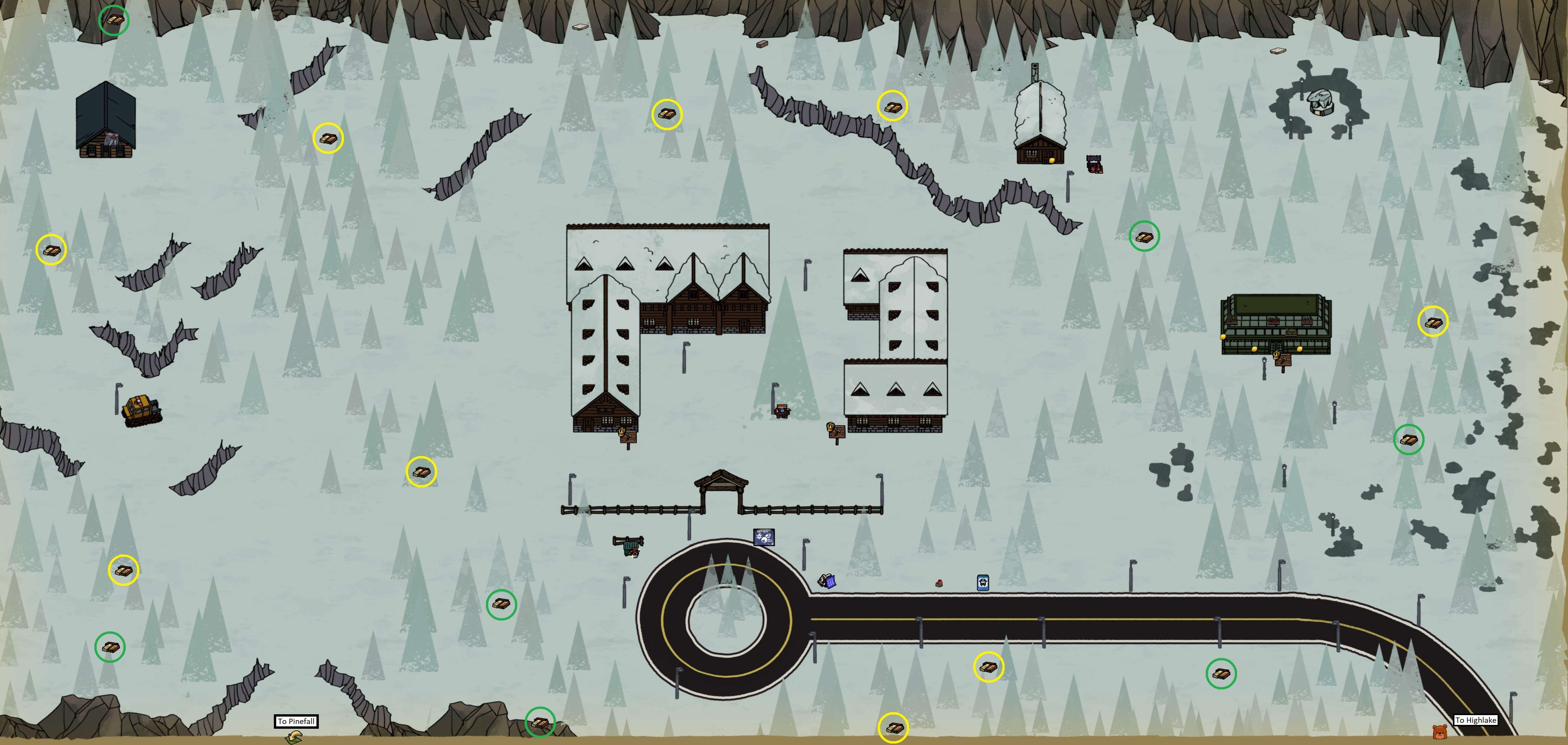 The Beachside
The map calls blackberries as blueberries… probably just a typo.
To get to the grass area, you need to climb those little ramps.
Pickups (approximated):
Blackberries = 35
Linden = 20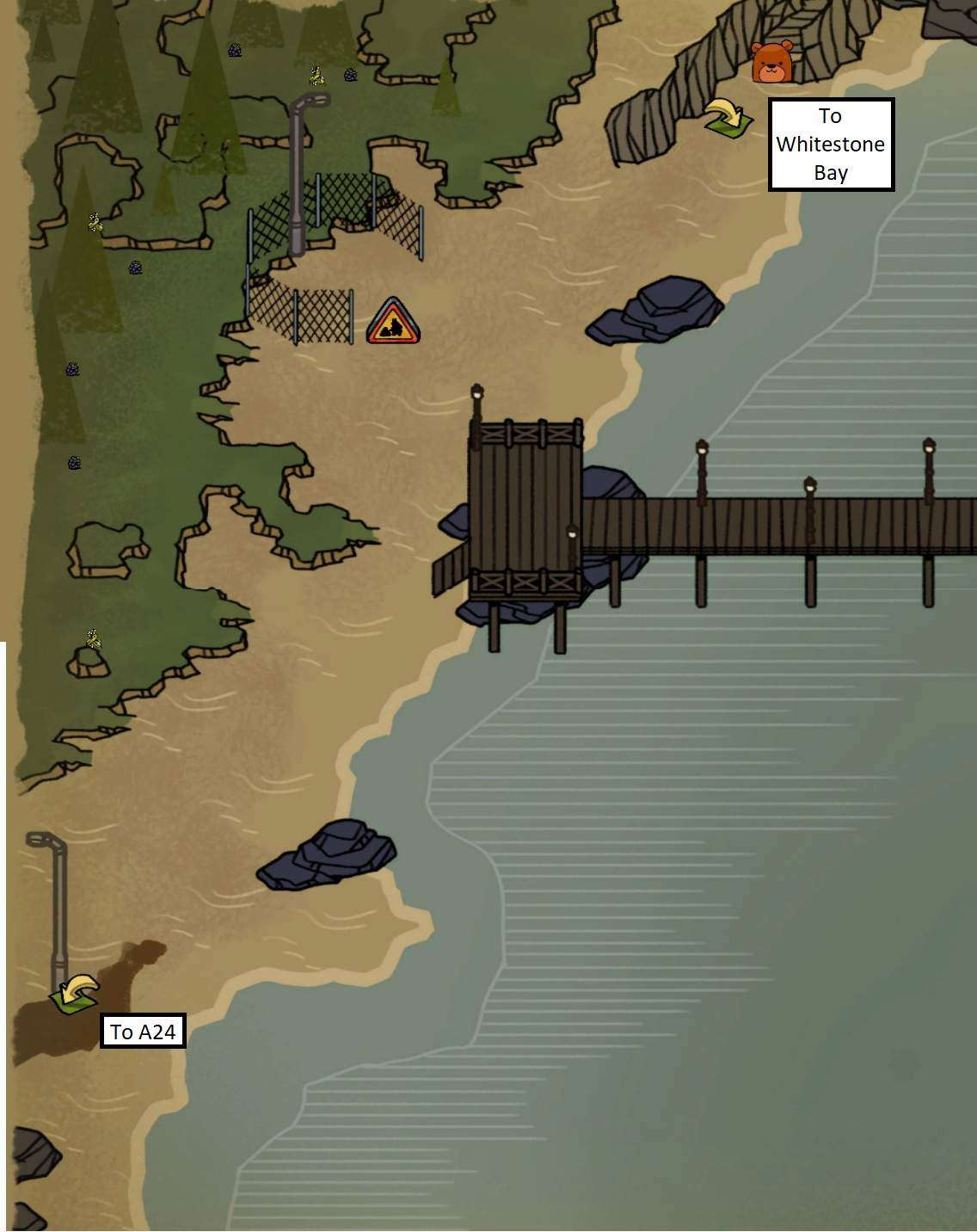 Pinefall
Reparables: Resort sign; Windmill; Binoculars (near Barbara's hut); Bear Statue; Gardening Shack; old tractor.
Again, grab the green wood piles whenever you are near them…
Pickups (approximated):
Mahogany = 33
Pinewood = 54
Plywood = 42
Fuel = 140
Onions = 9
Garlic = 8
Honey = 24
Apples = 10
Mint = 5
Mushrooms = 27
Strawberries = 15
Potatoes = 6
Chamomile = 9
Plums = 20
Spinach = 11
Corn = 9
Tomatoes = 23
Carrots = 5
Herbs = 13
Pepper = 7
Porcelain Chunck = 30
Stone Bricks = 13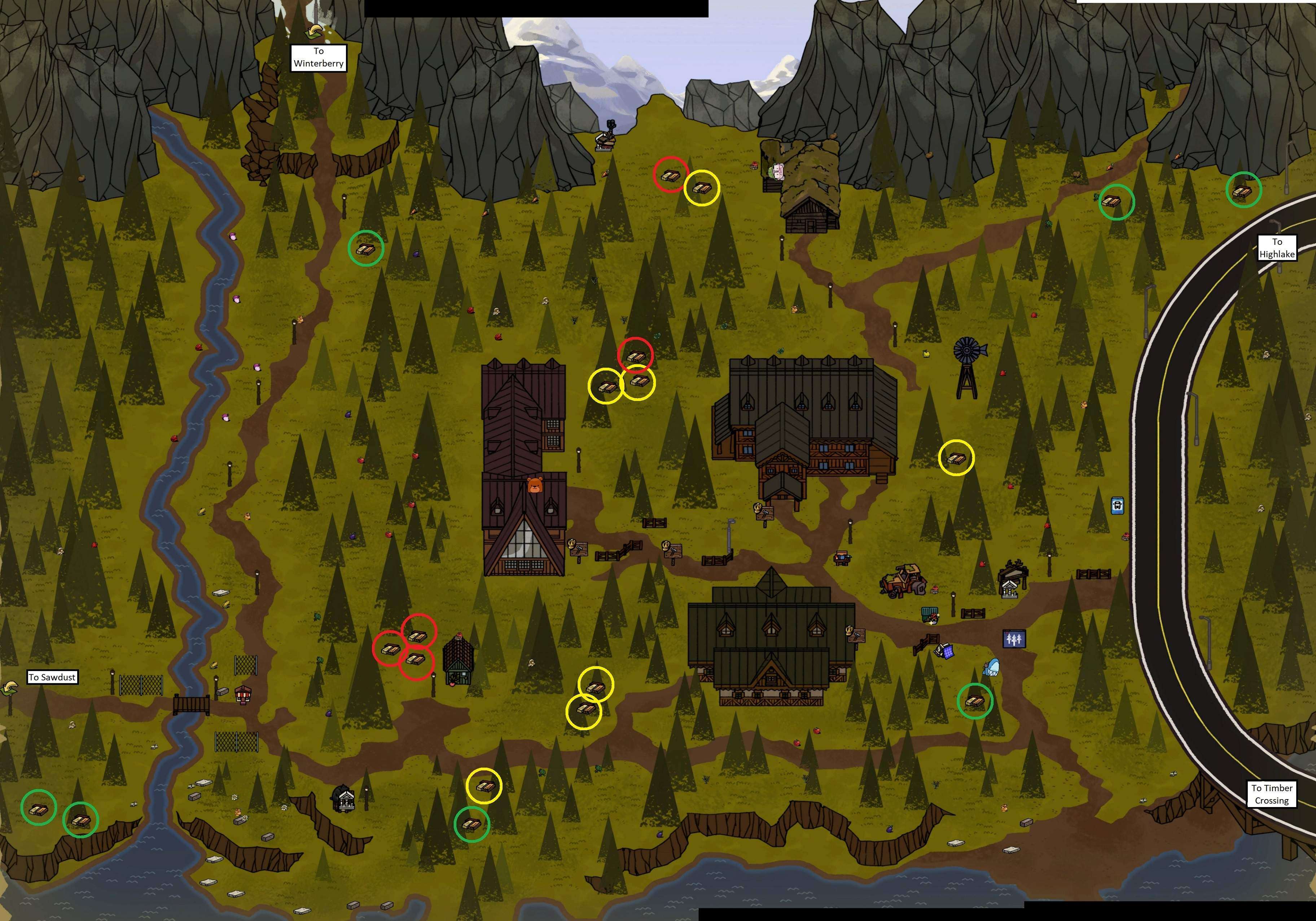 Recommended for You