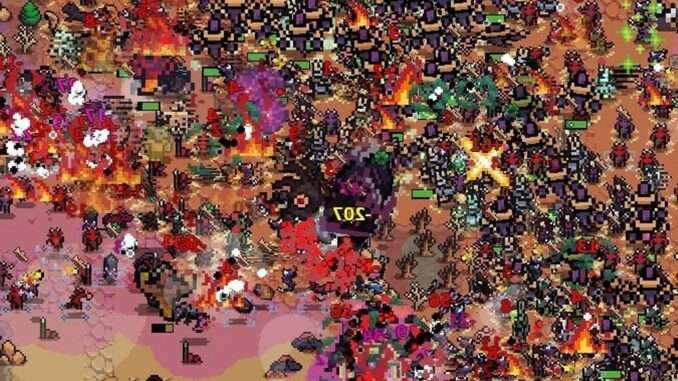 This is a list of all summonings using the Pillar Faction's special building Pillars of Essence.
Introduction on the Sorting
The three first numbers represent the ressources used, this way:
Gold = 1
Ore = 2
Wood = 3
Mercury = 4
Crystal = 5
Sulphur = 6
Gem = 7
P represents the power of the units, so players can look for the most powerful units more easily.
There are 343 different combinations. Each section of this guide has 49 combos.
Here's how to read: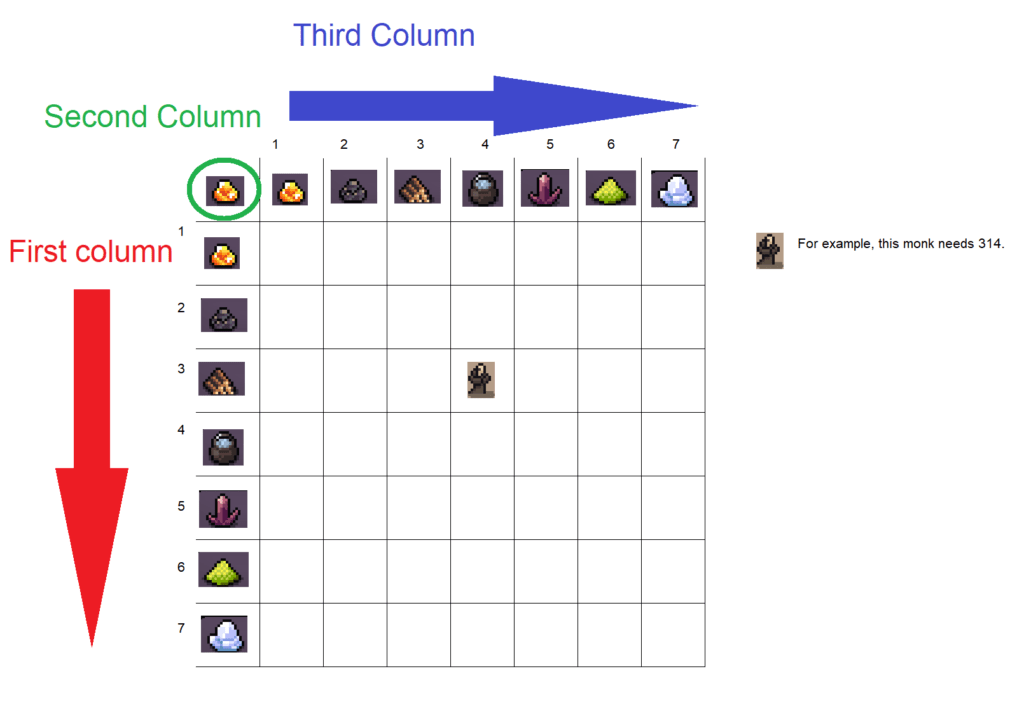 111 to 717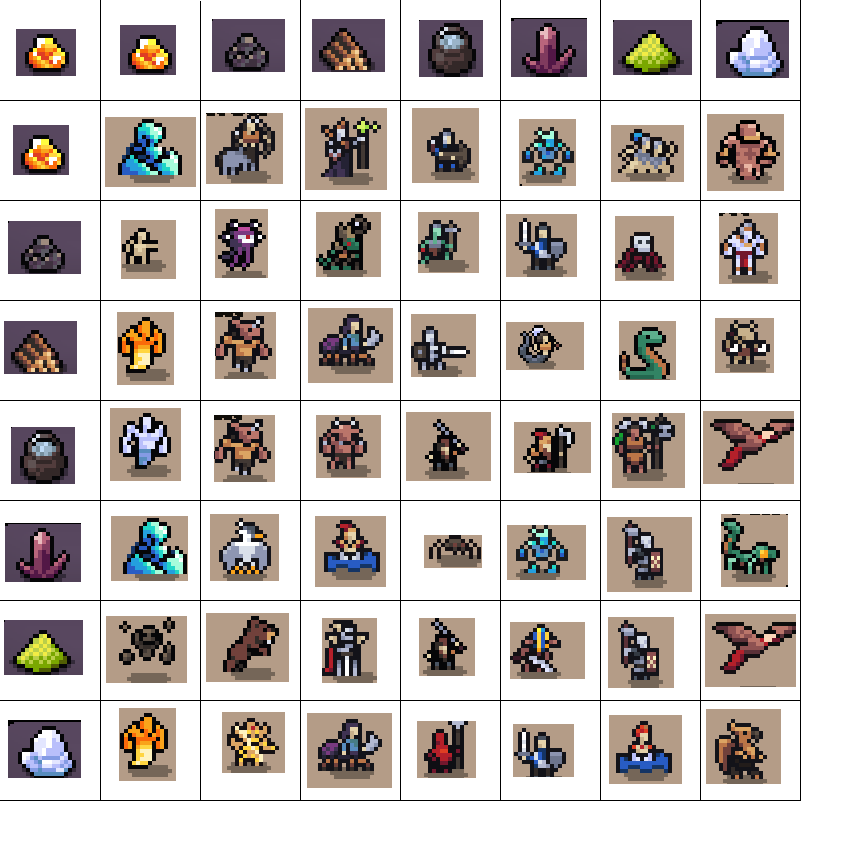 111 = Waveborn x 3 (P5)
112 = Equine Guard x 3 (P5+)
113 = Soulmage x3 (P14)
114 = Marksman x 8 (P2)
115 = Cryo Engine x 5 (P3+)
116 = Survivor x 4 (P6)
117 = Physique x 3 (P24)
211 = Homunculus x 20 (P2)
212 = Nightmare x 5 (P5+)
213 = Hierophant x 3 (P14+)
214 = Rot Walker x 9 (P3+)
215 = Swordsman x 7 (P4)
216 = Deathseeker x 5 (P6)
217 = Thundergod x 2 (P28+)
311 = Spirited Fire x 5 (P5)
312 = Pyrespawn x 5 (P4+)
313 = Arachnian x 3 (P14)
314 = Boneguard x 11 (P2+)
315 = Naga x 7 (P3)
316 = Anaconda x 4 (P6)
317 = Incarnation x 3 (P26)
411 = Cyclone x 5 (P5)
412 = Pyrespawn x 5 (P4+)
413 = Avalancher x 3 (P12+)
414 = Rifleman x 11 (P3)
415 = Legionite x 6 (P3+)
416 = Sunbringer x 3 (P8+)
417 = Vulcanwing x 3 (P26)
511 = Waveborn x 5 (P5)
512 = Ocean Menace x 6 (P6)
513 = War Magi x 3 (P9+)
514 = Spooder x 16 (P2)
515 = Cryo Engine x 9 (P3+)
516 = Boneliath x 5 (P6)
517 = Gigalizard x 3 (P24)
611 = Rock Pummeler x 4 (P5)
612 = Grizzly x 5 (P5)
613 = Paladin x 3 (P10+)
614 = Rifleman x 10 (P3)
615 = Goblin Grenadier x 7 (P3+)
616 = Boneliath x 4 (P6)
617 = Vulcanwing x 3 (P26)
711 = Spirited Fire x 6 (P5)
712 = Gold Earthened x 6 (P5+)
713 = Arachnian x 3 (P14)
714 = Glutton x 16 (P2+)
715 = Swordsman x 8 (P4)
716 = Arcanist x 5 (P8)
717 = Gryphon x 3 (P28)
121 to 727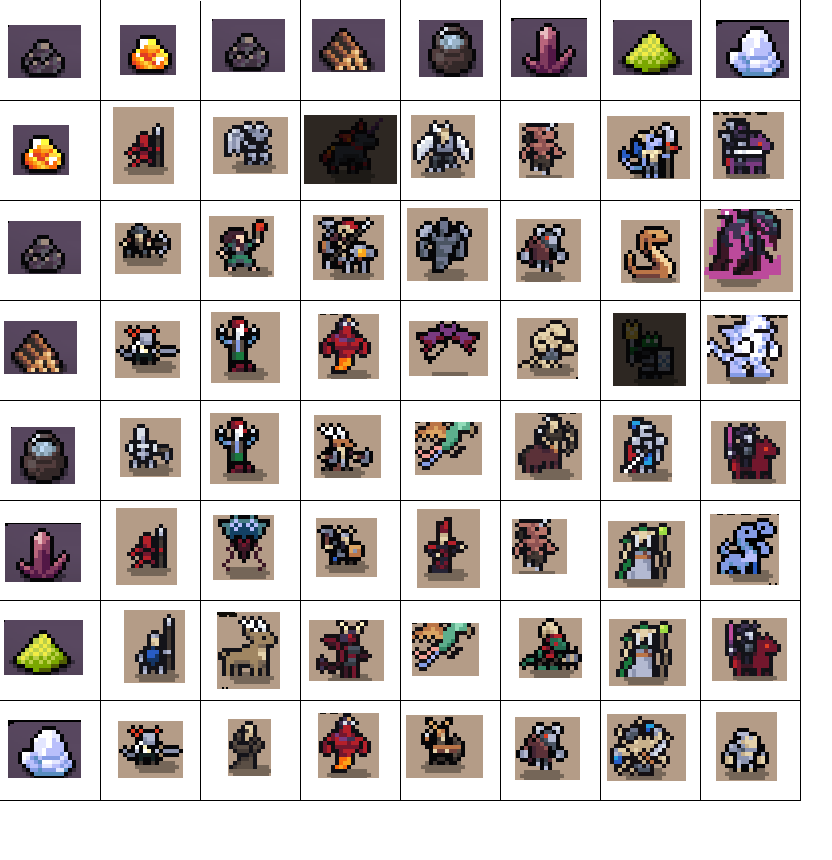 121 = Imp x 10 (P2)
122 = Stonewatcher x 5 (P4+)
123 = Infernal x 3 (P14)
124 = Fury x 8 (P2+)
125 = Capra x 7 (P4)
126 = None x 4 (P8)
127 = Lifebane x 2 (P28+)
221 = Excavator x 16 (P2)
222 = Fireballer x 8 (P5)
223 = Tunnelrider x 3 (P14)
224 = Thunder x 3 (P14)
225 = Ash Demon x 5 (P8)
226 = Basilik x 4 (P6+)
227 = Blight Monstrum x 3 (P32)
321 = Spawnling x 14 (P2)
322 = War Clown x 7 (P5)
323 = Shah x 3 (P16+)
324 = Firestinger x 14 (P3)
325 = Mutant Trog x 8 (P3)
326 = Pond Champion x 4 (P8)
327 = Tiger of War x 2 (P30+)
421 = Skeleton x 15 (P2)
422 = War Clown x 7 (P5)
423 = Caribou Elite x 3 (P12+)
424 = Bird of Fortune x 10 (P3+)
425 = Centaur x 7 (P5)
426 = Crusader x 4 (P9)
427 = Rot Knight x 3 (P26)
521 = Imp x 16 (P2)
522 = Jellykiller x 5 (P5+)
523 = Odin's Son x 3 (P14)
524 = Disciple x 13 (P2+)
525 = Capra x 9 (P4)
526 = Wildspeaker x 3 (P16+)
527 = Hydraling x 3 (P24)
621 = Militia x 13 (P2)
622 = Golden Buck x 3 (P9+)
623 = Mindmelter x 3 (P12+)
624 = Bird of Fortune x 9 (P3+)
625 = Lizgionnaire x 5 (P4+)
626 = Wildspeaker x 3 (P16+)
627 = Rot Knight x 3 (P26)
721 = Spawnling x 21 (P2)
722 = Monk x 7 (P2)
723 = Shah x 3 (P16+)
724 = Bearguard x 18 (P2+)
725 = Ash Demon x 9 (P5)
726 = Flesh Wonder (P6+)
727 = White Yeti x 3 (P28)
131 to 737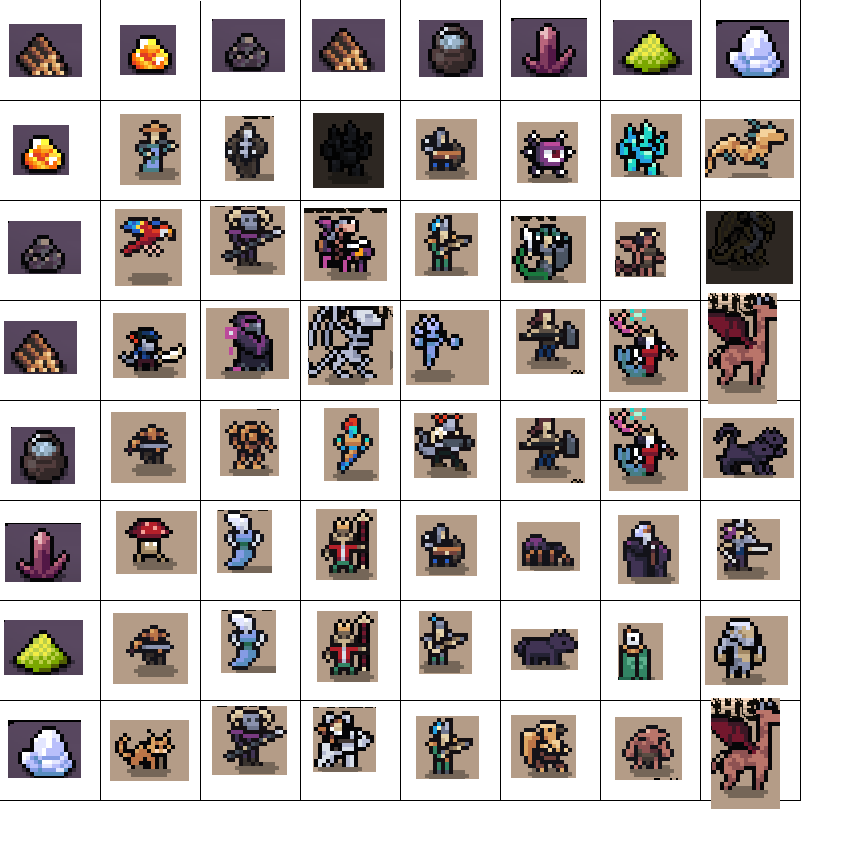 131 = Fighter x 9 (P2)
132 = Lost Soul x 5 (P6)
133 = Ashen Giant x 3 (P18)
134 = Arbalist x 9 (P2+)
135 = Watcher x 6 (P5)
136 = Crystallus x 4 (P8)
137 = Serpent of Gods x 2 (P30+)
231 = Parrot x 17 (P2)
232 = Beastmaster x 7 (P4+)
233 = Hollow Champion x 3 (P16+)
234 = Hand-cannoner x 9 (P3+)
235 = Ophidan x 7 (P3+)
236 = Succubus x 4 (P10)
237 = Gold Drake x 3 (P50)
331 = Deckmate x 11 (P2)
332 = Malcorvid x 5 (P8)
333 = Bonewyrm x 3 (P26)
334 = Tundra Regent x 3 (P14)
335 = Strongarm x 6 (P5)
336 = Temptress x 4 (P8+)
337 = Unleashed Raffe x 3 (P35)
431 = Goblin Gunner x 14 (P2)
432 = Golem x 6 (P6)
433 = Sultan x 3 (P16+)
434 = Cannoneer x 9 (P3)
435 = Strongarm x 6 (P5)
436 = Temptress x 4 (P8+)
437 = Cerberus x 3 (P35)
531 = Mycell x 12 (P3)
532 = Banshee x 5 (P6+)
533 = Divine Monk x 3 (P16+)
534 = Arbalist x 12 (P2+)
535 = Corpseeater x 7 (P3)
536 = Sanguinist x 4 (P8+)
537 = Ritualist x 4 (P6+)
631 = Goblin Gunner x 14 (P2)
632 = Banshee x 5 (P6+)
633 = Divine Monk x 3 (P16+)
634 = Fire Lancer x 11 (P3)
635 = Canine x 8 (P4)
636 = Wise x 4 (P10)
637 = Cave Regent x 2 (P30+)
731 = Lynx x 18 (P2)
732 = Beastmaster x 9 (P4+)
733 = Polar Cavalry x 3 (P16+)
734 = Hand-cannoner x 11 (P3+)
735 = Hatchling x 9 (P5)
736 = Troll x 5 (P12)
737 = Unleashed Raffe x 3 (P35)
141 to 747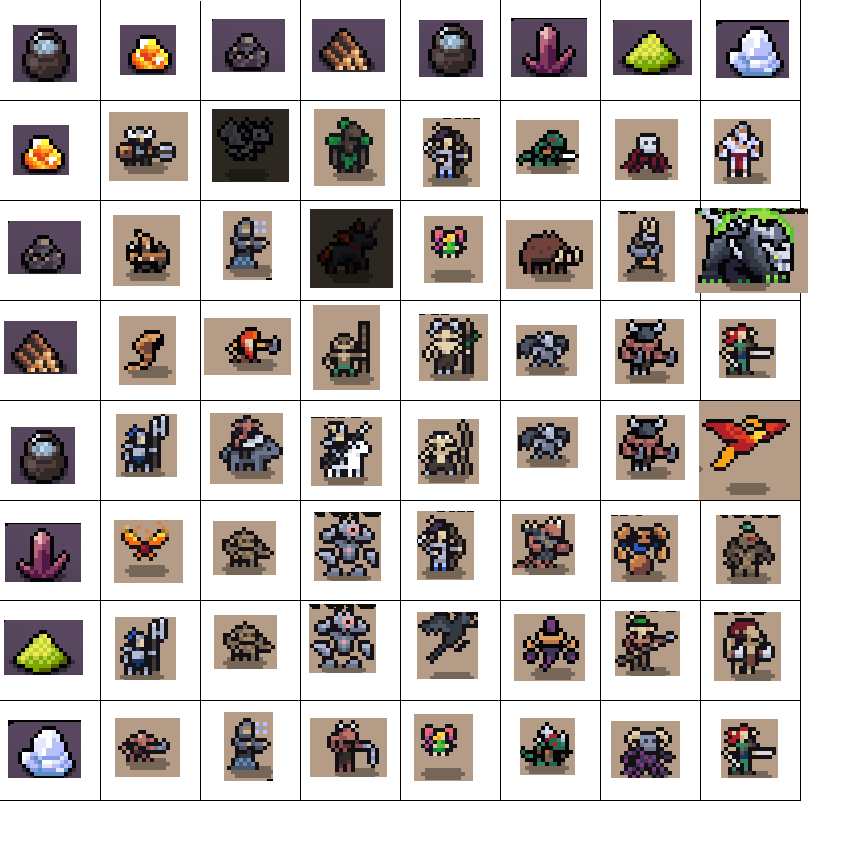 141 = Hillkeeper x 8 (P2)
142 = Dragon Welp x 5 (P5)
143 = Ancient Trean x 3 (P28)
144 = Archer x 10 (P3)
145 = Lizward x 6 (P4)
146 = Deathseeker x 4 (P6)
147 = Thundergod x 2 (P28+)
241 = Minewatch x 14 (P2)
242 = Ice Sculptor x 6 (P6)
243 = Infernal x 3 (P14)
244 = Forest Spirit x 15 (P2+)
245 = Boar x 9 (P2)
246 = Friar x 5 (P6+)
247 = Soulstalker x 3 (P35)
341 = Worm x 10 (P2)
342 = Berserker x 5 (P5)
343 = Primal Monk x 3 (P14)
344 = Minstrel x 8 (P3+)
345 = Gargoyle x 7 (P4)
346 = Goldhorn x 3 (P9+)
347 = Bladesinger x 5 (P6)
441 = Haleberdier x 10 (P2+)
442 = Raider x 7 (P5)
443 = Knight of Order x 3 (P10+)
444 = Satyr x 11 (P3)
445 = Gargoyle x 8 (P4)
446 = Goldhorn x 3 (P9+)
447 = Phoenix x 2 (P28+)
541 = Firefly x 25 (P2)
542 = Rock Eathern x 7 (P5)
543 = Geyseral x 4 (P12)
544 = Archer x 14 (P2)
545 = Monster Trog x 6 (P3+)
546 = Automaton x 5 (P6+)
547 = Moss Golem x 3 (P22)
641 = Haleberdier x 9 (P2+)
642 = Rock Eathern x 6 (P5)
643 = Geyseral x 4 (P12)
644 = Tricrow x 12 (P3)
645 = Arcanetation x 3 (P14)
646 = Hunter x 9 (P4)
647 = Liongod x 2 (P28+)
741 = Goblin x 20 (P2)
742 = Ice Sculptor x 7 (P6)
743 =Demon Tamer x 4 (P12)
744 = Forest Spirit x 19 (P2+)
745 = Swamp Arrow x 9 (P3+)
746 = Mask of Decay x 5 (P6+)
747 = Bladesinger x 6 (P6)
151 to 757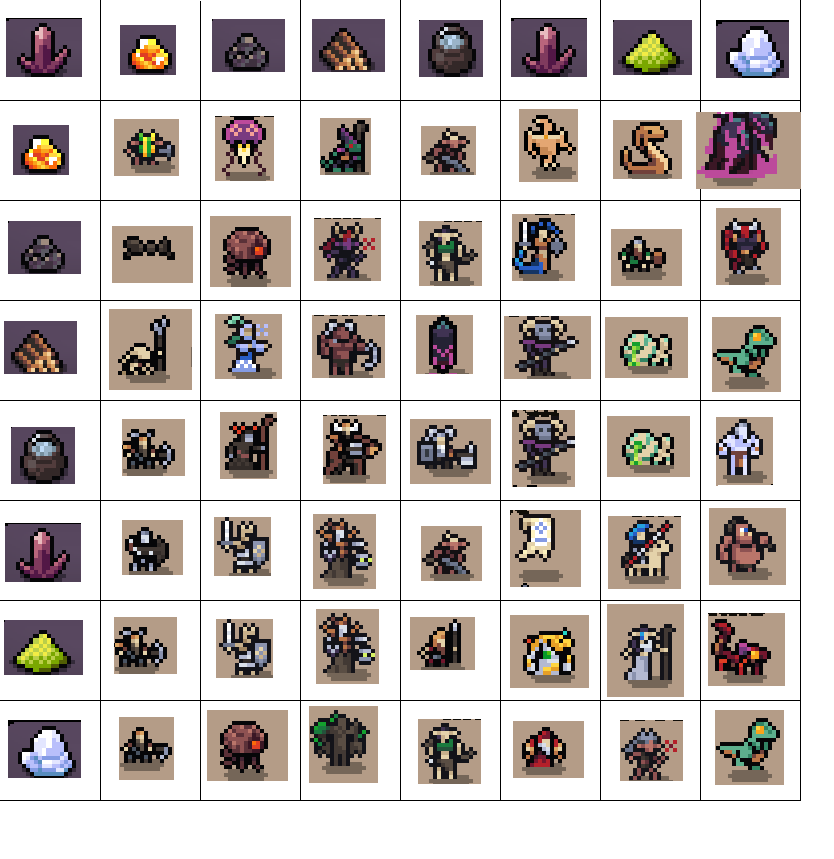 151 = Voodoo x 10 (P2+)
152 = Seastinger x 7 (P5)
153 = Archopriest x 3 (P12)
154 = Goblin guerilla x 12 (P3)
155 = Sand Devil x 7 (P5)
156 = Basilik x 4 (P6+)
157= Blight Monstrum x 3 (P32)
251 = Bloodsucker x 18 (P2)
252 = Horror x 3 (P28)
253 = Bloodwarper x 3 (P12+)
254 = Ranger x 9 (P5)
255 = Gorgon x 11 (P3)
256 = Mauler x 5 (P8)
257 = Pride x 2 (P30+)
351 = Troglodyte x 17 (P2)
352 = Cryomancer x 5 (P6+)
353 = Lord of the Pit x 3 (P12+)
354 = Onyx Rod x 13 (P3)
355 = Beastmaster x 7 (P4+)
356 = Deviant x 5 (P8)
357 = Rex x 3 (P28)
451 = Carver x 13 (P2+)
452 = Ferrymen x 7 (P6)
453 = Bear Cavalry x 3 (P14)
454 = Mountainguard x 15 (P3)
455 = Beastmaster x 8 (P4+)
456 = Deviant x 5 (P8)
457 = Jotun x 3 (P26)
551 = Bone shooter x 17 (P2+)
552 = Paragon x 7 (P4+)
553 = Lich x 3 (P16+)
554 = Goblin guerilla x 16 (P3)
555 = Edict x 10 (P3+)
556 = Cavalry x 5 (P9)
557 = Blood Chieftain x 2 (P28+)
651 = Carver x 12 (P2+)
652 = Paragon x 6 (P4+)
653 = Lich x 3 (P16+)
654 = Hoplite x 12 (P3)
655 = Child of Midas x 8 (P5)
656 = Druid x 3 (P14)
657 = Firezard x 2 (P26+)
751 = Miner x 24 (P2)
752 = Horror x 3 (P28)
753 = Grove Soul x 2 (P30+)
754 = Ranger x 10 (P5)
755 = Enchanter x 9 (P4+)
756 = Bloodletter x 5 (P12)
757 = Rex x 3 (P28)
161 to 767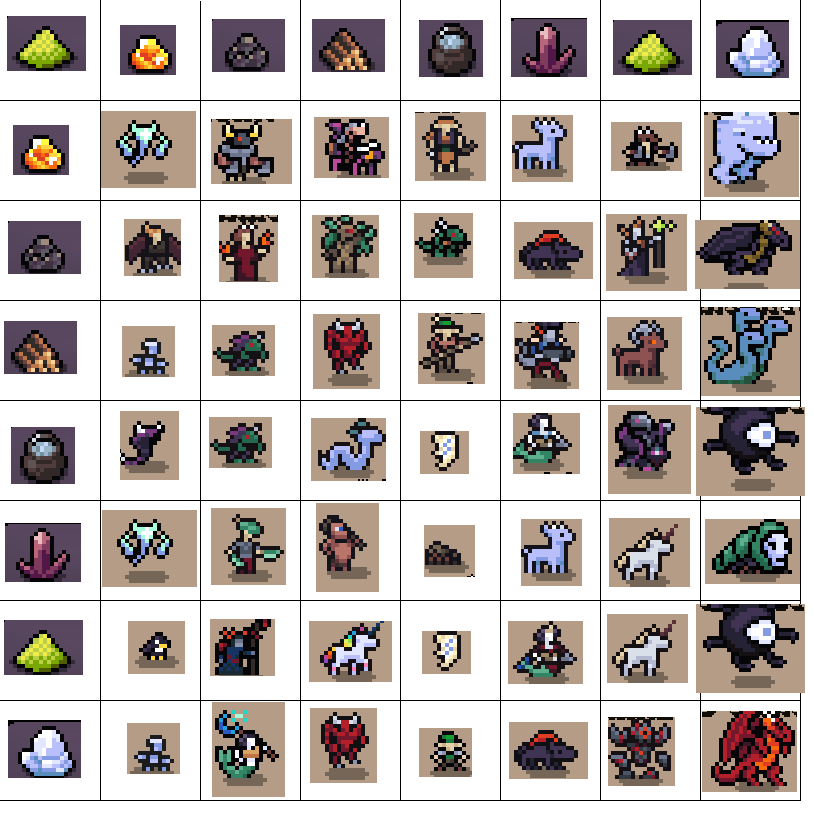 161 = Atherthing x 11 (P2)
162 = Minotaur x 4 (P8)
163 = Hollow Chamion x 2 (P16+)
164 = Deadeye x 5 (P5+)
165 = Deer x 4 (P8)
166 = Antlered Elite x 4 (P10)
167 = Balaenoptera x 2 (P60)
261 = Harpy x 14 (P2)
262 = Lady of the Pit x 4 (P6+)
263 = Swamp Warder x 2 (P24+)
264 = Lizardcher x 12 (P3)
265 = Pyrebeast x 7 (P4+)
266 = Soulmage x 4 (P14)
267 = Black Dragon x 1 (P100)
361 = Ice Engine x 12 (P3)
362 = Storm Hexer x 5 (P5)
363 = Wrath x 3 (P28)
364 = Hunter x 10 (P4)
365 = Blastmaster x 7 (P3+)
366 = Hellgoat x 4 (P12)
367 = Great Hydra x 2 (P65)
461 = Leech x 9 (P2+)
462 = Storm Hexer x 5 (P5)
463 = Spirit Serpent x 3 (P28)
464 = Scroll x 12 (P3)
465 = Harpooner x 8 (P4)
466 = Malavian x 4 (P12)
467 = Demise x 2 (P65)
561 = Aetherthing x 17 (P2)
562 = Tea Knight x 5 (P7)
563 = Cyclops x 3 (P26)
564 = Tarantula x 10 (P3)
565 = Deer x 5 (P8)
566 = Monokero x 5 (P8)
567 = Ghost Larva x 2 (P60)
661 = Penguin x 15 (P2)
662 = Charon's Cultist x 5 (P6)
663 = Prismatic x 3 (P24)
664 = Scroll x 11 (P3)
665 = Reef Terror x 5 (P4+)
666 = Monokero x 4 (P8)
667 = Demise x 2 (P65)
761 = Ice Engine x 17 (P3)
762 = Siren x 6 (P7)
763 = Wrath x 3 (P28)
764 = Wildkind x 19 (P3)
765 = Pyrebeast x 8 (P4+)
766 = Magmaral x 4 (P12+)
767 = Red Dragon x 1 (P85)
171 to 777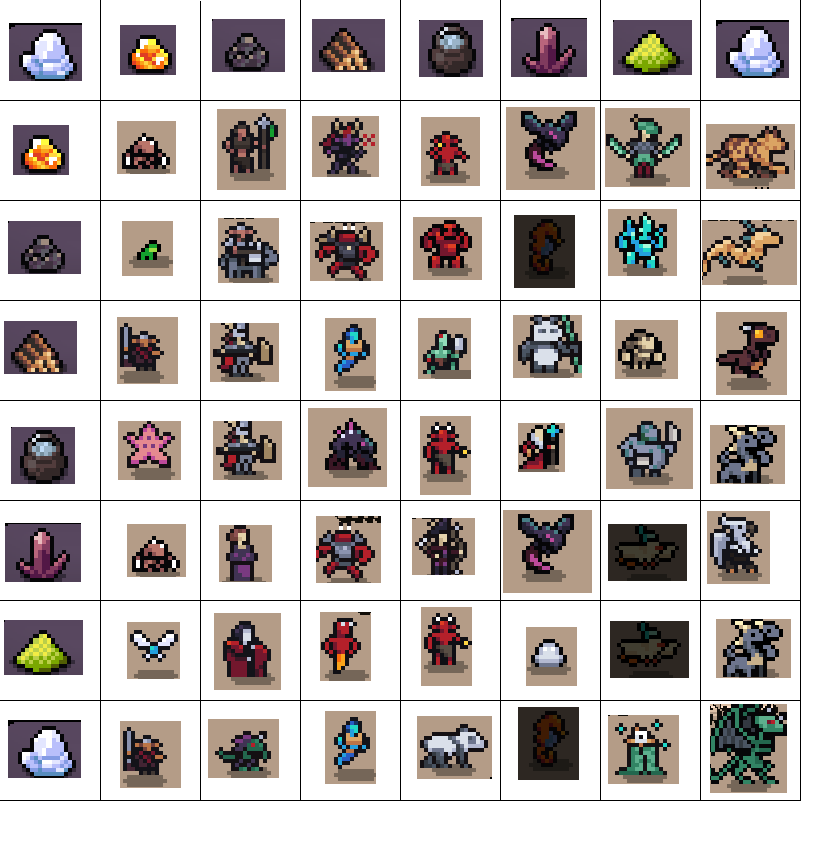 171 = Trogserker x 8 (P2+)
172 = Shaman x 4 (P7)
173 = Bloodwarper x 3 (P12+)
174 = Flamer Juggler x 13 (P2)
175 = Blightstinger x 6 (P5)
176 = Balancer x 3 (P8+)
177 = Earth Tiger x 3 (P28)
271 = Toadfrog x 18 (P2)
272 = Marauder x 6 (P5+)
273 = Canpiceri x 3 (P16+)
274 = Molten Charger x 4 (P14)
275 = Seamare x 8 (P5)
276 = Crystallius x 5 (P8)
277 = Serpent of Gods x 2 (P30+)
371 = Goblin Guard x 11 (P2+)
372 = Dragonslayer x 5 (P5+)
373 = Djinn x 3 (P14)
374 = Zombie x 15 (P3)
375 = Pan Za x 7 (P3+)
376 = Yetiling x 5 (P8)
377 = Apex x 2 (P32+)
471 = Seastar x 12 (P3)
472 = Dragonslayer x 5 (P5+)
473 = Crawler x 3 (P16)
474 = Flame Stoker x 12 (P2+)
475 = Runescribe x 9 (P4)
476 = Corruptor x 4 (P12)
477 = Tricephalus x 2 (P26+)
571 = Trogserker x 13 (P2+)
572 = Demon carer x 5 (P6)
573 = Canceri x 4 (P16)
574 = Horn Bowyer x 12 (P3+)
575 = Blightstinger x 8 (P5)
576 = Flamebird x 5 (P8)
577 = Seraph x 2 (P30+)
671 = Anima x 15 (P2)
672 = Vampire x 5 (P7)
673 = Efreet x 3 (P14)
674 = Flame Stoker x 11 (P2+)
675 =Mercurial x 9 (P3)
676 = Flamebird x 4 (P8)
677 = Tricephalus x 2 (P26+)
771 = Goblin Guard x 15 (P2+)
772 = Witchzard x 8 (P5)
773 = Djinn x 4 (P14)
774 = Pan Da x 13 (P3)
775 = Seamare x 9 (P5)
776 = Arbiter x 4 (P12+)
777= Thanatos x 3 (P28+)