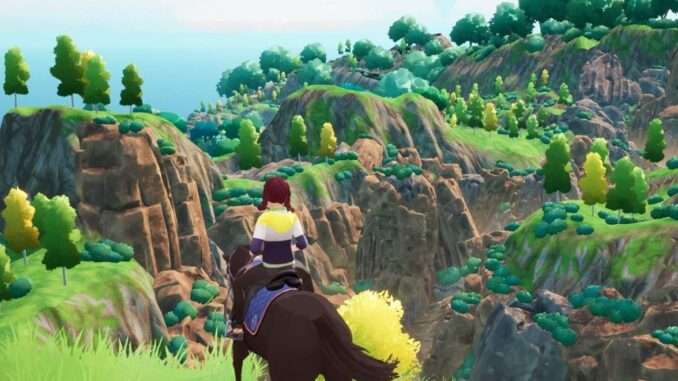 Here you can find useful info about main quests in the Horse Tales: Emerald Valley Ranch game.
List of All Main Quests
New Beginnings
Unlocks
Tent, Linseed Field, & Azalea Bush
Call your aunt
Unlocks
Wooden Bridge & Flower pot Wildflowers
The Mastercrafter
Unlocks
Side Quest: Meal time
Stone Stairs, Flower pot poppies, Carrot Farm, Small Stable, & Pasture.
Who is Lilli?
Unlocks
Area: Sneaky Ways
Side Quest: The Great Estate
Bridle & Wild Horseradish Bush
Lost in Sight
Unlocks
Shows you the way to the lake house
Side Quest: Wild Horses
Diving Goggles, Fortified Sand Castle, & Flower Pot Sorrel
Lilli's Low Point
Unlocks
Side Quest: The Makeover
Cherry tree & Flower pot Marigolds
Reconciliation
Unlocks
Area: Felix Estate & Way to Saint-Elige Village
Sporty Horse Outfit, Hunter Braided mane & Hunter Braided tail
Side Quest: A Lesson In Style
Lavender Bush & Royal Riding Helmet
Party Time
Requirements: 12,000 Fame
Unlocks
Carrot Juice Tack Set & Ninja Clan Saddle
Skater helmet & Flower Pot Hyacinths
The Emerald Valley Devil
Unlocks
Area: Mushroom Cave
Rest of the Ninja Clan Tack Set
Tame Legendary Horse
Cypress tree & Flower pot Pansies
An Unusual Visit
Requirements: 18,000 Fame
Unlocks
Pascal gives you Diamond Braid Mane & Tail
Rodrigo gives you Flower Bed (Bushes)
Gabriel gives you Gazebo (Dread)
Matteo gives you Fountain (Fish)
Lilli gives you Jumper braid mane & Jumper tail
Noella gives you Family House (Classic)
Bellamy gives you Pond (Wild)
Esmee gives you Sand Castle (Citadel)
Large Stable Classic & Zen Garden (Ancient)
Recommended for You