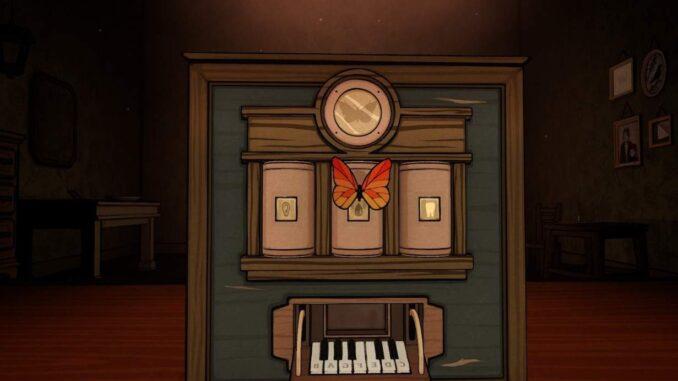 Here is 100% achievement guide for the Past Within game.
How to Obtain All Achievements
The Past – Chapter 1
1 – Behind the mask (Unmissable)
Put on the mask when you get it.
2 – Bone, Flesh and Blood (Unmissable)
Place the bone, flesh and blood into the machine.
3 – The Past has changed (Unmissable)
4 – Catch me if you can
Click on the critter inside the critter picture.
Then click on the rose multiple times to make the critter fly away.
After the vase breaks, the critter will be on the lantern at the mirror.
5 – You know what to do
After looking at the picture of the crow and clicking on it, look at yourself in the mirror.
6 – The Devil
After corrupting Albert's corpse, check in the grave for the tarot card.
The Past – Chapter 2
7 – Ear on the inside (Unmissable)
Send the flesh to the future.
8 – Dead eye (Unmissable)
Stab the voodoo doll with the needle.
9 – Rooted in The Past (Unmissable)
10 – Breaking in
Trap the critter inside the hidden compartment of one of the gears.
11 – Victor
Keep clicking the keys on the piano.
12 – Hidden treasure
Put in the gems without any false placements.
The Future – Chapter 1
1 – Who is that? (Unmissable)
Finish the lens puzzle and look through to see young Rose and keep clicking on her.
2 – The year of The Future (Unmissable)
Correctly enter the year of the future inside the terminal.
3 – The Future is ever changing (Unmissable)
4 – Checkmate
Finish the chess puzzle without making a false move.
5 – A tooth for a tooth
Finish the teeth puzzle only after having hit the next tooth after the other player obtains bone.
6 – Squeak
Click on the mouse whenever you see it.
The Future – Chapter 2
7 – All ears (Unmissable)
Get the ear inside the room.
8 – There will be blood (Unmissable)
Resurrect Albert with bone, flesh and blood.
9 – Branching out (Unmissable)
10 – Frankenstein
When doing the flesh puzzle with the poison, water and coffee, do not mess up.
11 – No way out
Repeatedly click on the mouse running around.
12 – Harvey's Song
Play Harvey's Song on the radio (about 97.0, very precise) then look at the mirror.
W.I.P.
Recommended for You