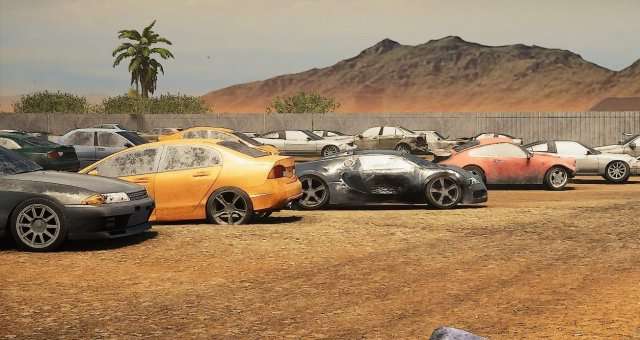 Found a part in a barn or the junkyard and you don't know whether it can be repaired or not? Then this is the guide for you!
Comprehensive Parts List (Repaired Or Not)
Preface
There are many parts available when wandering around barns and the junkyard that can be picked up for a bargain; but can those parts be repaired? Knowing what can or can't be repaired can make the difference in picking up major parts and restoring them at a fraction of the store purchase price. Very useful when restoring that prize vehicle you've been working on.
This guide is primarily made up of two lists: parts that can be repaired and, secondly, parts that cannot be repaired. Knowing what parts are on what list can make the difference on whether you pick up something that has low condition that can be repaired or whether you leave it unless it is in good condition.
As in CMS2018, items have to have at least 15% condition before it can be repaired; so there is no value in picking up any part that is under 15% whether on the repairable list or not.
In order to repair parts you need to have unlocked the Renovator ability and have purchased the work bench once you have expanded the workshop. Each level of the Renovator ability opens up more repairable parts as all parts are levelled. To begin repairing body parts you need to reach level 6 of the Renovator ability and have purchased the body repair station.
Brake Discs and Batteries are not repaired at the Repair Bench but at the Brake Lathe and Battery Charger respectively which is purchased through the Workshop after the workshop has been expanded (Charger can be purchased before the garage expansion). Unlike the Repair Bench, it doesn't cost any money to repair the brakes and recharge the batteries.
The higher the level of the Renovator ability, the greater the chance to repair the part completely. At level 6 the chance is 60%.
When repairing, the repair sweet spot (green bars) are best to be attempted when they are on the ends. This effectively doubles their size as the cursor runs through them and then returns back. If the placement of bars are not advantageous you can cancel the repair and try again.
These lists are not yet complete and will be updated as I come across the different parts. Exceptions are listed in brackets. If you come across any errors, please mention them in the comments.
If you have found this guide useful, please rate it so that others may come across it and benefit from it. Have fun with the game!
Parts That Can Be Repaired
Engine
Air Filter Base; Air Filter Cover (only the plain, not the specific)
Camshaft (except (V8 OHV F))
Carburetor
Clip A; Clip B
Crankshaft; Crankshaft Bearing Cap
Engine Block; Engine Head; Engine Head Cover
Exhaust Manifold
Front End Housing
Fuel Pump; Fuel Rail
Head Cover
Intake Manifold
Oil Pan
Power Steering
Radiator; Radiator Fan
Rod Cap
Round Air Filter Base; Round Air Filter Cover
Supercharger; Supercharger Intake Manifold
Thermostat
Throttle
Timing Cover
Turbo; Turbocharger
Water Pump
Suspension
Bottom Suspension Arm
Coil Spring Rear Drive Axle
Front Axle Knuckle Cover
Front Drive Axle; Front Drive Shaft
Front Steering Knuckle; Front Wheel Hub
Front Suspension Crossmember
Leaf Spring; Leaf Spring Plate; Leaf Spring U-Bolt; Leaf Spring Rear Drive Axle
Lower Suspension Arm
Rear Axle Knuckle Cover; Rear Axle Knuckle Housing
Rear Drive Axle
Rear Suspension Arm
Rear Suspension Crossmember
Rear Suspension Upper Arm
Rear Wheel Hub
Solid Rear Drive Axle; Solid Axle Control Arm
Spring Cap
Steering Rack
Upper Suspension Arm
Wheel Hub
Brakes
Brake Caliper; Brake Caliper Cylinder
Brake Disc; Brake Disc Ventilated (through the Brake lathe purchased in the workshop)
Brake Servo; Brake Shoe
Drum Brake Cylinder
Exhaust
No exhaust parts are repairable except Exhaust Manifolds which are listed under Engine.
Gearbox
Clutch Plate
Drive Shaft
Flywheel Cover
Front Drive Shaft
Gearbox
Electronics
ABS Module; ABS Pump
Alternator
Battery (through the Battery charger purchased in the workshop)
EV Battery Module
Fuse Box Base; Fuse Box Cover
Ignition Coil B (other Ignition Coils are not repairable)
Ignition Distributor Cap; Ignition Distributor Rotor
Starter
Rims
Tires
Body
Boot
Front Bumper; Rear Bumper
Front Right Door; Front Left Door; Rear Right Door; Rear Left Door
Front Right Fender; Front Left Fender
Hood
Right Side Mirror; Left Side Mirror
Number Plates
No Number Plates are repairable
Seats
Steering Wheels
No Steering Wheels are repairable
Parts That Cannot Be Repaired
Engine
Air Filter; Air Filter Base; Air Filter Cover (Except for the plain Air Filter Base & Cover)
Arm
Belt Tensioner
Cam Gear
Camshaft (V8 OHV F) only – all other Camshafts are repairable
Camshaft Bearing; Camshaft Cap
Crankshaft Pulley
Fuel Filter
Fuel Tank
Idler Roller A; Idler Roller B
Oil Filter
Piston Rings; Piston with Conrod
Rocker Arm
Round Air Filter; Scoop Air Filter
Serpentine Belt; Supercharger Serpentine Belt
Supercharger Water Pump Pulley
Timing Belt; Timing Chain; Timing Chain Shoe
Valve Push Rod
Water Pump Pulley
Suspension
Double Wishbone Shock Absorber; Double Wishbone Shock Absorber Rear
Front Shock Absorber; Front Shock Absorber Cap; Front Spring
Front Sway Bar
Rear Shock Absorber; Rear Shock Absorber Cap; Rear Spring
Rear Sway Bar
Rubber Bushing; Small Rubber Bushing
Sway Bar Front End Link; Sway Bar Rear End Link
Inner Tie Rod; Outer Tie Rod
Wheel Hub Bearing; Wheel Hub Cap
Brakes
Exhaust
Catalytic Converter
Exhaust Pipe
Front Exhaust Pipe
Front Exhaust Section
Middle Muffler
Rear Muffler
Gearbox
Clutch Pressure Plate
Clutch Release Bearing
Final Drive Gear
Flywheel
Gearbox Input Shaft
Reduction Gear
Electronics
Cables
ECU
Ignition Coil (except Ignition Coil B)
Ignition Distributor
Ignition Wires
Medium Fuse
Relay
Spark Plug
Rims
Tires
All Tires are not repairable
Body
Front Right Door Window; Front Left Door Window; Rear Right Door Window; Rear Left Door Window
Rear Right Side Window; Rear Left Side Window
Rear Window
Windsreen
Right Headlight; Left Headlight
Right Tail Light; Left Tail Light
Licence Plate
All Licence Plates are not repairable
Seats
All Seats are not repairable
Steering Wheels
All Steering Wheels are not repairable