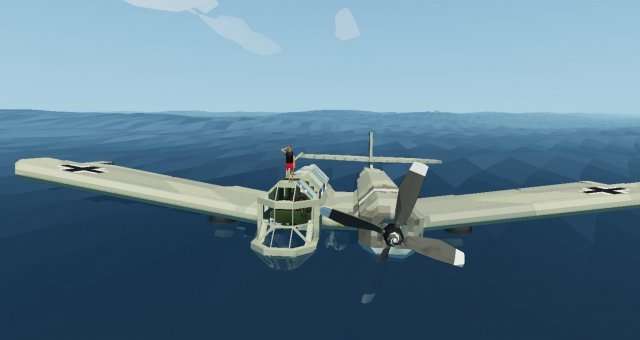 Yes, a short guide to custom doors.
Basics
A custom door consists of two grids called Door Frame (yellow) and Door Panel (green). They are joined together by one (or more) Robotic Door Hinges.
Custom Doors can swing open in both directions. This shows our door with an input of 1. Because of the position of the grey ledges on panel and frame, and for the sake of this guide we will consider this to be the outside position. (Other than for aesthetic reasons, the orientation of a door does not matter. It will always work equally well.)
Note the light blue markings in the first screenshot. They are on the "outside" of each door block. The lines indicate the Door Frame and the arrowheads indicate the corresponding Door Panel blocks. The markings on Frame and Panel must point towards each other. You can see the way it is supposed to be on the Robotic Door Hinge block.
Building
Note that custom doors must be built in the closed position.

To build a door start with the frame (use Door Frame Edge and Door Frame Corner blocks). Then place one or more Robotic Door Hinges in the Frame and from there outline the Door Panel (using Door Panel Edge and Door Panel Corner blocks).
Make sure the markings are all lined-up and on the same side.

Now fill out the Door Panel with whatever blocks you like. Also, if you use multiple Robotic Door Hinges, you must, of course, merge them together. Else the door cannot be watertight.
Operation
You do not need a Door Frame Controller. To swing the door to the outside input 1, to the inside input -1 into the Robotic Door Hinge(s). If the input is between (including) -0.02 and 0.02 the door is considered closed and will be watertight.
The best way to do this in early career mode is to use a throttle lever.
The Door Frame Controller is used to lock the door in the 0 position. Then it will not move, even if the input is changed. If the Door Frame Controller is activated, but the door is open (input is, for example, 1) it will "catch" and lock the door, as soon as it reaches the 0 position (even if the new input is -1).
The Door Frame Controller also has an output that will turn ON if the door is watertight, in other words if Robotic Door Hinge input is between (including) -0.02 and 0.02.