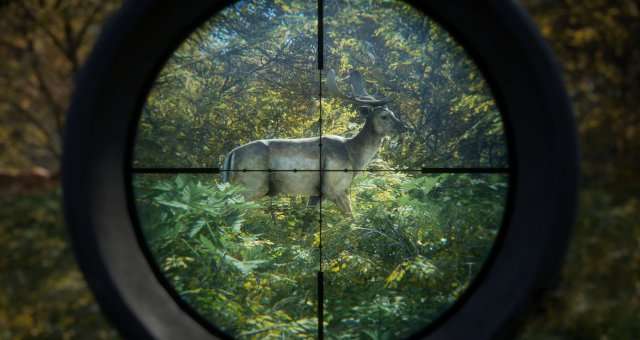 I'm going to talk about where you have to aim with a basic scoped rifle, as a hunter when you get the opportunity to shoot at:
A Fallow Deer
A Roe Deer
A Red Fox
A Wild Boar
I won't talk about the ammunition needed to shoot, just know that you have Outposts were you can purchase different types of ammo in order to hunt different species.
Introduction
First of all
When you have a visual on a potential trophy, don't automatically shoot. The angle you're looking at the deer/boar/fox matters a lot!
If you are in front or behind your prey, WAIT don't shoot at a butt.
Shooting at first sight won't guarantee you a kill and you might have to chase your prey for a long time (happened to me, 2km and 1h30 chasing a male fallow deer).
An example of good angle:
The following picture says it all about angles and it's true for every species:
Secondly
Legs and shoulders are not what they look like, it's a trap!
You can shoot at the top of a leg without touching any bone. See how it works:
It's basically the same for boars and foxes.
Fallow Deer
As beginners, and looking at the picture, the best way to put down a fallow deer is to shoot at 12 (the lungs) and you can try 11 (the heart) but it's more difficult.
It might not be an instant kill but certainly a vital hit and you won't have to go far to find your prey laying down.
Why the heart (11) isn't the first spot to shoot at? Because of the size, the stability of your aim and the flesh/lungs covering it. You may miss it ending up failing a one shot kill.
Again, ammunition can help with penetration, you'll learn it by yourself.
Remember that 16 is surrounding every other part, and if you miss a vital point you might end up making low-rate bleeding which means chasing your prey again.
Note that 7 is a bone.
Roe Deer
It's basically the same as a fallow deer, but the target is smaller, so the angle matters even more.
Looking at the picture below 11 and 12 are preferable targets.
The heart (11) isn't that easy to get because of 16 (flesh) and the legs covering the sides (just like a fallow deer, a better ammunition will help).
Note that 6 is a bone.
Red Fox
Being way smaller the hardest part is finding it, getting the angle and the timing right.
Shoot behind the shoulder, around 11 and 12.
If you miss and you don't get at least a medium-bleeding hit, you'll probably have a tough time chasing it as it's small, quiet and fast.
Note that 7 is a bone.
Wild Boar
First of all, wild boars move in groups. Which means there are males and females, biggers one and smaller ones. Choose your target well.
Obviously it's quite different. If you miss by a hair you can end up shooting a non vital point.
For example a common mistake would be aiming for 12 (the lungs) and end up shooting 14 (the stomach = low bleed rate and non-vital).
In "reality" 12 does cover a part of 11 and a perfect shot would be right behind the leg where the lungs cover a part of the heart.
Example:
I won't talk about shooting at the neck (right after the ear), because it's way more difficult to do it and it's a beginner guide.
Finally, just in case you didn't know, wild boars can be agressive. If you're sitting too close to them, you will shoot at one and an other one will run over your face.
Note that 7 is, again, a bone.
Clarifications
I didn't talk at all about headshots, because it's not how hunting works. If you still want to try it, aim inside the ear.
Remember if you think you shot at the right spot but the damn deer is running away, you might have shot his ribs. Bad luck but doesn't mean you'll have to chase for long.
Wind is a factor you'll have to learn by yourself.
Ammo can change a lot of things, penetration is a very important factor and you might need to buy expensive ammo if you're looking for instant kills, particularly for long distance shots or heart shots.
When you have a visual on a target but a poor angle, DO NOT TRY TO MOVE AROUND. The more you move, the more they'll hear you.
Patience is key. If you lose sight of your target don't run after it, you'll most likely be discovered and have to start everything again. Look at your map, see where open spaces you might have a opportunity to shoot. Follow the tracks, you know approximatly the distance between you and your prey.
Written by Frorton.
Recommended for You