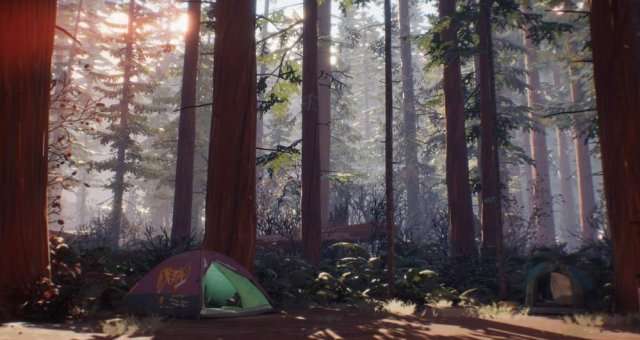 Other Life is Strange 2 Guides:
Episode #3
American Graffiti – Drawing Spot #1

After leaving your tent, you can head to the campfire in the middle of the camp and draw on the log.
Souvenir #1 – The Dharma Bums

Head over to the Dog laying by the campfire and pet him. Follow him until he lays down again and repeat until he digs up a skull.
Souvenir #2 – Train Of Thought

After cutting buds for awhile a pen will appear in the pile (note: I'm not sure how many you need to cut before it appears, I cut about 9 before I noticed it).
American Graffiti – Drawing Spot #2

Once you get back from Merrill's you can head back to your tent and draw either Cassidy or Finn.
Souvenir #3 – Zero Hugs Given

After talking to Finn, he'll toss the piece of wood he was carving behind his tent. Walk around the tree and you can pick it up.
Souvenir #4 – Green Thumb

Once you head to the lake to meet up with Daniel, head to the right near the bush and on the floor by the logs is the fossil.
American Graffiti – Drawing Spot #3

While sitting at the campfire with the group, you can look at the campfire and draw.
Souvenir #5 – Dancing Days

After talking to Cassidy, before you go to the lake, talk to Ingrid sitting by the campfire. She'll give you the offer to go check out the stuff by their tent for the 5th souvenir.
Souvenir #6 – One Of Us

Once you find the screwdriver, before tampering with the cars, you can pry open the locker behind the truck.
Lost Boys Chronicles – Find All Optional Collectibles