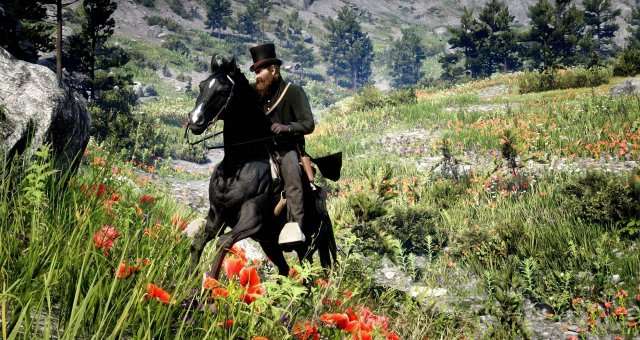 This is a guide for single player only. It tells you how to get the best horse that is available until the Epilogue without paying 1k and waiting for it to unlock at chapter 4. You can do it at the start of chapter 2.
Guide to Get Best SP Horse Black Arabian
Foreword
First, you have to have completed mission 10 "Exit Pursued by a Bruised Ego" that is given by Hosea. You don't actually have to beat other 9 missions to unlock this. It could be an earlier mission for you. Just watch out for big H on a yellow circle.
You will go hunt a bear with Hosea, on the way to the bear, you will go through Valentine to sell a horse and you will be taught how to acquire new horses, replace the saddle etc. Without that you won't be able to get a new horse.
After you're done hunting teddy bears Hose-ea-ea will ask you if you'd like to fast travel back to the camp or you'd like to explore.
I suggest you choose explore. I do not think you've unlocked fast travel from camp at this point anyway. Ride from the mission's end to Saint Denis (You could of course fast travel with Hosea and then go to the train station if you have any money and use that to fast travel to Saint Denis, that may even be better if you arrive at night, as you arrive close to Black Arabian encounter).
Totally unimportant, and not the best horse but if you want A Brindle Wraped Arabian you can also travel to Indian Reservation from the mission end. It is quite close. But while a good horse on its own it is the worst Arabian horse in game. And you gotta tame it.
How to Actually Get That Horse (The Black Arabian Encounter)
All you have to do is make your way to the encounter which happens at night opposite the theater. It will be a robbery and the treasure horse will be parked nearby. I suggest you make a save at night nearby the encounter place and either reload it to get a new attempt (you will be spawned somewhere nearby, that is how RDR2 saves work) or you can even roam around the area, turn a few corners, and see if encounter plays for you after that. All in all it took me 3 reloads for this guide to get it. And it took me around this amount for my actual playthrough.
If a different encounter plays close to the spot of this one, then there will not be any new encounters unless you reload or sleep. By the way if you arrive during the day then I suggest you have a few dollars to get a room in an inn.
You can also try clearing other encounters around the spot to increase the chances of robbery encounter happening next time when you come back here after sleeping or save and load.
Here is a video with the encounter and then at 1:47 you can see that the horsea is Arabian.
I do apologize that there was a rather long chase, if you do everything right away and do not waste precious seconds making screenshots for a guide you can steal the horsea without being noticed and drive it to the stable right away.
Obviously, as can be seen on the video it is better to not get off the horse in agitated state or it will run away and you won't catch it. If you have your main horse close you can just replace the saddle, otherwise go to Saint Denis stables. Of course, being wanted may make this a bit hard.
An Even Better Horse
This is actually 2nd best horse in the game but the best horse available for the campaign. The true best horse you can get is available only as a purchase after the epilogue. It is Rose Grey Bay Arabian. It just has 1 more point in health and stamina. Otherwise, all other points are 6 for speed and acceleration and 8 for handling. And some of the stats like stamina and speed can be increased further by buying a good saddle and stirrups.