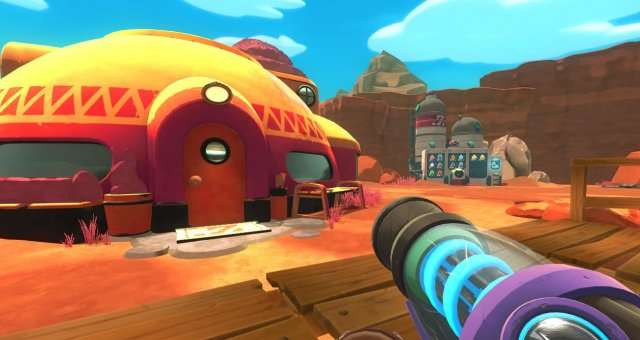 This guide will explain the rewards of the 7Zee corporation.
Other Slime Rancher Guides:
Intro
I created this guide to show people what the 7Zee corp. will do to upgrade your ranch. these ranch upgrades range from slime toys to new slime science. You get a letter on day one, and the rewards are available on day seven (sorry 5 day challengers!).
The Rewards
In the program, there are 28 upgrades you can get, all of which go up in price from the previous level they are:
Initiate – 750 Newbucks – Roostro Weathervane
Pioneer I – 1,000 Newbucks – Fence Upgrade
Pioneer II – 1,500 Newbucks – Path Upgrade
Pioneer III – 2,000 Newbucks – Porch Upgrade
Skylark I – 2,500Newbucks – Chroma Station and Three chroma packs
Skylark II – 3,000Newbucks – Arch Upgrade
Skylark III – 3,500Newbucks – Three chroma packs
Rolling Beetle I – 4,000 Newbucks – Slime Toys Shop
Rolling Beetle II – 4,500Newbucks – Two chroma packs
Rolling Beetle III – 5,000 Newbucks – Advanced Slime Toys
Playful Fox I – 6,250 Newbucks – Three chroma packs – Market Link and Two chroma packs
Playful Fox II – 7,500 Newbucks – Grotto Upgrade
Playful Fox III – 10,000 Newbucks – Two chroma packs
Silver Storm I – 15,000 Newbucks – Slime Trophy I
Silver Storm II – 20,000 Newbucks – Two chroma packs
Silver Storm III – 25,000 Newbucks – Overgrowth Upgrade
Dancing Mongoose I – 32,500 Newbucks – Two chroma packs
Dancing Mongoose II – 40,000 Newbucks – Slime Trophy II
Dancing Mongoose III – 47,500 Newbucks – Ultra Dash Boots and Two chroma packs
EndlessMountain I – 60,000 Newbucks – Master Gordo Snare and Tank Booster Ultra
EndlessMountain II – 75,000 Newbucks – Heart Module Ultra and Two chroma packs
EndlessMountain III – 90,000 Newbucks – Lab Upgrade and Golden Sureshot
Wander Wolf I – 120,000 Newbucks – Titan Drill and Two chroma packs
Wander Wolf II – 150,000 Newbucks – Slime Trophy III and Abyssal Pump
Wander Wolf III – 150,000 Newbucks – 2Royal Apiary
Golden Owl I 150,000 Newbucks – Docks Upgrade and Gold Slime Lamp
Golden Owl II 150,000 Newbucks – Gold Warp Depot and Two chroma packs
Golden Owl III 150,000 Newbucks – Slime Trophy IV and Gold Teleporter
What are Chroma Packs?
Chroma packs are used to recolor your vacpack, tech (such as corral posts), and buildings (like your house). I added this info and some other info like this just for no confusion.
This is what they look like in the machine.
What are Slime Toys?
Slime toys are special objects buyable through the slime toy shop, located next to fence on the left side of the ranch. slime toys, similar to the music box, will keep slimes happy. one slime toy in general is a bit more useful than the rest. the rubber ducky (given to the water slime) will make them less shy, allowing up to 5 water slimes in a pond, instead of 4. here are the beach ball, rubiks cube, and rubber ducky:
Recommended for You