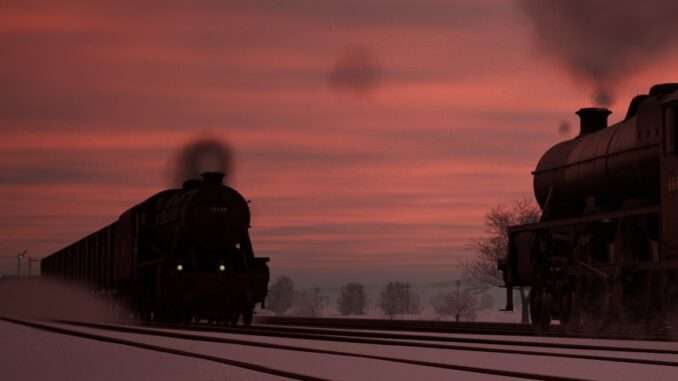 Lner BR Class 801 Azuma
Overview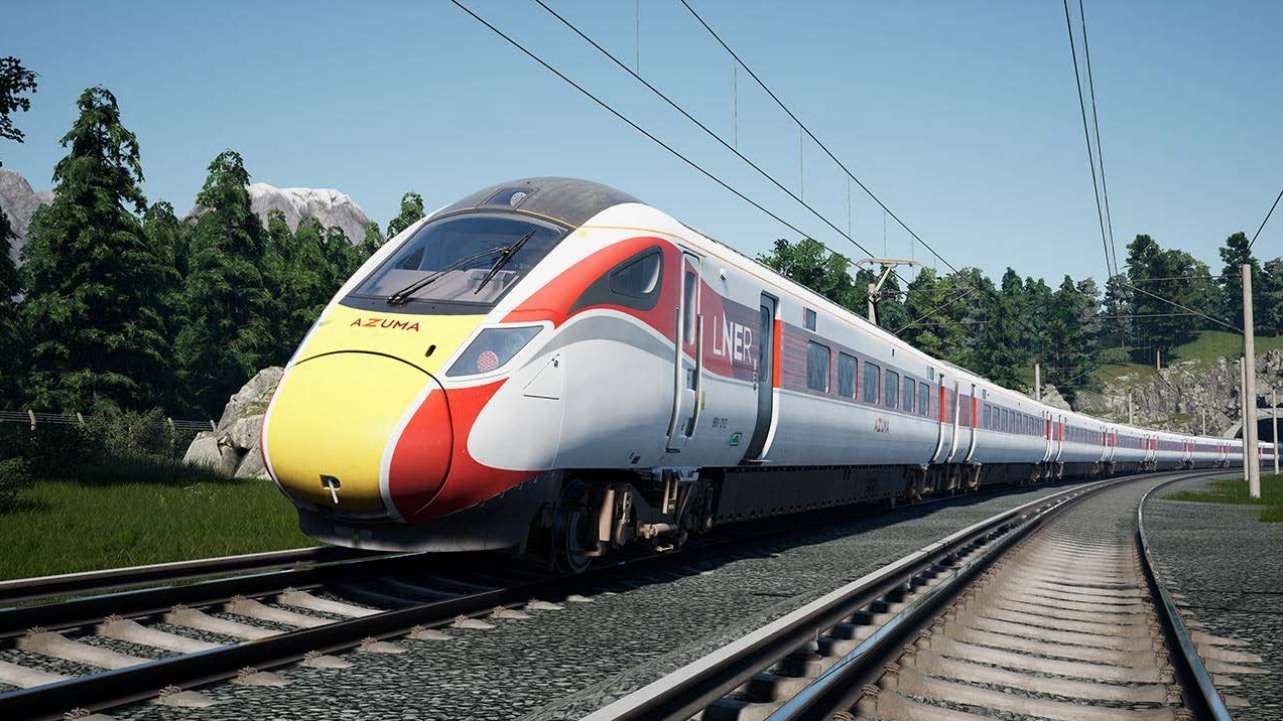 It's been "all change" for inter-city travel throughout the UK over the past several years, spearheaded by the introduction of the state-of-the-art AT300, a high-speed platform of trains which was designed to modernise fleets on the Great Western and North Eastern fronts. Introduced in 2009 initially as the Hitachi Super Express, the new trains would replace the iconic HST and Class 91s and usher in a new era for the UK. The first of the "Intercity Express Programme" trains entered service in 2017, and LNER's Azuma fleet of Class 801s would take their first passengers 2 years later.
Named the "Azuma" (Japanese for "East"), the fleet quickly became the flagship for LNER's express services, being welcomed onto every new route with fanfare and supported by artwork from the great railway illustrator, Tom Connell. Comprising of 2 subclasses, the Class 801s can serve in 5, 9 or 10-car formations, and operate the bulk of services on LNER's electrified network, being only fitted with a single backup diesel engine for shunting and emergency use only.
Manufacturer: Hitachi Rail
Build Location: Newton Aycliffe, England
Build Date: 2017-2020
Number Built: 42 sets
Power Type (AC): 25kV AC OHLE
Backup Prime Mover: 1× MTU 12V 1600 R80L
Coaches: 5-car (801/1)
Coaches: 9-car (801/2)
Capacity (801/1): 302 seats
Capacity (801/2): 611 seats
Length (801/1): 129.7 Metres (425 ft)
Length (801/2): 233.7 Metres (766 ft)
Top Speed: 125mph (200 km/h)
Lner BR Class 801 Azuma Cab – 1/3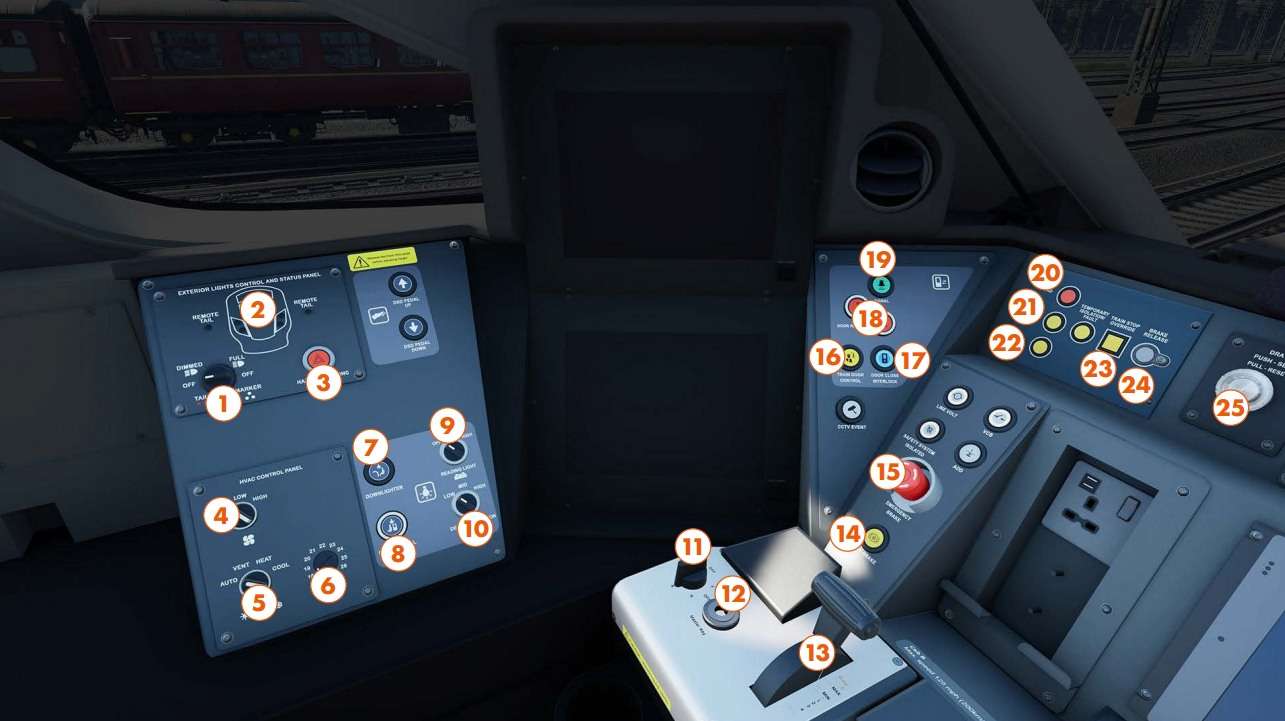 1 – Headlights Switch
2 – Headlight Indicator
3 – Hazard Lights Button
4 – HVAC Fan Speed Switch
5 – HVAC Mode Switch
6 – HVAC Temperature Switch
7 – Downlighter Button
8 – Cab Central Light Button
9 – Reading Light Switch
10 – Desk Illumination Switch
11 – Reverser
12 – Master Key
13 – Power Handle
14 – Snow Brake Button
15 – Emergency Brake Plunger
16 – Train Door Control Button
17 – Door Close Interlock Button
18 – Left Doors Release Buttons
19 – Guard's Signal Button
20 – SPAD Acknowledge Button
21 – Overspeed Button
22 – AWS Brake Acknowledge Button
23 – Train Stop Override Button
24 – TPWS Brake Release Button
25 – Driver Reminder's Appliance (DRA)
Lner BR Class 801 Azuma Cab – 2/3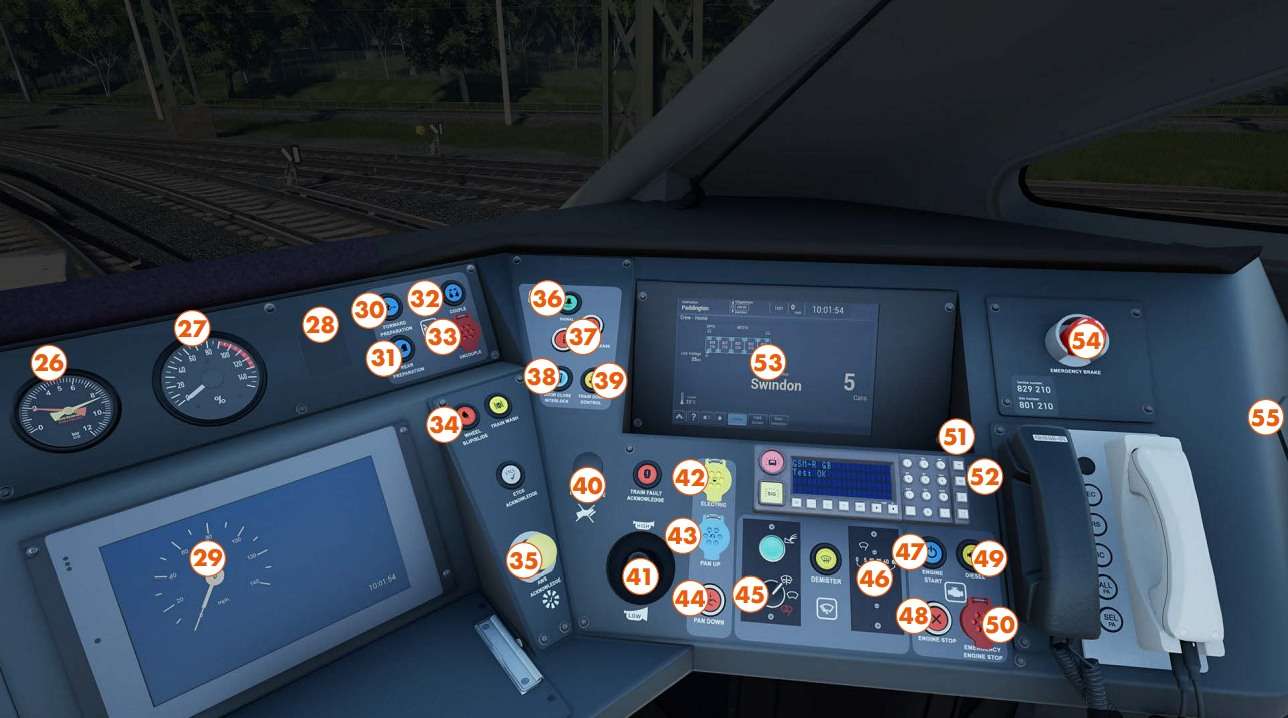 26 – Main Resevoir and Brake Cylinder Gauge
27 – Braking Effort Gauge
28 – AWS Sunflower
29 – Speedometer
30 – Forward Preparation Button
31 – Rear Preparation Button
32 – Couple Button
33 – Uncouple Button
34 – Wheel slip/slide Button
35 – AWS Acknowledge Plunger
36 – Guard's Signal Button
37 – Right Doors Release Button
38 – Doors Close Interlock
39 – Train Door Control Button
40 – DSD Override Button
41 – Horn Lever
42 – Electric Mode Button
43 – Pantograph Up Button
44 – Pantograph Down Button
45 – Windscreen Wiper Position Switch
46 – Windscreen Wiper Speed Switch
47 – Backup Diesel Start Button
48 – Backup Diesel Stop Button
49 – Backup Diesel Mode Button
50 – Backup Emergency Engine Stop Button
51 – GSM-R On/Off Button
52 – GSM-R Contact Signaller Button
53 – Train Management System (TMS)
54 – Emergency Brake Plung
55 – Reading Light Switch
Lner BR Class 801 Azuma Cab – 3/3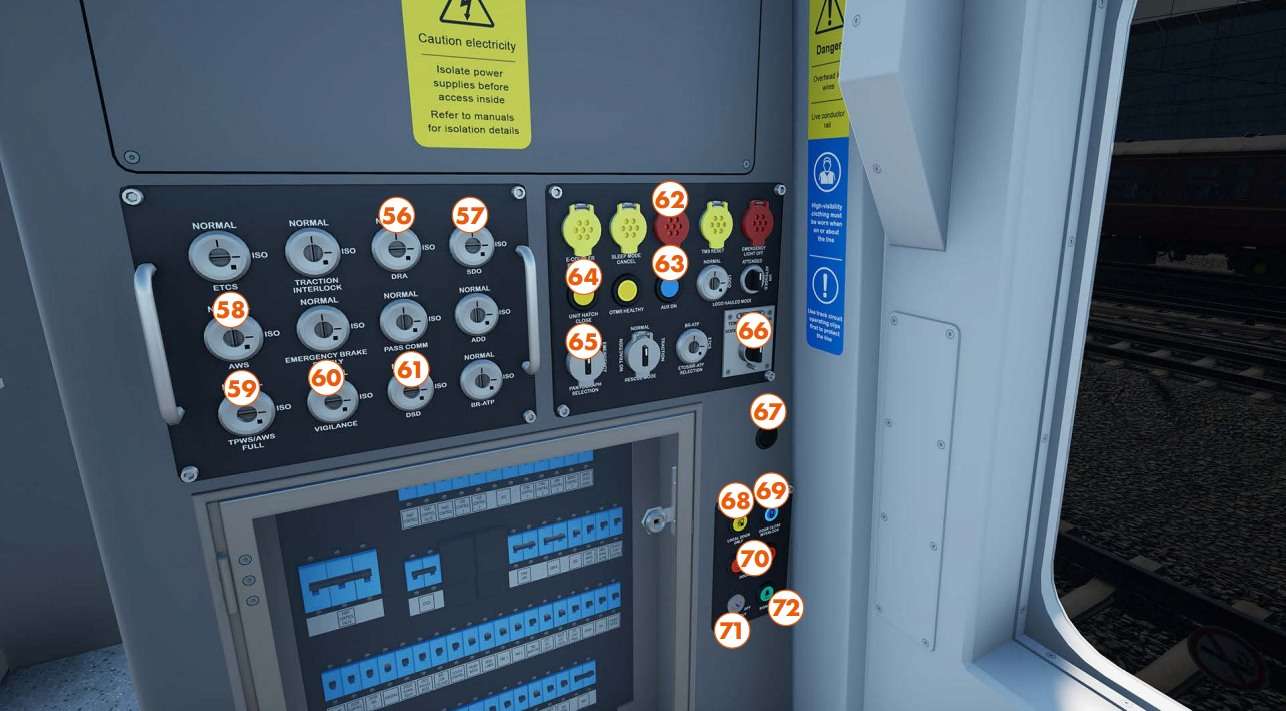 56 – DRA Isolation Switch
57 – SDO Isolation Switch
58 – AWS Isolation Switch
59 – TPWS Isolation Switch
60 – Vigilance Isolation Switch
61 – DSD Isolation Switch
62 – Auxiliary Off Button
63 – Auxiliary On Button
64 – Unit Hatch Close Button
65 – Pantograph Selection Switch
66 – TPWS Temorary Isolation Switch
67 – Cab Light Button
68 – Local Door Only Button
69 – Door Close Interlock Button
70 – Left Doors Release Button
71 – Control Panel Active Switch
72 – Guard's Signal Button
Procedures & Unique Features
The Emergency Diesel Engine
Unlike the fully bi-mode Class 800 and 802, the Class 801 is regarded as an EMU, however, it still features a single rescue engine that in reality is reserved for emergency use only.
To turn on Diesel Mode you must do the following:

Be stationary with the Reverser in Neutral.
Press and hold the Engine Start Button for 10 Seconds.
Press and hold the Diesel Button for 10 Seconds.
If the Pantograph is raised, press the Pan Down Button until it has lowered.

Note, depending on your formation, as only a single diesel engine is present your performance will be severely limited, a 9-car 801 does not move in a hurry!
The Train Management Screen (TMS)
Within the TMS, there are several things you can monitor and change while on your journey, firstly, you can adjust the brightness between 5 different levels using the light button.
It is able to tell you on the main screen what the next station stop and overall destination of your train is, although by pressing the up arrow, you can toggle the Next Stop Reminder to Off.
The main screen will also show you all the door statuses throughout the train, and pressing on the question mark will bring up the key, telling you what each colour means, for example, doors in red are unlocked or open.
When pressing the up arrow, you can also click on the following screens:

Traction Status will show you which pantographs are raised, as well as the line volts and Traction Motor torque.
Brake Status will show you the overall Main Reservoir pressure, as well as the Brake Cylinder pressure in every coach.

Panto Selection will let you choose which pantograph you want to use, if one is already raised, press the Pan Down Button in the cab, then on the TMS, press the Pan Select Button and then Confirm.
If you are on any page, Home will return you back to the main screen.
The Dark Screen button will turn off the TMS, tapping anywhere on the screen will wake it back up Coupling and Uncoupling.
As is common with a lot of high-speed stock, the coupler on the Class 801 is hidden behind a nose cover.
To reveal the coupler so you can perform a coupling procedure, on both units you must have the Master Key in, and the Reverser in neutral, then press the Forward Preparation Button to open each nose.
Once you've drawn up and physically coupled to another unit, press the Couple button for X seconds.
To uncouple, press the Uncouple button for X seconds and then slowly pull away from the other unit.
To re-cover the coupler, press the Unit Hatch Close Button on the rear wall of each unit.
Other Bits & Bobs
The BR Class 801 has a dual-volume horn functionality in similar respects to the BR Class 395, designed to play louder or quieter automatically depending on the context the train is in.
When the Master Key is in and the train is between 0 and 100 mph, the horns will sound with 6.5 bar of air pressure.
When the Master Key is out, or the train is above 100 mph, the horns will sound with 10 bar.