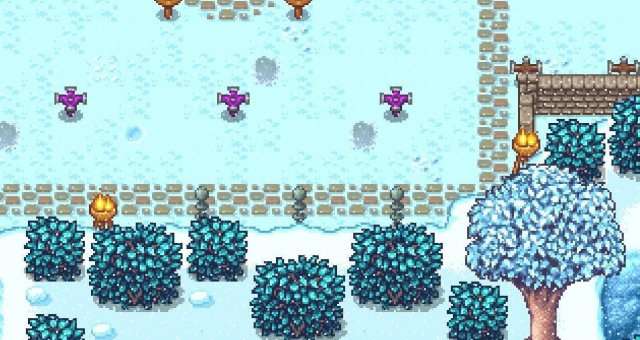 This guide is simply the Secret Woods explained. There didn't seem to be any other guides on this topic so here it is! It covers most of the topics inside of the Secret Forest and a little extra. I hope you find use in this guide useful.
Secret Woods Explained
Location and Entry
Before we start discussing the forest part of the Secret forest we need to talk how to get there.
The Secret Forest is located to the left of Marlin's house/store, slightly above the Wizard's castle, and in the general area below your farm. In other words, After taking the bottom exit of your farm make a left away from Marlin's shop where a couple of trees stand.
Now once you get to that location there should be a large log in the way of a narrow path. These hardwood logs will also sit in the depths of your farm so they should be somewhat familiar. This log can only be removed from using a steel axe which is an upgraded version of the normal axe.
Your axe can be upgraded by the blacksmith after getting the correct materials.
First Steps In
Some notable things while first stepping in are that numerous slimes will spawn and attack you. Around the entry more large logs will spawn that you can also use your steel axe to cut. These logs will respawn everyday and is a great source of hardwood. I would recommend saving up for the horse stable which will need 100 hardwood to make along with 5 Iron Ingots and 10,000 gold.
Moving on, there is small sanctuary located at the top-left of the forest with a small pond below. There is also an area holding two more logs that can be accessed by going through leaves near that.
The Sanctuary
The small sanctuary at the top-left has more to it than just looks. A statue around the pillars sits still alone and aging being known as Old Master Cannoli. You are able to interact with the statue and if you do you will get some dialogue which says, "Still searching for the sweetest taste…" If you give the statue a Sweet Gem Berry you will get a stardrop in return.
Rare seeds which you can get from the traveling cart for 1,000 gold will grow into a Sweet Gem Berry after 24 days. This crop can only be grown in the fall but can be purchased in any season.
The Pond
The pond in the Secret Woods is at the bottom-left of the forest right below the sanctuary. This pond has 3 fish which you can catch.
These 3 fish are:
Carp
Woodskip
Catfish
Note: The catfish can only be caught on a rainy day.
Recommended for You