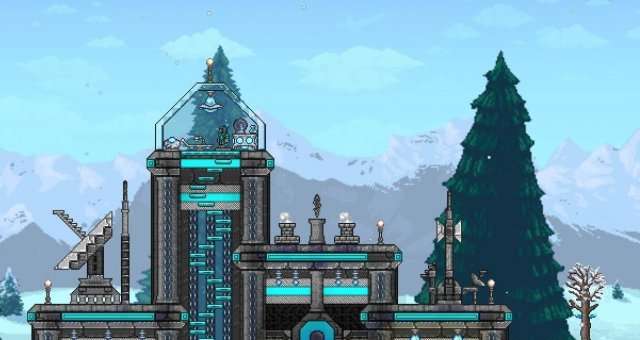 A full build guide for a very unique and fun hybrid class.
Hybrid Class Build
Introduction
Greetings, this guide will show a build for an odd Hybrid class I randomly discovered during a run.
Notes
Accessories listed don't need to be in any specific slot and you don't need to have them, it's just a rough idea of good accessories that are available, feel free to deviate from the guide.
You are presented many choices for almost everything in the guide, just use what is best, most accessible, or just what you want.
Pre-Hard Mode
Pre-Boss
Armour
Helmet: Platinum/Gold, Jungle
Chestpiece: Platinum/Gold, Flinx, Diamond Robe, Jungle
Leggings: Platinum/Gold, Jungle
Weapons
Melee: Enchanted Sword, Starfury, Enchanted Boomerang, Blade of Grass, Falcon Blade
Mage: Diamond/Ruby Staff, Thunder Zapper
Summoner: Flinx Staff, Vampire Frog Staff, Snapthorn
Accessories
Slot 1: Hermes Boots
Slot 2: Cloud in a Bottle, Fledging Wings
Slot 3: Band of Starpower
Slot 4: Feral Claws
Slot 5:
Master Slot:
Pre-Skeleton
Armour
Helmet: Jungle, Meteor
Chestpiece: Obsidian, Meteor
Leggings: Molten, Meteor
Weapons
Melee: Fiery Greatsword, Flamarang, Starfury, Enchanted Sword
Mage: Demon Scythe, Gray Zapinator, Space Gun
Summoner: Imp Staff, Snapthorn
Accessories
Slot 1: Spectre/Lightning Boots
Slot 2: Balloons/Fledgling Wings
Slot 3: Mana/Magnet Flower, Celestial Cuffs
Slot 4: Feral Claws, Shield of Cthulhu
Slot 5: Pygmy Necklace, Brain of Confusion/Worm Scarf
Master Slot: Magma Stone
Pre-Wall
Armour
Helmet: Jungle, Bee
Chestpiece: Bee
Leggings: Molten
Weapons
Melee: Night's Edge, Sunfury, Dark Lance, Flamarang
Mage: Flamelash, Demon Scythe, Gray Zapinator
Summoner: Hornet Staff, Imp Staff, Spinal Tap, Snapthorn
Accessories
Slot 1: Lightning/Terraspark Boots
Slot 2: Balloons/Fledgling Wings
Slot 3: Mana/Magnet Flower, Celestial Cuffs
Slot 4: Feral Claws, Shield of Cthulhu
Slot 5: Pygmy Necklace, Worm Scarf/Brain of Confusion
Master Slot: Magma Stone
Hard Mode
Pre-Mech
Armour
Helmet: Titanium Mask/Headgear, Spider, Forbidden
Chestpiece: Forbidden
Leggings: Forbidden, Frost/Crystal Assassin
Weapons
Melee: Drippler Crippler, Sergeant United Shield, Shadowflame Knife, Fetid Baghnakhs, Excalibur
Mage: Meteor Staff, Sky Fracture, Life Drain/Clinger Staff, Tome of Infinite Wisdom, Rainbow Rod
Summoner: Spider Staff, Sanguine Staff, Blade Staff, Snapthorn, Firecracker, Cool Whip, Durendal
Accessories
Slot 1: Frozen/Pixie Wings
Slot 2: Lightning/Terraspark Boots
Slot 3: Mana Cloak/Celestial Cuffs
Slot 4: Power/Beserker Glove
Slot 5: Pygmy Necklace
Expert Slot: Any Emblem
Master Slot: Charm of Myths
Pre-Plantera
Armour
Helmet: Hallowed Mask/Headgear/Hood, Chlorophyte Headgear
Chestpiece: Monk, Apprentice
Leggings: Monk, Squire, Apprentice
Weapons
Melee: True Night's Edge/Excalibur, Death Sickle, Light Discs
Mage: Rainbow Rod, Magic Harp
Summoner: Sanguine Staff, Blade Staff, Durendal
Accessories
Slot 1: Bat/Flame Wings
Slot 2: Lightning/Terraspark Boots
Slot 3: Mana Cloak
Slot 4: Fire Gauntlet
Slot 5: Pygmy Necklace
Expert Slot: Worm Scarf/Brain of Confusion
Master Slot: Avenger Emblem
Pre-Golem
Armour
Helmet: Spectre Mask, Hallowed Mask
Chestpiece: Spooky, Monk, Apprentice
Leggings: Monk, Squire, Apprentice
Weapons
Melee: Terra Blade, Paladin's Hammer, The Eye of Cthulhu, Vampire Knives
Mage: Resonance Scepter, Spectre Staff, Bubble Gun, Razorblade Typhoon
Summoner: Sanguine Staff, Blade Staff, Durendal
Accessories
Slot 1: Mothron/Fishron Wings
Slot 2: Lightning/Terraspark Boots
Slot 3: Mana Cloak
Slot 4: Fire Gauntlet
Slot 5: Pygmy Necklace
Expert Slot: Worm Scarf/Brain of Confusion
Master Slot: Avenger Emblem
Pre-Lunar
Armour
Helmet: Hallowed/Spectre Mask, Spooky
Chestpiece: Shinobi Infiltrator, Dark Artist, Spooky
Leggings: Shinobi Infiltrator, Dark Artist, Spooky
Weapons
Melee: Terra Blade, Influx Waver, Starlight, The Eye of Cthulhu, Vampire Knives
Mage: Bubble Gun/Razorpine, Razorblade Typhoon, Nightglow, Betsy's Wrath
Summoner: Xeno Staff/Terraprisma, Dark Harvest, Kaleidoscope
Accessories
Slot 1: Empress/Betsy/Fishron Wings
Slot 2: Lightning/Terraspark Boots
Slot 3: Mana Cloak
Slot 4: Fire Gauntlet
Slot 5: Papyrus Scarab
Expert Slot: Soaring Insignia
Master Slot: Worm Scarf/Brain of Confusion, Avenger Emblem
Recommended for You