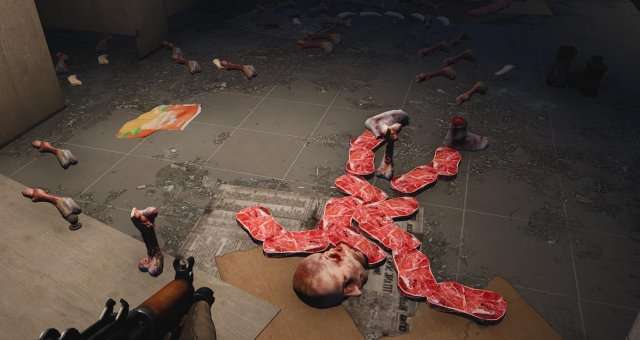 A guide explaining areas of interest in which loot spawns with a correspond map with everything mapped out. Perfect guide if you want to craft, cook or make bullets!
Other SCUM Guides:
Overview
Below is the link to my Points of Interest map. This map has been created to point out loot spawn points, and what might spawn at these locations. These chance loots are based off what I've found in these areas while I was mapping everything out.
Workshops
Workshops are great for finding crafting materials, and even better for bullet crafting.

Workshops, like bars, have double doors! In side you'll find workbenches and lockers. For this guide I have not include the longer buildings with the ladder outside or the smaller building with the ladder inside. The reason for this is because I find better loot yields for the three types of workshops shown below in the screenshots.
These items have a chance to spawn here:
Small & Large Toolboxes
Lead Plates
Gun Powder
Metal Scraps
Barb Wire, Wire, Duct Tape
Rubber, Nails
Scissors & Non-military Clothing
Pickaxe, Axe
Screenshot References:
Grocery Stores
Grocery stores are fantastic for quick food if you're just starting out, and haven't gotten a chance to find a vegetable field or garden. Just be aware that while canned foods are easy to find here, they do give you a significant amount of sodium. With SCUM's future plans for heart attacks, sodium is not one of the things you want super high.
These items have a chance to spawn here:
Canned Food
Candy Bars
Raw Fruits
Walnuts
Sodas
Juices
Milk
Water Bottles
Non-military Clothing
TEC01 490 Shotgun (Rare Drop)
Screenshot References:
Pharmacies
The importance of pharmacies are a little lack-luster at this point in time. However, they're a great source to find emergency bandages without going into a military zone. Their importance will come when actual sicknesses are added to the game like malaria or psychosis. I don't spend too much time in pharmacies right now in-game, but I imagine that they include the following which I have not listed below — activated charcoal, adrenaline, antipsychotic, antiradiation, atropine injection, potassium iodide pills or quinine sulphate pills.
These items have a chance to spawn here:
Antibiotics Box/Pills
Antimalaria Box/Pills
Antiparasitic Box/Pills
Aspirin
Beepollen Box/Pills
Vitamins Box/Pills
Emergency Bandage
Painkillers
Penicillin
Screenshot References:
Restaurants
One of my faviorite places in game to find all of the cooking materials I need! This is hands down the place to check for all those additional cooking materials you can add to a recipe that give your crafted food extra sources of nutrients.
These items have a chance to spawn here:
Cooking Pot
Spice Mix
Sea Salt Shaker/Box
Pepper Shaker
Rice
Sugar
Pasta
Baking Soda
Yeast
Vinegar
Vetable Oil
Wheat Flour
Small/Large Tool Boxes
Pistols (M9, Desert Eagle .50/.357)
Screenshot References:
Caves
Hidden locations out in the wilderness that past prisoners (prior to our characters entering the storyline) had inhabited. I personally wouldn't build my shelter or put boxes here, these locations are pretty mainstream, so if you do – don't say I didn't warn you.
These items have a chance to spawn here:
Camp Fires
Non-military Clothing
Screenshot References:
Churches
These devs are cheeky, which is most likely why they made it so rifles spawn in the tower of the churches. In addition to this, whomever ran these churches stockpiled on all the essential you need. No really, ammo & guns!
These items have a chance to spawn here:
All Pistols (.357/.50 Desert Eagle more rare)
9mm Boxes
.357 Ammo
.50 ammo
Non-military Clothing
M1 Clip
M1 Rifle
Kar98
Bottle Water
Snacks/Food
Screenshot References:
Warehouse
Another good source to find bullet crafting materials.
These items have a chance to spawn here:
Metal scraps
Lead Plates
Snacks/Food
Rifle Ammo
Handgun Ammo
Shovels / Pickaxe
Non-military Clothing
Screenshot References:
Hunting Towers
These are nice little points for loot. In prior patches the hunting tower was one of the few places I found a Kar98, and with current patches that continues to be a thing.
These items have a chance to spawn here:
Metal Baseball Bat
Wooden Baseball Bat
Hats
Knives
Backpacks
M1 Rifle
Kar98
Hunter 85
Rifle Ammo
Scopes
Screenshot References:
Bars
First off, you can die from consuming too much alcohol… already hilariously confirmed that. However, in a lot of cooking recipes you can substitute water for alcohol (this is great if you're struggling to keep your water guage in the green, and don't want to waste precious water).
So remember, this is a great place to collect some cooking alcohols or if your just looking for a cold one to crack open with the boys in-game.
These items have a chance to spawn here:
Absinthe
Pelinkovac
Vodka
Beer
Whiskey
Tequila
Sodas
Water
Snacks/Candy
Kajel, Mina, Waitapu Beers
Screenshot References:
Military Zones
These areas are military zones that are not deemed a special location & do not have any mechs. However, because those two things aren't a factor it makes these points very lucrative & populated loot spots. These locations are a great way to get geared prior to going to a bunker if you don't want to run in unarmed. If the developers decide to add in hostile AIs these locations are most likely the areas they intend for them as there is nothing guarding these areas at this time.
These items have a chance to spawn here:
All Military Weapons
All Military Clothing
All Military Armor
All Ammos & Clips
TEC01 M9
Desert Eagle .50 & .357
TEC01 490
Knives
Grenades
Backpacks
Scopes
Screenshot References:
Gas Stations
At the moment it's just like a smaller grocery store that sometimes has clothing in it, but in the future when cars are released, this might be where we go to get gas. It only makes sense!
These items have a chance to spawn here:
Foods / Drinks
Non-military Clothing
Gas (maybe in the future)
Screenshot References:
Police Stations
Police Stations are good loot points, but understand that they're very popular spots.
These items have a chance to spawn here:
MP5
TEC01 490 Shotgun
Shotgun Ammo
All Pistols & Clips
Pistol Ammo
Batons, Bats
Katana & Brassknuckles (Rare Drop)
Body Armor / Helmet
Backpacks
Knives
Non-military Clothing
Footwear
Screenshot References:
Wooden Cabins
These cabins can be found out in the mild of the wilderness. Loot that has the potential to spawn here is very diverse. On the second set of pictures featuring the cabins there is actually a second floor you can get to by climbing on top of the hay pile. I've found people up there before along with boxes hidden up there!
These items have a chance to spawn in them:
Non-military Clothing / Footwear
Backpack / Raincoat
Knife / Can Opener
Thread
Activated Charcoal / Vitamin Box / Emergency Bandage
M9 Pistol / Hunter 85
M1 Clips
Sledge Hammer / Bats / Shovels / Axes
Bolts
Wooden Logs
Fruit / Snacks
Screenshot References:
Miscellaneous
Garages
There are usually always a set of them near a police station, however, you can usually find them scattered around a city.
These items have a chance to spawn in them:
Gun Powder
Candles / Cigarettes
M9 Pistol
Fruits / Snack
Lead Plated
Rags / Duct Tape / Camera Lens
Matches / Knives / Scissors
Small Toolbox
9mm / .22 Ammo
Non-military Clothing
Crowbar
Washing Machines
Washing machines have a good % of giving you clothing when you search them. It's a great way to get out of those oranges quickly or a good source to get rags for healing / crafting (you can cut them into strips & use the strips to create chordage).
These items have a chance to spawn in them:
Trash Piles / Can / Bags / Dumpsters
Yeah, it's garbage picking… but there is some good stuff in there!
These items have a chance to spawn in them:
Metal Scraps
Gun Powder
Foods/Snacks
Recommended for You