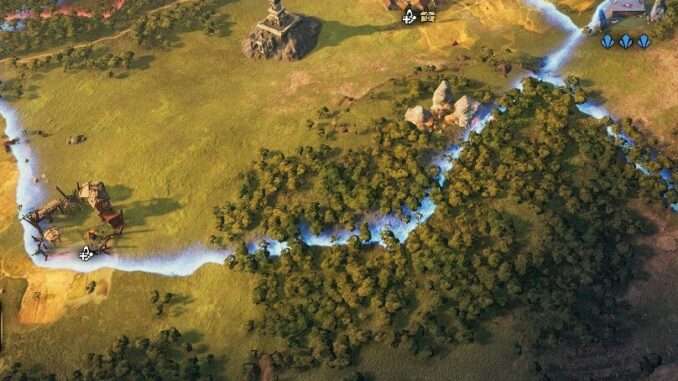 Hi everyone, I will try to collect all artificing recipes.
Artificing Recipe List
Foreword
This guide will show you all current Artificing recipes. There are 116 in total with 29 possibilities for each Base Ore (Mountain Copper, Sky Iron, Corrupted Adamantium and Adamantium).
I will use the following abbreviations:
E = 3 Elemental Essences
D = 3 Death Essences
L = 3 Life Essences
A = 3 Arcane Essences
Note: Life and Death Essences consume (overwrite) each other and can NOT be combined.
Mountain Copper
Glyphs
E – Firewielder I – Grants: Exploit Burn (+6 damage on burning enemies)
L – Healthy I – +10 Health
D – Graverobber I – Grants: Undertaker (Loot 1 remain after won battle)
A – Seer I – +1 Willpower
E-E – Bowman I – +2 Missile Damage
E-L – Mountain Goat I – Grants World Skill: Mine Ore
E-D – Cutthroat I – Grants: Serrated Blades (all attacks can inflict Bleeding)
E-A – Despair I – +1 Death Damage, Melee and Missile attacks inflict Death Damage
L-L – Herbalist I – Grants World Skil: Harvest Plant
L-A – Pathfinder I – +3 Speed
D-D – Vampire I – +6 Damage to Bleeding enemies
D-A – Spider I – Grants: Webbing Touch (all attacks can inflict Rooted – target can't move but perform other actions)
A-A – Owl I – +20% XP
E-E-E – Elementalist I – +50% Elemental Resistance
E-D-D – Ashen I – +20% Elemental Resistance, Grants: Tempted Fire (immunity to burning)
E-D-A – Guardians I – Attacks of Opportunity do not consume actions
E-L-L – Shield I – Grants: Shield Wall (20% Damage Reduction, Exerts Zone of Control, Guard every direction / Aura in a radius of 1 – 20% Damage Reduction)
E-A-A – Rhino I – +20% Physical Resistance
L-L-L – Lifegiver I – +9 Magical Daily Regeneration
L-L-A – White Mage I – +20% White Resistance
L-A-A – Swordmaster I – Grants: Guard Break (All attacks remove Guard from target unit)
D-D-D – Deathlord I – +20% Death Damage Resistance
D-D-A – Necromancer I – +30% chance to catch souls from defeated enemies
A-A-A – Arcanist I – +4 Focus
Items
E-E-L – Weapon of the Eel – +3 White Damage, Grants: Piercing Attacks (+6 damage against armored)
E-E-D – Blight I – Grants: Nor's Curse (13 Death Damage – Range 4, Radius 1 / Applies Weakend – -1 Speed, -50% Death Resistance)
E-E-A – Cursed Shackles (Enslave a broken or routed Ally or Enemy in a range of 3 / Enslaved unit will be forced in your service after combat)
E-L-A – Weapon of the Leader – +2 Willpower on Stack
D-A-A – Tome of Occultism – Summon minor demon, +3 ability damage
Sky Iron
Glyphs
E – Firewielder II – Grants: Firewielder (all attacks can inflict Burning)
L – Healthy II – +200% Daily Regeneration
D – Graverobber II – Grants: Holy Warrior (+6 Damage against Undead)
A – Seer II – +2 Focus
E-E – Bowman II – +2 Missile Range
E-L – Mountain Goat II – Grants: Mountain Guide (stack can traverse mountains and cliffs)
E-D – Cutthroat II – +10% more loot
E-A – Despair II – Grants: Fearless (Immunity to fear)
L-L – Herbalist II – Grants: Gathering Boost (Increase Yield from Harvesting Plants)
L-A – Pathfinder II – Grants: Forest Guide (ignores forest movement penalties)
D-D – Vampire II – Grants: Leech Life (Regains Health equal to 50% of Melee damage dealt.)
D-A – Spider II – Grants: Epidemic (Spread Poison, 4 Range, 2 Radius), Grants: Exploit Poison (+6 Damage against Poisoned)
A-A – Owl II – +10 Research after each won battle
E-E-E – Elementalist II – +5 Elemental Damage, Melee and Missile attacks deal Elemental Damage
E-E-L – Eel II – Grants: Call Lightning (Deal 28 White Damage, Radius 4)
E-E-A – Slaver II – Grants: Follower (no upkeep cost)
E-L-A – Leader II – Grants: Commander (+20% XP on unit and all allies in stack)
E-L-L – Shield II – +2 Armor
E-D-D – Ashen II – adds burning to attacks, Grants: Spread Burning Ability (4 range, 2 radius)
E-A-A – Rhino II – Melee attacks can inflict Stunned (target loses all actions)
L-L-A – White Mage II – +5 White Damage, Melee and Missile Attacks deal White Damage
L-A-A – Swordmaster II – +2 Melee Damage
D-D-D – +5 Death Damage, Melee and Missile Attacks deal Death Damage
D-D-A – Necromancer II – Grants: Undead Officer (+1 Speed for Stack)
D-A-A – Occultism III – +6 Damage against fantastic units
A-A-A – Arcanist II – Apply Silence, Range 5
Items
E-E-D – Shield of Blight – +50% Death Resistance, Grants: Shielded (+2 armor on non-flanking attacks)
E-D-A – Armor of the Guardians – +3 Armor
L-L-L – Trinket of the Lifegiver – +10 Health Regeneration every turn[/i]
No Valid Recipe
Corrupted Adamantium
Glyphs
E – Corrupted Glyph: Firewielder – +6 Damage, Unit gains Burning on start of battle
L – Corrupted Glyph: Healthy – +40 Health, -50% Daily Regeneration
D – Corrupted Glyph: Graverobber – -50% Death Damage Resistance, Grants: Raid Tomb (Destroy Tomb or Graveyard and steal treasures and artifacts)
A – Corrupted Glyph: Seer – +2 Focus, -1 Willpower, Grants: Cleanse Ally (remove negative status effects)
E-L – Corrupted Glyph: Mountain Goat – Grants: Mining Boost (Increase yields from mining)
E-A – Corrupted Glyph: Despair – Grants: Intimidate (-20% damage, willpower, armour)
L-L – Corrupted Glyph: Herbalist – Grants World Skill: Harvest Plants on all units in stack
L-A – Corrupted Glyph: Pathfinder – +3 Speed for every ally in stack (NOT the unit)
D-D – Corrupted Glyph: Vampire – Grants: Defy Death (Revives at end of battle), Grants: No Regeneration
D-A – Corrupted Glyph: Spider – -20% Healing in Battle, Grants: Poisonous Touch (attacks can inflict Poison)
A-A – Corrupted Glyph: Owl – +8 Focus, -3 Armor
E-E-E – Corrupted Glyph: Elementalist – 50% Elemental Resistance, All attacks can inflict Enkindled
E-E-D – Corrupted Glyph: Blight – -50% White Resistance, +3 Death Damage on every unit in stack
E-E-L – Corrupted Glyph: Eel – Grants: Eel – All attacks reduce target's focus by 2
E-E-A – Corrupted Glyph: Slaver – Unit gains +1 Damage, +2 Willpower against Missile attacks for each Enslaved Ally in stack
E-L-L – Corrupted Glyph: Shield – Improved Guard with 50% Damage Reduction
E-L-A – Corrupted Glyph: Leader – +1 attack for each follower
E-D-A – Corrupted Glyph: Guardians – -3 Damage, Grants: Guardian Mend (Heal ally for +15 Health, +1 Willpower, +1 Armor, Range 6)
L-L-L – Corrupted Glyph: Lifegiver – Grants: Lifegiver's Mercy (Restore full Health to an unit, Healing this unit is reduced by 100% for the rest of the Battle)
L-L-A – Corrupted Glyph: White Mage – -10 Melee Damage, adds skill with -50% White Resistance, Removes Guard, Range 5
L-A-A – Corrupted Glyph: Swordmaster – Grants additional free attack, Unit will be silenced at start of battle (can't use focus abilities, does not affect Titans)
D-D-D – Corrupted Glyph: Deathlord – Unit can't use guard, enemies can't retaliate
D-D-A – Corrupted Glyph: Necromancer – Grants: Soul Catcher (Chance to drop a soul after battle)
D-A-A – Corrupted Glyph: Occultism – Grants: Bloody Eruption (Deal 23 Death Damage, Range 5, user gains Bleeding)
A-A-A – Corrupted Glyph: Arcanist – Grants: Thunderstorm (33 White Damage to 5 random allies or enemies in a radius of 2, Range 5)
Items
E-E – Armor of the Bowman – -2 Melee Damage, -1 Armor against Melee, +3 Missile Damage, +1 Missile Range
E-D – Weapon of the Cutthroat – +1 Melee Damage, Grants: Backstab (+6 Damage when flanking)
E-D-D – Trinket of the Ashen – +3 Elemental Damage, -50% Elemental Resistance, Grants: Inferno (Target random enemies within radius of 5 for 5 times and deal 16 Elemental Damage on each hit, can apply Burning)
E-A-A – Armor of the Rhino – Armor with +10 Health, +3 Armor, -1 Speed[/i]
No Valid Recipe
E-E-E-D
E-D-D-A
E-E-D-D-A
Adamantium
Glyphs
E – Firewielder IV – At the start of a battle this units gains Flame Armor (+100% Elemental Resistance; Melee attacks can inflict Burning)
L – Healthy IV – +30 Health
D – Graverobber IV – 100% chance to catch Souls of defeated enemies.
A – Seer IV – +4 Focus, Grants: True Sight (Unhides garrison units in vision range)
E-E – Bowman IV – No range penalty on Missile attacks
E-L – Mountain Goat IV – +2 World Movement, Stack can traverse mountains and cliffs
E-D – Cutthroat IV – Grants: First Strike
E-A – Despair IV – Grants: Feared (Fear – 100% Willpower Loss)
L-L – Herbalist IV – Grants: Healer (Unit restores 20 Health every day among all units in the stack except undead)
L-A – Pathfinder IV – Stack can traverse all terrain
D-D – Vampire IV – Grants: Greater Life Leech (Regains Health equal to 100% of Melee damage dealt)
E-E-L – Eel IV – Grants: Discharge (Ability – Deal White damage to each enemy unit within 2 Radius around the user), Grants: Wing Cutter (+6 Damage against units with Flying)
E-E-D – Blight IV – Grants: Exploit Poison (+6 Damage against enemies afflicted by Poisoned), Grants: Poisonous Touch (All attacks can inflict Poisoned.)
E-E-A – Slaver IV – Grants: Slaver (All attacks can inflict Enslaved)
E-L-A – Leader IV – Stack gains -100% Willpower Loss on all sources
E-D-D – Ashen IV – +10 Elemental Damage
E-D-A – Guardians IV – Grants: Effortless Defense (Attacks of Opportunity and Retaliate don't consume actions)
E-A-A – Rhino IV – Grants: Steadfast (Immunity to all negative status effects)
L-L-L – Lifegiver IV – This unit and every ally in its stack gains: Heals daily to 100% Health.
L-L-A – White Mage IV – +2 White Damage, Grants: Praise the Light (Deal White damage to each enemy unit in 1 Radius around a position in 6 Range)
D-D-D – Deathlord IV – Grants: Executioner (Melee attacks execute an enemy if its Health falls below 30%)
D-D-A – Necromancer IV – Guarantees Soul, Grants: Raise Undead, Grants: Consume Corpse
D-A-A – Occultism IV – Grants: Meditate
Items
D-A – Tome of the Spider – Grants: Cocoon, Grants: Webbing Touch
A-A – Tome of the Owl – +50% XP, +3 Allfire per Day, Grants: Cleanse Ally
E-E-E – Tome of the Elemental – +3 Elemental Damage, Grants: Meteor, Grants: Firewielder (attacks can inflict Burning)
E-L-L – Shield of the Shield – +4 Willpower, Grants: Shielded (+2 Armor on non-flanking attacks)
L-A-A – Weapon of the Swordmaster – +5 Melee Damage, Retaliate does not consume actions
A-A-A – Armor of the Arcanist – +8 Focus, +4 Willpower