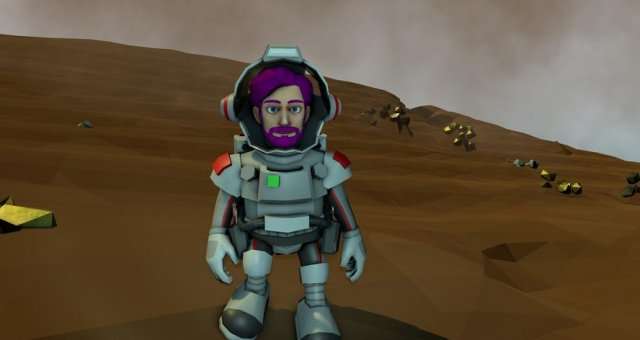 A simple but detailed guide for a simple base in a pressurised enviroment and how to mantain it.
Other Stationeers Guides:
Starting
Hello! In this guide we will cover up how to make a really simple pressurised base using only the starting items we got.
I must first start with a small warning: in survival your first must to is setting up a stable energy source like a solar panel and a solid generator for the cold nights.
Setting Up the Frames, Basic Layout
first we want a basic layout of the base we are going to be setting up but our spawning material will limit out base size while we start until we get more production capabilities.
So we will focus on creating a mixture of iron frames and iron walls. The difference between both of these is quite important. First: Walls take only 1 iron sheet and they are airtight as frames takes 2 sheets of iron to get airtightness. Second: Some items as vents, lights, consoles (mostly all that start with KIT) cant be placed in walls as they can ONLY be placed on frames (iron or steel, doesnt matter).
Now that we know this detail we can get an idea of a basic layout of the base, since we aim for having an airlock so we can pressurise the system the will start doing.
This is our base design to achieve, a 3×3 and airlock in the front. On the side we will use walls which take less steel to save and being able to acomplish our airtightness.
There you can note highlighted the difference between walls and frames.
For saving more stuff we will place only frames on the sides (where we will be putting the console, vent, sensor and lights).
We will also replace one from the floor at the middle to an iron wall so we have enought iron sheets to weld the stuff and close the space properly
If you are in space you will notice as soon as you finish enclosing the space the room will have gravity!
Airlock!
Now our next step is grabbing those 2 airlock kit's we have in the constructables 2 box and setting them on the door.
You might notice these are open. Any kind of door can be opened with a crowbar as long as it's not locked or powered, so we will open them for the moment with our crowbar.
Now we go and set up our wiring as this guide explains.
This is ours being worked.
Power
Now that we have our airlock wired up we just need energy for it to work, so we grab our solar panel kit and place it on the rooftop, then with a cable we connect it to an APC (power controller or area power controller). We can see there are some arrows that indicate the flow of the power while building it.
We aim to have the APC connection inside the base, so if we run out of power we can change the battery and power up the airlock untill we can fix it or get more power (by using for example a solid generator in the rooftop). And it's important to have a bit of the cables exposed so if in the most extreme of the cases we cant get a battery we can cut down the power of the door releasing the lock and open it with our crowbar as if we where Gordon Freeman.
Pressure and Machines
Now that we have the airlock working properly and some means to open it if it fails, we then proceed to pressurise the room.
Go outside and find the big white cannister, with your empty hand search for the handhold and grab it inside the base.
If your airlock is working then it will try pressurising but there is no air on the pipes, so hit cancel pressurise so your airlock cycles. Once you are inside your base then you are safe to open the cannister and aim to get one atmosphere (101 kpa).
You got aprox 75 kpa or so right? dont worry, that cannister had PURE O2 (wouldnt recommend getting H2 into the system, it could burn up) so you can safely open your helmet (press I for shortcut).
Now if you cycle outside, you will see that your airlock starts sucking up the pressure QUICKLY PRESS I YOU FORGOT TO CLOSE THE MASK AS YOU DO IT.
Well that was close, luckily you closed the mask on time and didnt suffer much from air depravation.
Wait your chest is yellow? Oh man, you are going to die slowly that sucks, you should have closed that mask faster thats a shame.
Just a bad joke dont worry, you will heal fast and come back to normal.
Your next step is finding the arc furnace and the autholate so you can set up your production in your base, and get mining for some stuff.
Simple Atmosferic Cooling and Filtering
So now that you spent some time on your base heat is starting to build up and you are starting to breath your own CO2 (and maybe other people's too).
Luckily there is a quick solution to both of this, get outside of your base and bring in your portable scrubber and portable air acondicioner.
Both are really simple to be used, just get a battery on them both and they are ready to work.
In the case of the air filter grab some filter (for example you have one in your suit and can find more in consumables box) and set it on the scrubber, then your air will start to get filtered!
Anyways with these you should be able to get going on survival and expanding your base by mining and creating more complicated systems.
Recommended for You