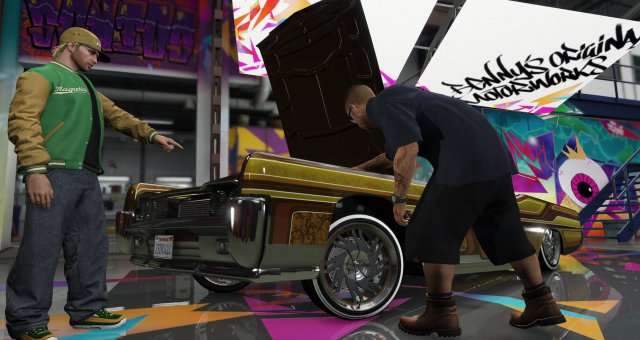 This guide is about prices of upgrades at Benny's Motorworks.
Other GTA Guides:
Basic Information
Benny's Motorworks is a place that you're going to visit, when you're tired of customizing vehicles in Los Santos Customs. Also there are some upgrades that you aren't able to get in LSC.
Let's talk about "upgrade". It's not a fully upgrade, but only way for more avaible upgrades. You'll pay in average 500 000$ and you'll be able to buy more cool 'GANGSTA' upgrades.
Business License
Conversion
As i said before, the conversion means that you're unlocking new upgrades. If you want fully upgrade you car, you may need up to 1.5 mil.
All Vehicles Avaible for Upgrades
Bravado Bashee
Base price – 105 000$ 
Conversion price – 565 000$
Albany Buccaneer
Base price – 29 000$ 
Conversion price – 390 000$
Vapid Chino
Base price – 225 000$ 
Conversion price – 180 000$
Principe Diabolus
Base price – 169 000$ 
Conversion price – 245 000$
Pfister Comet
Base price – 100 000$ 
Conversion price – 645 000$
Annis Elegy RH8
Base price – 0$ Free 
Conversion price – 904 000$
Williard Faction
Base price – 36 000$ 
Conversion price – 335 000$
Conversion price – 695 000$
Pegassi FCR 1000
Base price – 135 000$ 
Conversion price – 196 000$
Progen Itali GTB
Base price – 1 189 000$ 
Conversion price – 495 000$
Vapid Minivan
Base price – 30 000$ 
Conversion price – 330 000$
Declasse Moonbeam
Base price – 32 500$
Conversion price – 370 000$
Truffade Nero
Base price – 1 440 000$
Conversion price – 605 000$
Albany Primo
Base price – 9 000$
Conversion price – 400 000$
Declasse Sabre
Base price – 15 000$
Conversion price – 490 000$
Vapid Slamvan
Base price – 49 500$
Conversion price – 394 250$
Dewbauchee Specter
Base price – 599 000$
Conversion price – 252 000$
Karin Sultan
Base price – 12 000$
Conversion price – 795 000$
Declasse Tornado
Base price – 30 000$
Conversion price – 375 000$
Dundreary Virgo
Base price – 165 000$
Conversion price – 240 000$
Declasse Voodoo
Base price – 5 500$
Conversion price – 420 000$