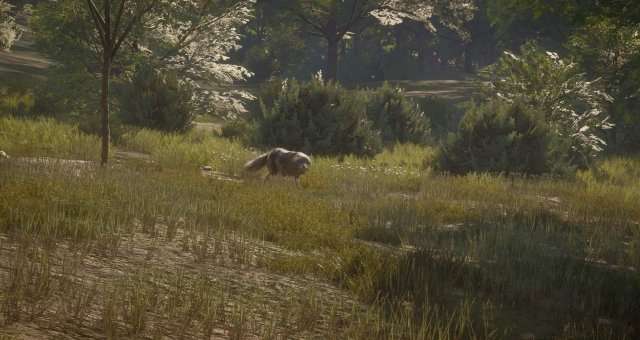 This guide is intended for use by those who wish to have a quick and easy list compiled in one place to look up when encountering animals in theHunter Call of the Wild.
Wild Animal Basics
Intro
This guide will contain all the basic info for each reserve in the game to get 100% integrity on all kills.
To get the best use out of this guide:
Pick the map you would like to play.
Choose the animals you would like to hunt.
Scroll down to the Weapons Class section and choose your preferred corresponding weapons.
Enjoy!
Weapon Class
The purpose of this section is to correspond with the animal you'll be hunting to pick your best loadout.
Weapon Class 0

Rifles
Handguns
Shotguns
Mangiagico 410 (.410 Birdshot) (HandGun)
Cacciatore 12g, Grankin's Shotgun, Caversham Steward 12G (12 GA Birdshot)
Grelck Drilling Rifle (16 GA Birdshot)
Nordin 20SA, Strecker SXS 20g (20 GA Birdshot, 20 GA Steel Birdshot)
Bows
Razorback Lite CB-60, Bearclaw Lite CB-60, Koter CB-65, Hawk Edge CB-70 (300 GR. Small Game Point Arrow, 300 GR. Small Game Point Tracer Arrow)
Crosspoint CB-165 (300 GR. Small Game Point Bolt ,300 GR. Small Game Point Tracer Bolt)
Weapon Class 1
Rifles
Handguns
Shotguns
Nordin 20SA, Strecker SXS 20g (20 GA Buckshot)
Bows
Razorback Lite CB-60, Bearclaw Lite CB-60, Koter CB-65, Hawk Edge CB-70 (300 GR. Small Game Point Arrow, 300 GR. Small Game Point Tracer Arrow)
Crosspoint CB-165 (300 GR. Small Game Point Bolt ,300 GR. Small Game Point Tracer Bolt)
Weapon Class 2
Rifles
Vasquez Cyclone .45
Coachmate Lever .45-70
Ranger .243
.270 Huntsman
Whitlock Model 86 (.30-30)
Martensson 6.5MM
Solokhin MN1890 (7.62x54R)
Handguns
.44 Panther Magnum
.45 Colt
Shotguns
Cacciatore 12g, Grankin's Shotgun, Caversham Steward 12G (12 GA Buckshot)
Grelck Drilling Rifle (16 GA Buckshot)
Nordin 20SA, Strecker SXS 20g (20 GA Slug)
Bows
Razorback Lite CB-60, Bearclaw Lite CB-60, Koter CB-65, Hawk Edge CB-70 (420 GR. Broadhead Arrow, 420 GR. Broadhead Tracer Arrow)
Crosspoint CB-165 (420 GR. Broadhead Bolt, 420 GR. Broadhead Tracer Bolt)
Weapon Class 3
Rifles
Eckers .30-06
7MM Regent Magnum
Grelck Drilling Rifle (9.3x74R)
Handguns
Shotguns
Cacciatore 12g, Grankin's Shotgun, Caversham Steward 12G (12 GA Slug)
Grelck Drilling Rifle (16 GA Slug)
Bows
Houyi Recurve Bow (540 GR. Breadhead Recurve Arrow, 540 GR. Breadhead Recurve Tracer Arrow)
Razorback Lite CB-60, Bearclaw Lite CB-60, Koter CB-65, Hawk Edge CB-70 (600 GR. Broadhead Arrow, 600 GR. Broadhead Tracer Arrow)
Crosspoint CB-165 (600 GR. Broadhead Bolt, 600 GR. Broadhead Tracer Bolt)
Weapon Class 4
Rifles
.300 Canning Magnum
.338 Rangemaster
King 470DB (.470)
Handguns
Shotguns
Cacciatore 12g, Grankin's Shotgun, Caversham Steward 12G (12 GA Slug)
Grelck Drilling Rifle (16 GA Slug)
Bows
Razorback Lite CB-60, Bearclaw Lite CB-60, Koter CB-65, Hawk Edge CB-70 (600 GR. Broadhead Arrow, 600 GR. Broadhead Tracer Arrow)
Crosspoint CB-165 (600 GR. Broadhead Bolt, 600 GR. Broadhead Tracer Bolt)
Layton Lake District
Mallard
Weapon Class 0
Beacon Deluxe Duck Caller
Mallard Decoys
Max LVL 3
White-Tailed Jackrabbit
Coyote
Weapon Class 2
Predator "Jackrabbit" Caller
Max LVL 9
Whitetail Deer
Weapon Class 2
Deer "Bleat" Caller, Deer "Grunt" Caller, Buck "Snort Wheeze" Caller
Whitetail Scent
Max LVL 3
Blacktail Deer
Weapon Class 2
Deer "Bleat" Caller, Deer "Grunt" Caller
Blacktail Scent
Max LVL 5
Black Bear
Weapon Class 3
Predator "Distressed Fawn" Caller
Max LVL 9
Roosevelt Elk
Weapon Class 4
Elk Caller
Elk Scent
Max LVL 5
Moose
Weapon Class 4
Moose Caller
Moose Scent
Max LVL 5
Hirschfelden Hunting Reserve
Canada Goose
Weapon Class 1
Short Reed Canada Goose Caller
Canada Goose Decoys
Max LVL5
Red Fox
Weapon Class 1
Predator "Jackrabbit" Caller
Max LVL 9
Roe Deer
Weapon Class 2
Roe Deer Caller
Roe Deer Scent
Max LVL 3
Fallow Deer
Weapon Class 2
Antler Rattler
Max LVL 3
Wild Boar
Weapon Class 2
Wild Boar Caller
Wild Boar Scent
Max LVL 5
Red Deer
Weapon Class 3
Red Deer Caller
Red Deer Scent
Max LVL 9
European Bison
Medved-Taiga National Park
Siberian Musk Deer
Weapon Class 1
Musk Deer Scent
Max LVL 3
Eurasian Lynx
Weapon Class 1
Predator "Jackrabbit" Caller
Max LVL 9
Reindeer
Weapon Class 3
Antler Rattler
Max LVL 5
Wild Boar
Weapon Class 2
Wild Boar Caller
Wild Boar Scent
Max LVL 5
Brown Bear
Weapon Class 3
Predator "Distressed Fawn" Caller
Max LVL 9
Moose
Weapon Class 4
Moose Caller
Moose Scent
Max LVL 5
Vurhonga Savanna
Scrub Hare

Side-Striped Jackal
Weapon Class 1
Preddator "Jackrabbit" Caller
Max LVL 9
Springbok
Weapon Class 1
Buck "Snort Wheeze" Caller
Max LVL 5
Warthog
Weapon Class 2
Wild Boar Caller
Max LVL 5
Lesser Kudu
Weapon Class 2
Antler Rattler, Buck "Snort Wheeze" Caller
Max LVL 5
Blue Wildebeest
Weapon Class 3
Buck "Snort Wheeze" Caller
Max LVL 5
Gemsbok
Weapon Class 3
Antler Rattler
Max LVL 5
Cape Buffalo
Lion

Weapon Class 4
Preddator "Distressed Fawn" Caller, Predator "Jackrabbit" Caller
Max LVL 9
Parque Fernando
Cinnamon Teal
Weapon Class 0
Beacon Deluxe Duck Caller
Cinnamon Teal Decoys
Max LVL 3
Axis Deer
Weapon Class 1
Axis Deer "Screamer" Caller
Max LVL 5
Blackbuck
Weapon Class 1
Antler Rattler
Max LVL 5
Mule Deer
Weapon Class 3
Deer "Bleat" Caller
Mule Deer Scent
Max LVL 5
Red Deer
Weapon Class 3
Red Deer Caller
Red Deer Scent
Max LVL 9
Puma
Weapon Class 3
Predator "Distressed Fawn" Caller
Max LVL 9
Water Buffalo
Yukon Valley Nature Reserve
Harlequin Duck
Weapon Class 0
Harlequin Duck Decoys
Max LVL 3
Red Fox
Weapon Class 1
Predator "Jackrabbit" Caller
Max LVL 9
Caribou
Weapon Class 3
Antler Rattler
Max LVL 5
Gray Wolf
Weapon Class 3
Predator "Distressed Fawn" Caller, Predator "Jackrabbit" Caller
Max LVL 9
Plains Bison
Moose
Weapon Class 4
Moose Caller
Moose Scent
Max LVL 5
Grizzly Bear
Weapon Class 3 & 4
Predator "Distressed Fawn" Caller
Max LVL 9
Quatro Colinas Game Reserve
European Hare
Roe Deer
Weapon Class 1
Roe Deer Caller
Roe Deer Scent
Max LVL 3
Iberian Wolf
Weapon Class 3
Predator "Jackrabbit" Caller
Max LVL 9
Southeastern Spanish Ibex
Beceite Ibex
Gredos Ibex
Ronda Ibex
Iberian Mouflon
Wild Boar
Weapon Class 2
Wild Boar Caller
Wild Boar Scent
Max LVL 5
Red Deer
Weapon Class 3
Red Deer Caller
Red Deer Scent
Max LVL 9