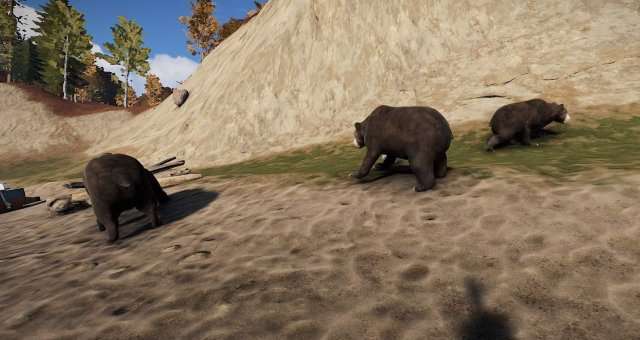 FPS Boost for Rust the Game
Let's Get Started!
Steam shortcut command: -no-browser + open steam://open/minigameslist
This will prevent Steamwebhelper processes to start.
Right click Rust in your Steam Library.
Open "Properties".
Copy the screenshot.
Rust Launch Options
-rate 144 -high -maxMem=16384 -malloc=system -force-feature-level-11-0 -cpuCount=8 -exThreads=8 -force-d3d11-no-singlethreaded -window-mode exclusive -nolog -nopopupwindow
Change "rate" to your monitors refresh rate (Hz).
Change "maxMem" to your system RAM:
4GB RAM = 4096
8GB RAM = 8192
16GB RAM = 16384
Change "cpuCount" to the number of CPU Cores you have.
Change "exThreads" to the number of Logical processors you have.
Find this by going to Task manager > Performance > CPU (look bottom right for "Cores = "cpuCount"/"Logical processors = "exThreads").
Go to "Local Files" in the upper tab then click "Browse Local Files".
For both "Rust.exe" and "RustClient.exe" right click go to "Properties".
Press the "Compatibility" in the upper tab and copy these settings.
Click "Change high DPI settings" and copy these settings.
Go back to "Browse Local Files".
Open the "cfg" folder and right click "client.cfg" go to "Properties" and uncheck "Read-only".
This is so you're able to edit the game config without it reverting back.
Now that you're able to edit the "client.cfg", open it with notepad and copy + paste the settings.
audio.advancedocclusion "False"
audio.game "1"
audio.instruments "0"
audio.master "0.35"
audio.musicvolume "0"
audio.musicvolumemenu "0"
audio.speakers "2"
audio.voices "0.7"
client.cambone ""
client.camdist "2"
client.camfov "90"
client.camoffset "(0.0, 1.0, 0.0)"
client.camoffset_relative "False"
client.lookatradius "0.2"
client.pushtotalk "True"
client.rockskin "0"
culling.entitymaxdist "5000"
culling.entityminculldist "15"
culling.entityminshadowculldist "5"
culling.entityupdaterate "5"
culling.env "False"
culling.envmindist "10"
culling.safemode "False"
debug.debugcamera_autoload "False"
debug.debugcamera_autosave "False"
debug.debugcamera_preserve "False"
decor.quality "0"
effects.antialiasing "0"
effects.ao "False"
effects.bloom "False"
effects.lensdirt "False"
effects.maxgibs "-1"
effects.motionblur "False"
effects.otherplayerslightflares "True"
effects.shafts "False"
effects.sharpen "True"
effects.showoutlines "True"
effects.vignet "False"
fps.limit "0"
global.censornudity "0"
global.censorsigns "False"
global.god "False"
global.language "en"
global.midiinput "False"
global.perf "0"
global.specnet "False"
global.streamermode "False"
graphics.af "1"
graphics.branding "True"
graphics.chat "True"
graphics.compass "1"
graphics.contactshadows "False"
graphics.dof "False"
graphics.dof_aper "12"
graphics.dof_blur "0"
graphics.dof_focus_dist "10"
graphics.dof_focus_time "0.2"
graphics.dof_mode "0"
graphics.drawdistance "1500"
graphics.fov "90"
graphics.grassshadows "False"
graphics.impostorshadows "False"
graphics.parallax "0"
graphics.resolution "7"
graphics.screenmode "0"
graphics.shaderlod "100"
graphics.shadowcascades "1"
graphics.shadowdistance "50"
graphics.shadowlights "0"
graphics.shadowmode "1"
graphics.shadowquality "0"
graphics.uiscale "1"
graphics.vsync "0"
grass.displace "True"
grass.distance "100"
grass.quality "0"
input.autocrouch "False"
input.flipy "False"
input.holdtime "0.2"
input.sensitivity "0.28"
input.vehicle_flipy "False"
input.vehicle_sensitivity "1"
instruments.sustainpedal "False"
inventory.quickcraftdelay "0.75"
legs.enablelegs "True"
mesh.quality "0"
netgraph.enabled "False"
netgraph.updatespeed "5"
particle.quality "0"
player.footik "True"
player.footikdistance "30"
player.footikrate "0.1"
player.noclipspeed "10"
player.noclipspeedfast "50"
player.noclipspeedslow "2"
player.recoilcomp "True"
playercull.enabled "True"
playercull.maxplayerdist "5000"
playercull.maxsleeperdist "30"
playercull.minculldist "20"
playercull.updaterate "5"
playercull.visquality "2"
reflection.quality "0"
sss.enabled "True"
sss.halfres "True"
sss.quality "0"
sss.scale "1"
terrain.quality "0"
tree.meshes "10"
tree.quality "0"
ui.autoswitchchannel "True"
ui.showinventoryplayer "True"
voice.loopback "False"
water.quality "0"
water.reflections "0"
gametip.showgametips "False"
nametags.enabled "True"
keyboardmidi.midikeymap "qwerty-uk.json"
strobelight.forceoff "True"
toolgun.classiceffects "False"
physics.steps "60"
graphics.waves "0"
gc.buffer 4096
hitnotify.notification_level 2

After saving the settings you can go back and right click "client.cfg" go to "Properties" and check "Read-only".
This makes it so the game can't revert your settings back.