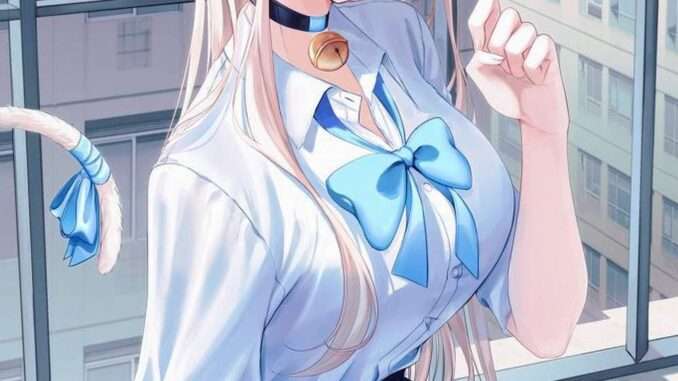 Tactical Challenge
What is Tactical Challenge?
It is PvP content where you can battle against other players.
Your Rank will change if you challenge someone and win against someone at higher Rank than you are, but it will remain the same if you lose, or win against someone at lower Rank.
Tactical Challenge Tickets recharge up to 5x every day, and if you have 0 tickets, you can use Pyroxene for additional tickets.
You can obtain Time Rewards, Daily Rewards, etc. depending on your Rank.
Tactical Challenge is unlocked after clearing Mission 6-1 Normal.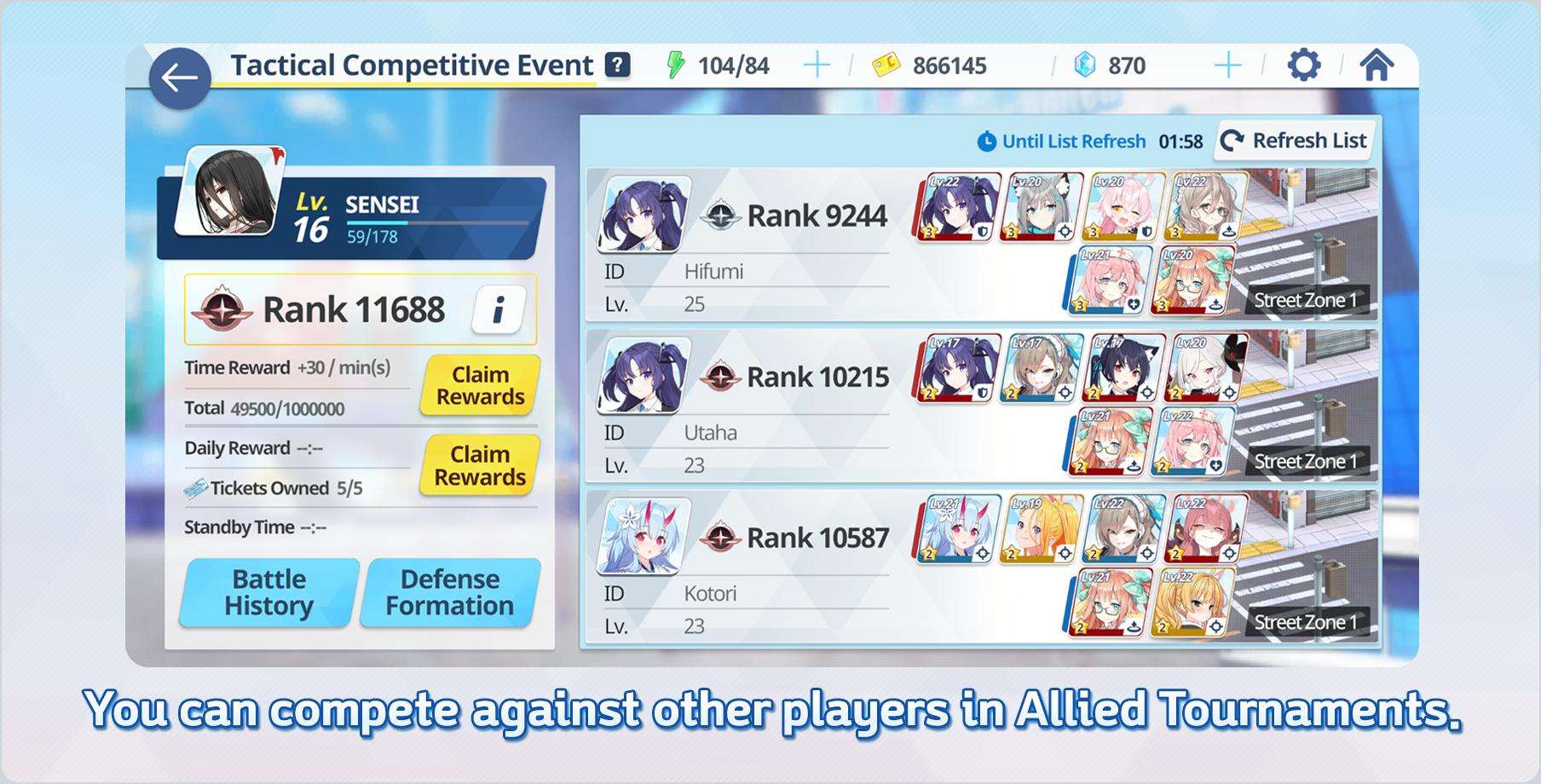 What are Attack Team and Defense Team in Tactical Challenge?
1) Attack Team: Unit to attack other player units.
2) Defense Team: Unit to defend from other player attacks. You must form a Defense Team to participate in Tactical Challenge.
Tip 1! Unit Re-Form time in Tactical Challenge is 2 minutes.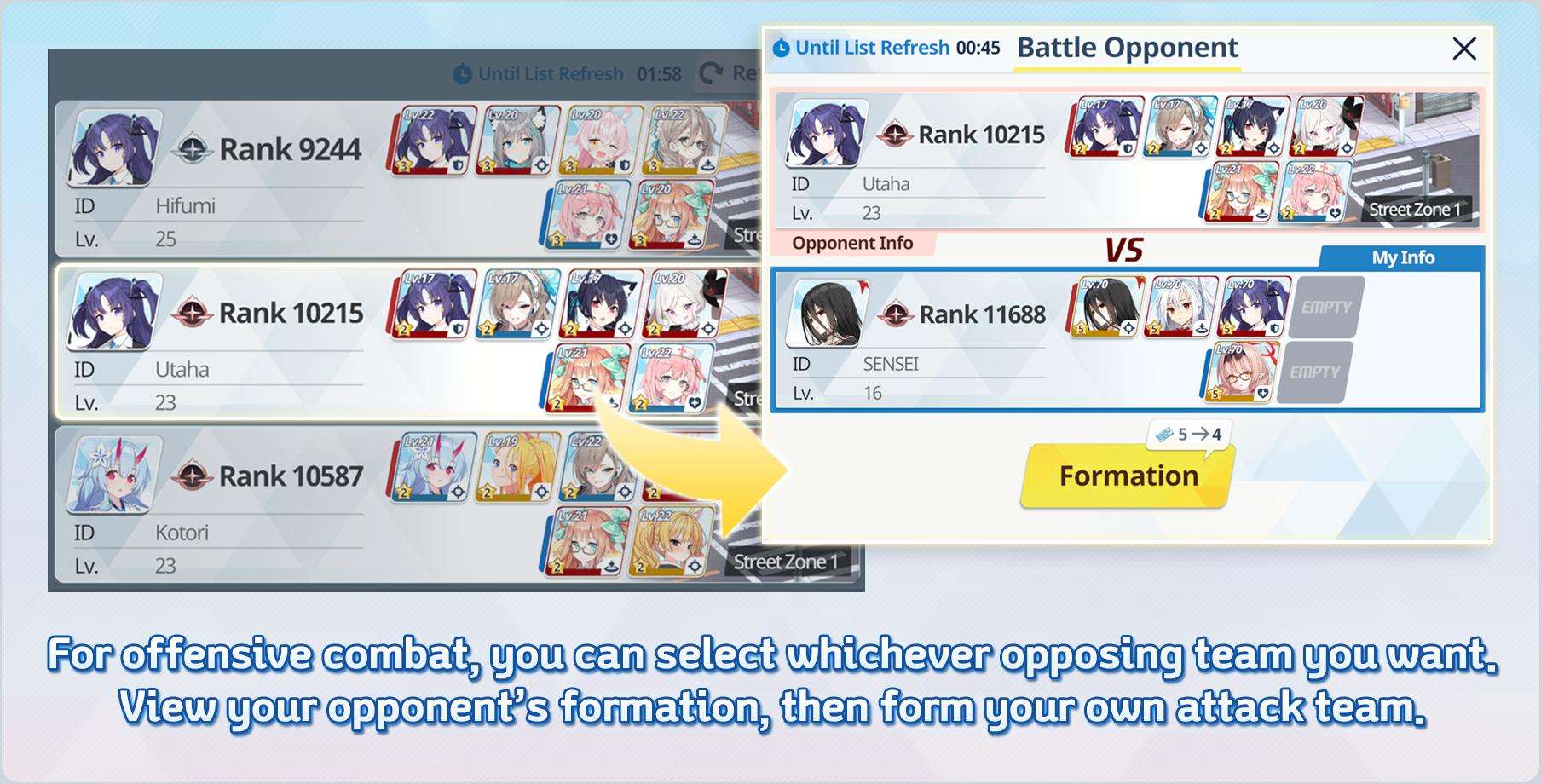 What is the win condition for the combat in Tactical Challenge?
The win conditions for Tactical Challenge are as following.
1) Defeat all your opponent's Strikers.
2) When time runs out, your Strikers have a higher proportion of HP remaining.
If the battle continues for a longer period, Fever Time will begin and the skill usage cost will increase.
Also, at this point, you can skip the battle and immediately check the combat results.
Tip 1! Skipping has no effect on the combat results.
How do I attack and defend in Tactical Challenge?
Attacking and defending in Tactical Challenge are as follows:
Form an Attack Team and select an opponent to attack. At this point, only "Auto-Battle" is available.
Every time your rank goes up, you will lose the ability to view certain parts of the enemy's unit.
If you win the attack, you can earn Credit Points. If you beat an opposing player with a higher rank, both of your ranks will change.
The battle begins when the formed Defense Team receives a challenge from an opponent. Results can be checked in the Battle History,
If your defense is successful, you can earn Tactical Challenge Coins, which can be received up to 5 times per day.
If your defense fails, there will be no rewards and your rank will decrease.
What are the Tactical Challenge Rewards?
You can get Time Rewards and Daily Rewards based on your Tactical Challenge rank.
Details regarding rank and rewards can be viewed by tapping on "Challenge Details" (the ! Icon).
1) Time Rewards: You can earn Credit Points that accumulate every minute.
2) Daily Rewards: Rewards can be earned once a day from 5:00 – 19:00 (UTC).
Once you press "Claim", Pyroxenes and Tactical Challenge Coins will be given based on your rank.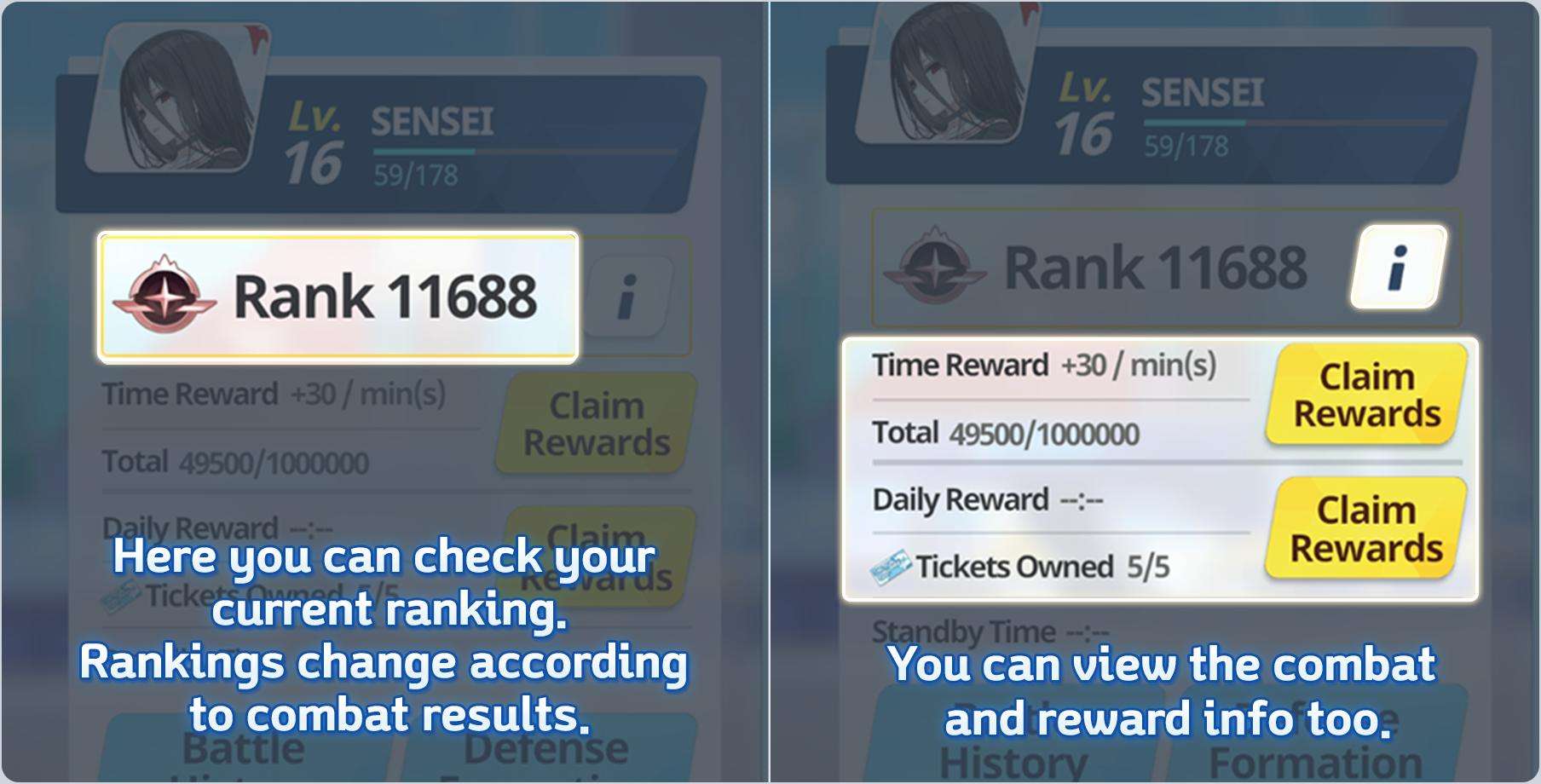 Recommended for You