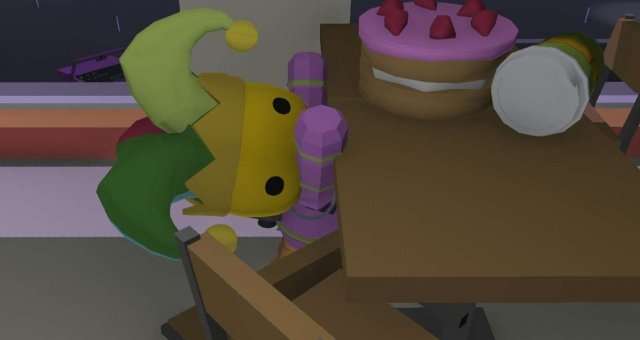 How to Obtain What A Clever Wobbly Achievement
Foreword
This guide will help you complete the 'What A Clever Wobbly' achievement. This guide may not be complete because I do not know how many different question could appear on the quiz.
How to Find the Quiz
On the screenshot of this map below, the location of the the quiz is at the TV studios which is shown on the map with a white hat with a question mark on it. The yellow mouse cursor is next to the hat to show it more clearly on the image.
Once in the TV studios, go in the elevator to the first floor, then find the next elevator on that floor. Go to the next floor in that elevator and then you will see some double doors to take you to where the quiz can be started.
Questions and Answers
You will be asked 5 multiple choice questions during this quiz, each questions will have four possible answers but only one is correct. Below I will include any questions with the answer that I have come across when doing this quiz.
What happens when you drive into a wobbly cow?
(Answer – They fly into the air)
What's the tallest ride in the theme park?
(Answer – The Rollercoaster)
What is the most wobbly?
(Answer – Jelly)
How does Wobbly Island deal with it's toxic waste?
(Answer – Feed it to a monster)
In the Wobbly Mall, what is the name of the clothes shop?
(Answer – Cosmic Clothing)
How many red barns are there on the farm island?
(Answer – 2)
What side of the road do Wobbly's drive on?
(Answer – Left)
Which of these ingredients isn't available in the Wobbly burger?
(Answer – Onions)
Which of these foods are not grown on the Wobbly farm?
(Answer – Strawberry)
In the jungle, there is a large stone statue. What is it of?
(Answer – A Wobbly)
What street is this studio located?
(Answer – Main Street)
What studio is across the road from Wobbly Burger?
(Answer – RubberBandGames)
What is the name of this studio?
(Answer – Wobbly TV)
Where can you find the Wobbly Airport?
(Answer – Mountain)
What colour is the Wobbly Island Train?
(Answer – Green)
What's the best Wobbly job?
(Answer – I think any answer is correct, 'Pizza' and 'Mine' are definitely accepted but I assume the other options are correct too)
What food do Wobbly Aliens enjoy the most?
(Answer – Pizza)
What material in the mine is the most valuable?
(Answer – Uranium)
Where does the pet ghost come from?
(Answer – The Mine)
What colour is the spiral slide at the swimming pool?
(Answer – Green)
What colour is your Granny's dress?
(Answer – Purple)
What is the pet snail's favorite thing?
(Answer – Break dancing)
What is the monsters name?
(Answer – Louie)
Quiz Master Outfit Unlock
In order to unlock the quiz master outfit shown in this screenshot below, I think you need to complete the quiz 3 times in a row.
Recommended for You